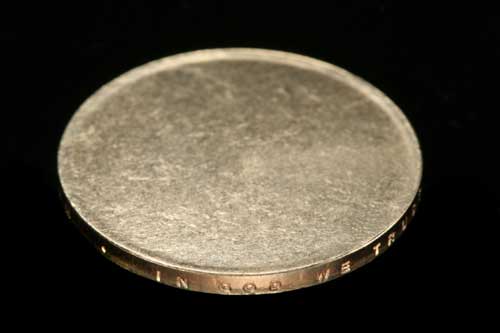 Newport Beach, CA - Professional Coin Grading Service of Newport Beach, California (www.PCGS.com) has certified the first known lettered-edge, blank planchet Presidential dollar. As part of its previously announced reward program, the owners of the coin will receive a $2,500 finder's reward for being the first to submit an example to PCGS.
The unusual looking error coin was found by Ray and Mary Smith of Fort Collins, Colorado in one of two 25-coin rolls of George Washington Presidential dollars obtained from a local bank. The Smith's contacted Coin World magazine and were informed about the PCGS reward offer. Coin World submitted the coin to PCGS on their behalf.
"The lettered-edge, blank Presidential dollar planchet is an extremely unusual and exciting error," said Ron Guth, PCGS President.
"Although we anticipated its appearance, we never expected one to appear so quickly. Nonetheless, PCGS is thrilled to be able to certify the discovery example, and we congratulate Ray and Mary Smith on their lucky find. We're also happy that our reward program is helping to bring important rarities to light."
The Smith's coin is a type two (raised rim) planchet that did not receive an obverse and reverse design strike or burnishing of the planchet, but did go through the final stage of the Presidential dollar minting process at the Denver Mint to receive the incuse edge lettering. All intended wording on the lettered-edge is visible: the date, 2007; the Denver mintmark, D; and the two mottos, In God We Trust and E Pluribus Unum.
PCGS continues to offer a $10,000 reward for the first person who submits for verification a genuine, Sacagawea golden dollar coin mistakenly struck with the edge lettering intended for the new Presidential dollar coins. A $10,000 finder's reward also is being offered to the person who submits the first over-struck example with the both the Sacagawea and Presidential designs on the same coin.
PCGS is the world's largest rare coin authentication company and a division of Collectors Universe, Inc. (NASDAQ: CLCT).
Additional information is available from Professional Coin Grading Service at (800) 447-8848. E-mail: [email protected].