(Tampa, Florida) - The first-ever public display of the one-of-a-kind set of 1943 bronze Lincoln cents from the Denver, Philadelphia and San Francisco Mints will be hosted by Professional Coin Grading Service and Legend Numismatics, Inc. during the first three days of the Florida United Numismatists convention in Tampa, Florida, January 6, 7 and 8, 2011.
The unprecedented exhibit marks the first time the complete set has been included in the PCGS Set RegistrySM. It also marks the fulfillment of a boyhood dream of the collector who owns the coins, Texas business executive Bob R. Simpson, Co-Chairman of the Texas Rangers baseball club.
"A total of nine off-metal World War II-era Lincoln cents from Mr. Simpson's collection will be displayed at the PCGS booth (#102) at the FUN convention," said Don Willis, President of PCGS, a division of Collectors Universe, Inc. (NASDAQ:). "There's the unique set of three 1943 bronze-planchet cents, a set of three 1944 cents on zinc-coated steel planchets, and three wartime Lincoln cents erroneously struck on silver planchets apparently intended for the production of dimes."
Simpson wanted to own a 1943 bronze cent error since he was a teenager, and now owns the only-known 1943-D bronze cent as well as other wrong-planchet, wartime cents. All will be exhibited at FUN.
Zinc-coated steel was used for producing cents in 1943 to conserve copper for other uses during World War II, but a small number of coins were mistakenly struck on bronze planchets left over from 1942. In 1944 the Mint resumed use of copper for cent production using recycled ammunition shell cases; however, a small number were mistakenly struck on zinc-coated steel planchets intended for use only on 1943-dated cents.
"Mr. Simpson is the first collector to ever assemble a complete P-D-S set of bronze-planchet 1943 Lincoln cents," said Laura Sperber, President of Legend Numismatics. "When he recently saw all three coins together for the first time, he said, 'This is incredible!' Now, he's graciously agreed to publicly display them."
Sperber said that when he was a youngster, Simpson thought he'd actually found a 1943 copper cent in circulation. "But it was not authentic. He still has that in his desk drawer."
The unique 1943-D bronze cent was purchased by Simpson in September for a record $1.7 million through Legend Numismatics after four years of negotiations with the coin's anonymous former owner who donated all the proceeds to charity. It is the highest price ever paid for a United States cent.
"It was always special to buy each coin for this set, and until I had all the coins together I just did not realize how important and unreal this project really was! I'm as excited as any collector can be to see this amazing display," Sperber said.
"Not only is Mr. Simpson's Set of Off-Metal Cents the All-Time-Finest, it's the absolute finest possible given the scarcity of the coins," said BJ Searls, PCGS Set Registry Manager. "Photos of Mr. Simpson's 1943 bronze and 1944 steel cents can be viewed online in the PCGS Set Registry for 'Lincoln Cents Off-Metal Strikes, Circulation Strikes (1943-1944)'. The one-of-a-kind complete set has a weighted grade point average of 62.89."
The coins and their PCGS Secure Plus grades are:
1943-P bronze, graded PCGS MS62BN
1943-D bronze, PCGS MS64BN
1943-S bronze, PCGS AU58BN
1944-P steel, PCGS MS64
1944-D steel, PCGS MS62
1944-S steel, PCGS MS66
1943-P struck on a silver planchet, PCGS AU50
1943-S silver planchet, PCGS AU58
1944-P silver planchet, PCGS AU53

A free, full-color, illustrated PCGS brochure about the coins in the exhibit, "One of a Kind: The Simpson Off-Metal Lincoln Cent Collection," will be available while the supply lasts at the PCGS booth during the FUN convention.
Established in 2001, the PCGS Set Registry now hosts over 53,000 sets. For additional information about PCGS and its services, visit www.PCGS.com, call PCGS Customer Service at (800) 447-8848, or email [email protected].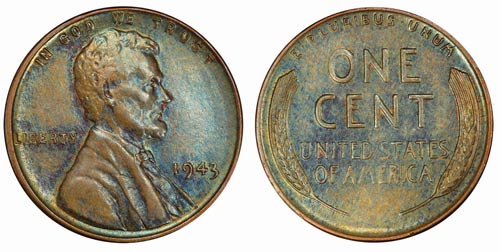 1943-P bronze cent, PCGS MS62BN
1943-D bronze cent, PCGS MS64BN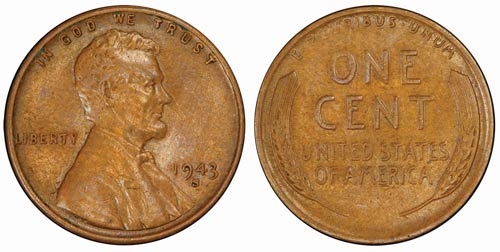 1943-S bronze cent, PCGS AU58BN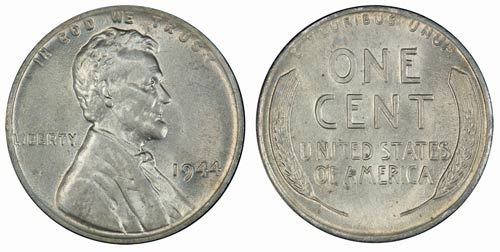 1944-P steel cent, PCGS MS64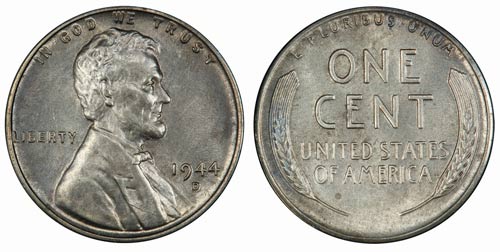 1944-D steel cent, PCGS MS62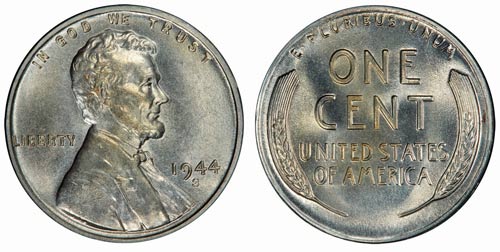 1944-S steel cent, PCGS MS66