1793 Chain 1C AMERICA, BN (Regular Strike)
Series: Flowing Hair Chain Cents 1793
PCGS MS64BN
Designer:

Attributed to Henry Voight
Diameter:

27.00 millimeters
Major Varieties
---
1793 Chain 1C AMERICA, BN
Current Auctions - PCGS Graded
Current Auctions - NGC Graded
For Sale Now at
Collectors Corner - PCGS Graded
For Sale Now at
Collectors Corner - NGC Graded
Rarity and Survival Estimates

Learn More
Survival Estimate

All Grades
625
60 or Better
6
65 or Better
1
Numismatic Rarity

All Grades
R-5.7
60 or Better
R-9.7
65 or Better
R-10.0
#1 MS65BN PCGS grade

S-2. W.S. Lincoln & Son, 8/1891 - Benjamin H. Collins, 1/1919 - Dr. Henry W. Beckwith - S.H. Chapman 4/1923:1, $430 - Henry Chapman - Dr. George P. French - B. Max Mehl's 1929 FPL, lot 1, $850 - J.C. Morgenthau 4/1933:2 - B. Max Mehl's personal collection - T. James Clarke - John H. Payne, 1953 - Dr. William H. Sheldon, 4/1972 - R.E. "Ted" Naftzger" Jr., 12/1986 - Herman Halpern - Stack's 3/1988:2 - Anthony Terranova - Andrew Lustig - Don Kagin, 11/1992 - Gilbert Steinber - Superior 9/1996:1560 - Anthony Terranova and Chris Victor-McCawley - Walter Husak - Superior 2/2001:2090 - American Numismatic Rarities 1/2005:69, $431,250
#1 MS65BN estimated grade

S-3. Joseph Zanoni Collection - sold privately by Edward Cogan in 1867 - Thomas Cleneay Collection - S.H. & H. Chapman 12/1890 - 1794 - J.F. Anger - Arba Borden - Allison W. Jackman Collection - Henry Chapman 6/1918:685 - Hillyer Ryder Collection - purchased by Wayte Raymond, 5/1945 with the rest of the Ryder Collection - sold privately to Dr. William H. Sheldon in 1947 - purchased along with other coins from the Sheldon Collection, 4/1972 - R.E. "Ted" Naftzger Collection - sold to Stanley Kesselman 3/1980 as partial payment for the Garrett S-3 - David Akers "Auction '80" 8/1980:554 - Stack's/Bowers 8/2012:11180, $747,500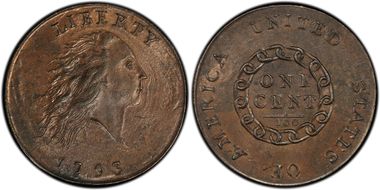 #3 MS64BN PCGS grade

H. W. Taffs - Glendining & Co. 11/1956:506 - Spink & Sons - New Netherlands 12/1957:880 - Floyd T. Starr Collection - Stack's 6/1984:2 - Herman Halpern Collection, sold privately in 12/1986 - R. E. "Ted" Naftzger, Jr., sold privately in 2/1992 - Eric Streiner - Jay Parrino, sold privately in 4/1996 - Jack Wadlington Collection, sold privately in 6/2005 - Bob Grellman & Chris McCawley - Daniel W. Holmes Collection - Goldbergs 9/2009:3, $402,500 - Heritage 8/2014:5518, $411,250
#3 MS64BN PCGS grade
#3 MS64BN estimated grade
#3 MS64BN estimated grade
#7 MS63BN PCGS grade

S-3. Colin Lightbody Collection - Edward Cogan 12/1866:536 - Mortimer Livingston Mackenzie Collection - Edward Cogan 6/1869:624 - L. Bayard Smith - Arthur L. Gray - Celina Coin Company - T. James Clarke Collection, 10/1954 - R.E. Naftzger - - Abe Kosoff 4/1956:4 - Stack's - Dorothy Nelson - Stack's 2/1976:3 - Ed Hipps - Steve Ivy 11/1978:7 - Robert Bender - Heritage 8/1988:3 - Anthony Terranova - Kevin Lipton - Stack's - American Numismatic Rarities 7/2003:105 (as NGC MS64BN), $115,000 - Stack's 7/2008:1074 (as NGC MS64BN), $207,000 - Rare Coin Wholesalers, 1/2009 (via Chris McCawley) - Dan Holmes Collection - Goldbergs 9/2009:5 (as PCGS MS63BN), $253,000 - High Desert Collection (PCGS Set Registry)
#7 MS63BN PCGS grade
#7 MS63BN PCGS grade
#7 MS63BN PCGS grade
David Hall
:
The incredible SP67 is from the fabulous large cent collection of the late Ted Naftzger, the greatest large cent collection of all-time by far. This amazing coin has semi-prooflike surfaces and is virtually perfect. Large cent affcianados refer to this amazing specimen as "THE coin."
Gordon Wrubel: Chain cents were the first mass produced, regular issue coins struck at the fledgling US Mint. A total of 36,103 were coined from February 27 to March 12, 1793. The Liberty Head obverse and Chain reverse were severely criticized by many observers of the day. The acute need for a standard coinage, however, assured wide circulation through all fifteen States at the time. Chain cents can exist in high Mint State grades, perhaps saved for posterity as first year issues. But most survivors are lower grade. In the lowest grades, the date and legends are sometimes worn to the point where little more than the Chain and some of the letters of "ONE CENT" within it are distinguishable. This makes variety attribution extremely difficult, if not impossible, in cases where just a shadow of the Chain exists.


Quickfinder Notes: AMERICA reverse varieties include Sheldon numbers 2, NC-1, 3 and 4. Well worn can be attributed even if most or all of the letters of AMERICA are missing. The baseline "C" in "CENT" will be a little ABOVE the baseline of the adjacent E. If the first A in AMERICA is distinguishable, it will be in the 7:30 position. On the other reverse die used on Chain cents, the Sheldon 1, "AMERI.", the baseline of the C in CENT is BELOW the baseline of the adjacent E. If the A of AMERI is distinguishable, it will be in the 8:00 position.