1797 1/2C 1 Above 1, BN (Regular Strike)
Series: Liberty Cap Right Half Cents 1794-1797
PCGS MS66BN
Designer:

John Smith Gardner
Diameter:

23.50 millimeters
Current Auctions - PCGS Graded
Current Auctions - NGC Graded
For Sale Now at
Collectors Corner - PCGS Graded
For Sale Now at
Collectors Corner - NGC Graded
Rarity and Survival Estimates

Learn More
Survival Estimate

All Grades
200
60 or Better
5
65 or Better
Numismatic Rarity

All Grades
R-7.0
60 or Better
R-9.7
65 or Better
R-10.1
Relative Rarity By Type

All Specs in this Type
All Grades
6 / 11 TIE
60 or Better
5 / 11 TIE
65 or Better
1 / 11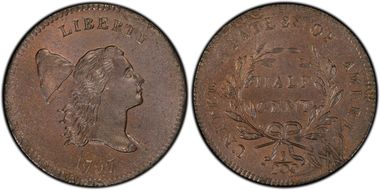 #1 MS66BN PCGS grade

Emil Cauffman Collection - Edward D. Cogan 5/1871:878, $9 - Virgil M. Brand Collection - purchased by St. Louis Stamp & Coin Company (Burdette G. Johnson) on 10/30/1935 for $50, sold 4/17/1944 for $80 - Celina Coin Co. (T. C. Brandts) - Rodney T. Grove - Superior 6/1981:4, $12,500 - Ron Guth, sold privately in 10/1982 for $8,500 - Garry F. Fitzgerald - MARCA 1/1987:57 - Julian M. Leidman - R. Tettenhorst Collection - Eric P. Newman Numismatic Education Society - Missouri Cabinet (Mocab 97.1.9) - Goldbergs 1/2014:41, $299,000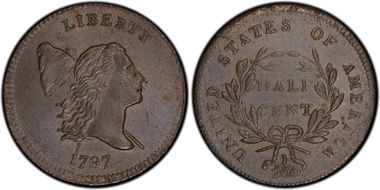 #2 MS64BN PCGS grade

Philip M. Showers Collection - Stack's, sold privately in 1969 - Willis Harrington duPont Collection - Fred S. "Freddy" Werner, sold privately in 2/1976 - Superior, sold privately in 2/1976 - Joe Flynn and Son Rare Coins, Inc. (Joseph S. Flynn, Jr.), sold privately on 4/20/1976 - R. Tettenhorst Collection, sold privately in 10/1987 - Jim McGuigan Collection
#2 MS64BN PCGS grade

Harlan P. Smith Collection - S.H. & H. Chapman 5/1906:1195 - John H. Clapp Collection, sold intact in 1942 - Louis E. Eliasberg, Sr. Collection - Bowers & Merena 5/1996:409, $19,800 - Heritage 8/2006:5019, $115,000 - High Desert Collection
#2 MS64BN PCGS grade
#2 MS64BN estimated grade
#6 MS63BN PCGS grade
#6 MS62BN PCGS grade

Lloyd Whiteneck, sold privately on 5/10/1973 - R. Tettenhorst Collection - Missouri Cabinet (Mocab 97.1.3) - Goldbergs 1/2014:42, $18,975
#6 MS62BN PCGS grade

Heritage 4/2015:4911, $16,450
#9 MS60BN PCGS grade

Heritage 5/2009:32, $10,925 - Jim McGuigan Collection
Ron Guth
: This was the only use of the obverse die. Initially, the 1 of the date was punched too high, then punched again in the proper position.
The reverse die of this variety was also used earlier on:
1797 Cohen 2
The Eliasberg 1797 1 over 1 Half Cent (Lot 409), formerly in an NGC MS65BN holder was graded PCGS MS64BN in July 2009.