1859-O $1 (Regular Strike)
Series: Liberty Seated Dollars 1840-1873
PCGS MS65
Designer:

Christian Gobrecht
Diameter:

38.10 millimeters
Metal:

90% Silver, 10% Copper
Current Auctions - PCGS Graded
Current Auctions - NGC Graded
For Sale Now at
Collectors Corner - PCGS Graded
For Sale Now at
Collectors Corner - NGC Graded
Rarity and Survival Estimates

Learn More
Survival Estimate

All Grades
7,500
60 or Better
750
65 or Better
1
Numismatic Rarity

All Grades
R-3.5
60 or Better
R-5.5
65 or Better
R-10.0
Relative Rarity By Type

All Specs in this Type
All Grades
29 / 30
60 or Better
29 / 30
65 or Better
1 / 30 TIE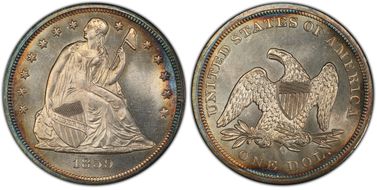 #1 MS65 PCGS grade

Amon G. Carter, Jr. Family Collection - Stack's 1/1984:269, $3,740 - Legend Collection of Mint State Seated Liberty Dollars - Bruce Morelan Collection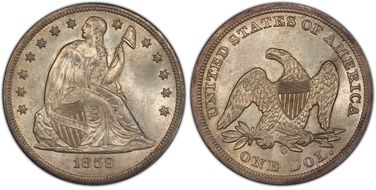 #1 MS65 PCGS grade
#3 MS64+ PCGS grade

OBrien Collection - "Issaquah" Collection (PCGS Set Registry)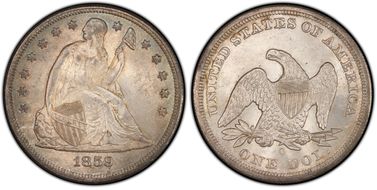 #3 MS64+ PCGS grade

Stack's/Bowers 11/2016:2108, $11,750 - Heritage 1/2017:4618, $10,575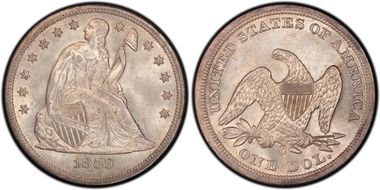 #5 MS64 PCGS grade
#5 MS64 PCGS grade
#5 MS64 PCGS grade
#5 MS64 PCGS grade
#5 MS64 PCGS grade
#5 MS64 PCGS grade
Q. David Bowers: The following narrative, with minor editing, is from my "Silver Dollars & Trade Dollars of the United States: A Complete Encyclopedia" (Wolfeboro, NH: Bowers and Merena Galleries, Inc., 1993).

Coinage Context

Made for China: Many of the 1859-O silver dollars were intended for export to China. However, numerous examples were released within the United States, probably after specie payments were resumed following the Act of January 14, 1875 (which provided for the redemption of fractional currency notes with silver coins and which had little effect until autumn 1876).

Numismatic Information

Circulated grades: Minted in New Orleans, the 1859-O and 1860-O dollars apparently were saved in quantity by silver depositors, bullion dealers, and others within the United States, and after 1873, by which time the price of silver had fallen to the point that the intrinsic value of the silver dollar was less than the face value, many 1859-O and 1860-O dollars went into circulation. Although no records survive, it is my belief that this occurred during the early and mid-1870s, before Morgan dollars were available in quantity.

Treasury hoard coins: While many 1859-O and 1860-O dollars were sent to the Orient shortly after their minting, and were subsequently melted, enough remained within our own borders that circulated specimens are encountered with some frequency today, for reasons given above. Some of these trace their pedigree to inclusion in mixed bags of mostly worn coins released by the Treasury 1962-1964; such bags contained worn examples of most dates 1840-1873.
During the same 1962-1964 Treasury release of backdated silver dollars, it is believed that one to three mint-sealed bags of 1,000 Uncirculated coins, amounting to as many as 3,000 coins totally, were distributed. Almost without exception, the coins from these bags are heavily bagmarked and scarred, the result of careless storage, handling and shipping procedures over the years, the average grade today being MS-60 or just slightly better.
Even cherry picking among hoard coins did not yield MS-65 or better coins, so far as I know.

Walter H. Breen states that 3,000 Mint State coins were released by the Treasury in 1962-1964. The estimates of others differ. For example, Ron Severa, in his study published in The Gobrecht Journal, March 1977, stated that 1,000 coins (one bag) were released. In my book, Adventures With Rare Coins, 1979, p. 98; I said I thought "at least one bag each came to light of 1859-O and 1860-O Liberty Seated dollars."

Several people told me that Harry Forman handled most of the 3,000 1859-O and 6,000 1860-O dollars said to have been released, but in an interview with me, Harry stated that the only quantities he ever had were 700 Mint State 1859-Os and 300 1860-Os. John Skubis recalled in an interview with me that a bag of 1,000 1859-O dollars was released in Reno, but he did not say all the coins went into collectors' hands. The Forman, Skubis and John Love (see below) numbers total 2,700 Uncirculated 1859-O dollars, and I know that there were others as well. It could just well be that the Breen estimate of 3,000 is on target.

Bruce Amspacher has said that "some bags of this date, along with the 1860-O, turned up in the 1960s." Further: "A dealer found several hundred more pieces in a bag of common date Morgan dollars. With maybe several thousand Mint State specimens known, why isn't this date [easy to find in MS-63 or better condition]? Because almost all pieces are heavily bagmarked after rattling around in Treasury vaults for over a century."

It has been my aim in the present work to present the opinions of those I consider to be qualified on various subjects, and to present this information as a matter of record. These opinions, in effect, become better raw material for further studies than would the statement of my own feelings, without being specific about the sources. The matter of how many Mint State 1859-O and 1860-O dollars exist today and how many were released by the Treasury in the late 1950s and early 1960s has drawn a variety of widely differing opinions among contributors to the present book, and in printed sources.

It is my belief that whatever the quantities of release were, the 1859-O was found in significantly smaller numbers than the 1860-O. For purposes of the present book, I use the Breen estimates, which indicate an availability ratio of 1 to 2 for the 1859-O and 1860-O. To state that one Mint State 1859-O is available for each two dated 1860-O seems to satisfy just about everyone; without regard to how many were released from the Treasury holdings.

In his contribution to The Comprehensive U.S. Silver Dollar Encyclopedia, John Love recalled finding a worn 1859-O Liberty Seated dollar among circulated Morgan and Peace dollars in the early 1960s. In my own fairly extensive experience of looking through bags of circulated silver dollars in the early 1950s, I never came across even a single Liberty Seated dollar of any date. During the great Treasury release of 1962-1964, John Love handled a bag of 1,000 Mint State 1859-O coins.

Other Mint State coins: In addition to coins issued by the Treasury in the 1962-64 years, other Mint State specimens of the 1859-O and 1860-O dollars occasionally surfaced in collections earlier, so the total population of Mint State coins is probably somewhat higher than 3,000 for the 1859-O and 5,000 to 6,000 for the 1860-O. The old-time Uncirculated coins that were in collections prior to 1962 are for the most part much less bagmarked than the Treasury hoard pieces. Many of these have prooflike surfaces.

Varieties

Circulation strikes:

1. Normal Date: Breen-5459. Obverse: With numerals in date of normal thickness. Reverse: Heavy O mintmark. Scarcer than the following, No.2.

2. Thin Numerals Date: Breen-5458. Obverse: With numerals in the date thin. Many of the Mint State hoard coins were of this variety. More than one variety may exist. Nine obverse and three reverses were specifically shipped into New Orleans; in addition other reverses may have been on hand from the 1846-O or 1850-O production. However, the earlier reverses have differently shaped mintmarks from those on any known 1859-O dollars.

3. Heavy Date: Breen-5460. Obverse: With numerals in date heavily impressed. Reverse: Thin mintmark, with top and base very delicate.
Dies prepared: Obverse: 9; Reverse: 3

Circulation strike mintage: 360,000

Estimated quantity melted: Unknown

Characteristics of striking: Varies; stars often weak, beginning at stars 8 and 9 and, depending upon the coin, to the left or right as well. Satiny rather than deeply frosty lustre; fields usually prooflike.

Known hoards of Mint State coins: An estimated 3,000 Mint State coins plus an unknown quantity of worn pieces were in the 1962-1964 Treasury release; nearly all Mint State coins from this hoard are heavily bagmarked.

Commentary

The 1859-O is readily available in low grade Mint State, due to coins released by the Treasury Department 1962-1964.