1872-CC $20 (Regular Strike)
Series: Liberty Head $20 1850-1907
PCGS MS62
Designer:

James Barton Longacre
Diameter:

34.00 millimeters
Metal:

90% Gold, 10% Copper
Current Auctions - PCGS Graded
Current Auctions - NGC Graded
For Sale Now at
Collectors Corner - PCGS Graded
For Sale Now at
Collectors Corner - NGC Graded
Rarity and Survival Estimates

Learn More
Survival Estimate

All Grades
402
60 or Better
5
65 or Better
Numismatic Rarity

All Grades
R-6.1
60 or Better
R-9.7
65 or Better
R-10.1
Relative Rarity By Series

All Specs in this Series
All Grades
27 / 148 TIE
60 or Better
17 / 148 TIE
65 or Better
1 / 148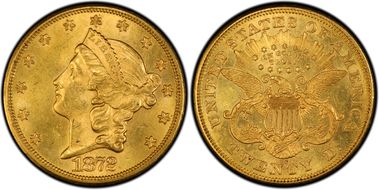 #1 MS62 PCGS grade

Rusty Goe, 9/2010 - Battle Born Collection - Stack's/Bowers 8/2012:11041, $161,000
#2 MS61 PCGS grade

Heritage 8/2015:4476, $94,000
#3 MS60 PCGS grade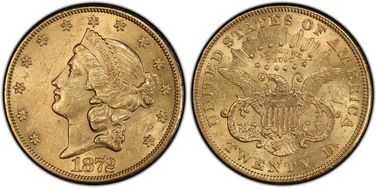 #3 MS60 PCGS grade

Heritage 2/2017:4037, $67,563 - D.L. Hansen Collection
#3 MS60 PCGS grade

Gator Man Collection - Heritage 1/2018:5123, $48,000
#3 MS60 PCGS grade
#3 MS60 PCGS grade
#3 AU58 PCGS grade
#8 AU58 PCGS grade
#8 AU58 PCGS grade
Ron Guth
:
In July 2006, American Numismatic Rarities offered a cancelled obverse die from an 1872-dated Double Eagle, speculating that it may have come from the Carson City Mint because of a "C" stamped on the shank. Two other Liberty Head $20 obverse dies have appeared on the market:
1877, attributed to the Carson City Mint, sold in 2002 for $23,000
1882, attributed to the San Francisco Mint, sold in 2001 for $20,700
David Akers (1975/88): Compared to the other Double Eagles from the Carson City Mint, the 1872-CC is only moderately rare, ranking 8th out of the 19 issues in terms of overall rarity. However, in terms of condition rarity, it ranks behind only the 1870-CC and 1871-CC and in the top 10% of the entire Double Eagle series. Nearly all 1872-CC twenties grade only VF of EF and it is very difficult to locate a strictly graded AU. A few average quality (60) uncs are known but I have never personally seen a choice or gem mint state piece.