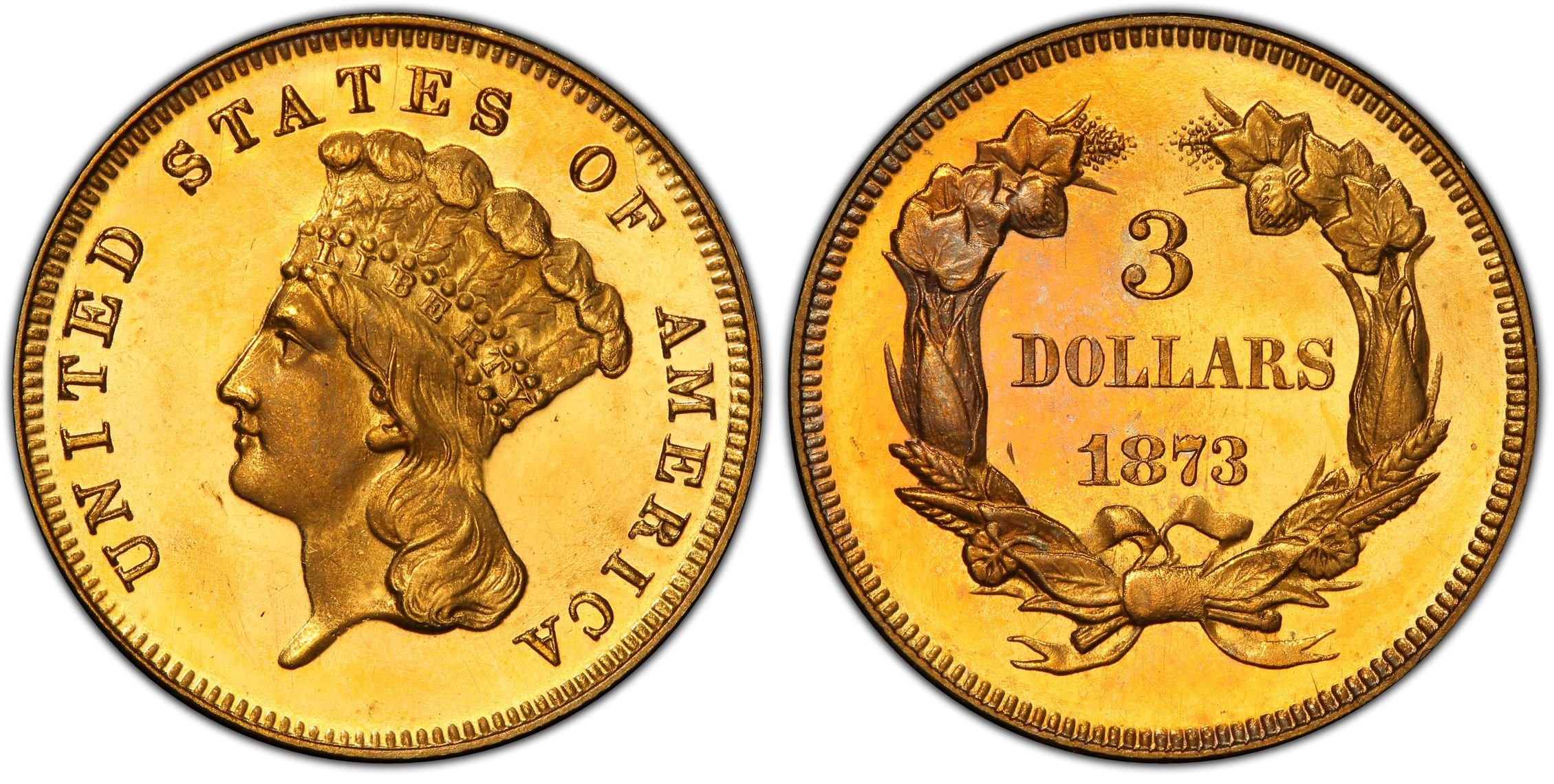 PCGS PR65CAM
Designer:

James Barton Longacre
Diameter:

20.50 millimeters
Metal:

90% Gold, 10% Copper
Current Auctions - PCGS Graded
Current Auctions - NGC Graded
For Sale Now at
Collectors Corner - PCGS Graded
For Sale Now at
Collectors Corner - NGC Graded
#1 PR65+CAM PCGS grade

Blowing Rock Collection - Heritage 11/2006:2146, $161,000 - D. Brent Pogue Collection - Stack's/Bowers & Sotheby's 2/2016:3114, $164,500
#2 PR65CAM PCGS grade
#3 PR63CAM estimated grade
#3 PR63CAM estimated grade
#3 PR63CAM estimated grade
#3 PR63CAM estimated grade
#7 PR62CAM estimated grade
Ron Guth:
The 1873 Open 3 is one of the great rarities in the $3 gold series. In the past, this variety has been called "Original", "Restrike" and "Regular Proof" -- hopefully, John Dannreuther will solve this issue in his forthcoming book on Proof U.S. gold coins. Regardless of its status, this is an incredibly rare and popular coin. Many are Cameos or Deep Cameos, though the majority may still reside in old holders that do not make that distinction.
Only 25 1873 Open 3 $3's were minted and it appears that collectors have preserved most of them. The high survival rate and the existence of two separate die states are what gave rise to the rumor that they may have been restruck.
The best examples appear to top out at PR65. Certainly, the most valuable example is the PCGS PR65DCAM that sold for $212,750 in 2008 and which now resides in the Tom Bender Collection.