1880 $4 Flowing Hair (Proof)
Series: Stella $4 1879-1880
PCGS PR66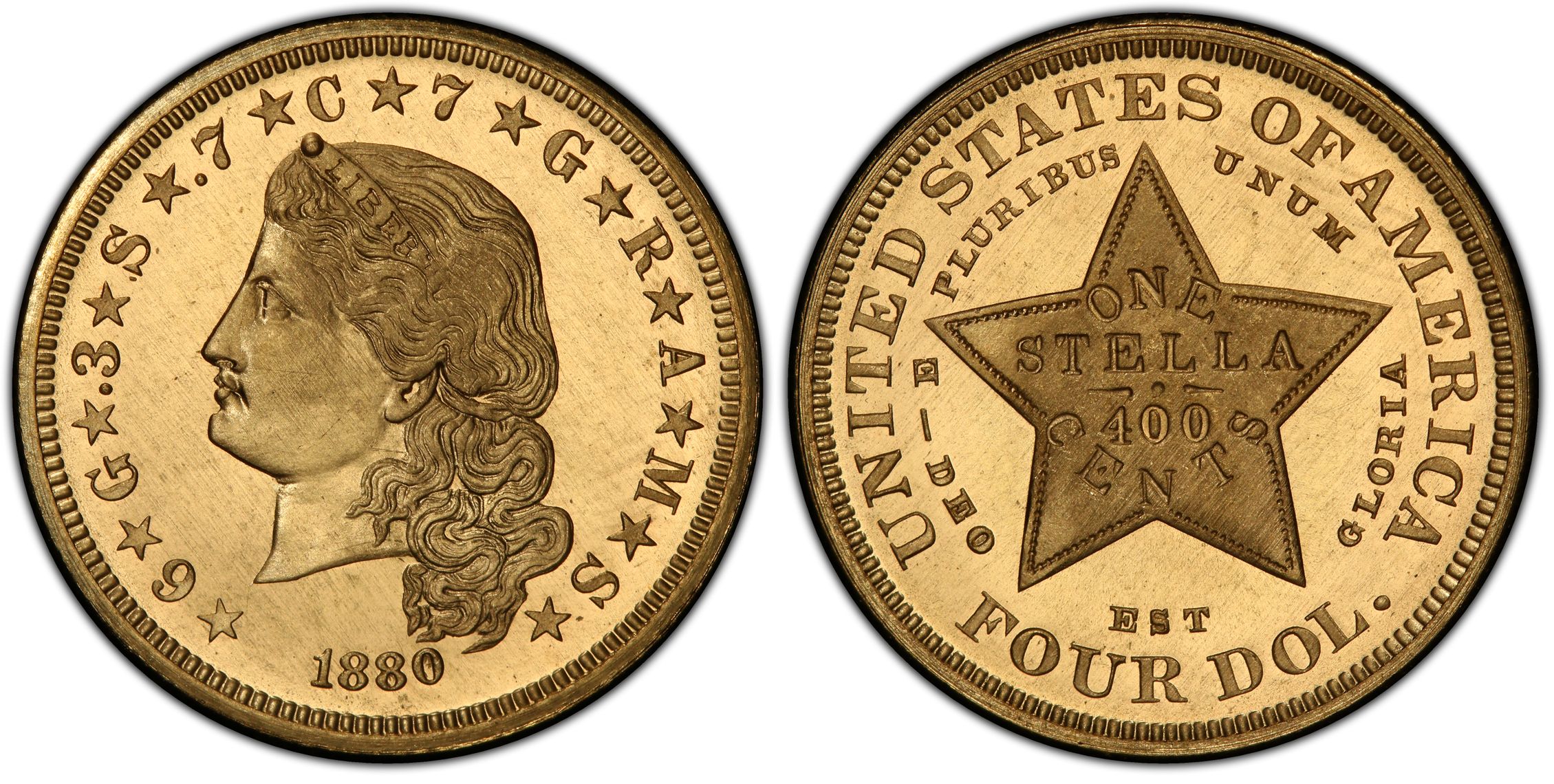 PCGS PR65
Designer:

Charles E. Barber
Diameter:

22.00 millimeters
Metal:

86% Gold, 4% Silver, 10% Copper
Current Auctions - PCGS Graded
Current Auctions - NGC Graded
For Sale Now at
Collectors Corner - PCGS Graded
For Sale Now at
Collectors Corner - NGC Graded
Rarity and Survival Estimates

Learn More
Survival Estimate

All Grades
24
60 or Better
22
65 or Better
13
Numismatic Rarity

All Grades
R-9.0
60 or Better
R-9.0
65 or Better
R-9.4
#1 PR67 PCGS grade
#2 PR66 PCGS grade

Sherwood Boyd Collection - Stack's 5/1985:1343, $63,250 - Dr. Jack Adams Collection - Superior 5/1992:2673, $91,850 - Heritage 4/2015:5300, $517,000
#2 PR66+ PCGS estimated grade

Dr. John E. Wilkison Collection (via David W. Akers and Mike Brownlee prior to 1973) - H. Jeff Browning Collection ("The Dallas Bank Collection") - Sotheby's/Stack's 11/2001:362, $241,500 - Bonham's 9/2013:1010, $959,400
#4 PR65 PCGS grade
#4 PR65 PCGS grade
#4 PR65 PCGS grade
#4 PR65 PCGS grade
#4 PR65 PCGS grade
#4 PR65 PCGS grade
#4 PR65 PCGS grade
David Akers (1975/88)
:
A reported 15 specimens of this pattern were struck, but since there are more specimens known than that and since a number of them have the same light adjustment marks on the head as the known restrikes of 1879, one might naturally conclude that this pattern was restruck as well. However, correctly used, the term "restrike" refers to a piece struck in a year later than its date, and in my opinion. this was not the case with the 1880 flowing hair stella. It hardly seems likely that specimens of the 1880 flowing hair stella would have been struck in 1881 or later. The idea of a metric coin was dead and besides, as late as October 12, 1880, there were still 150 unsold 1879 flowing hair stellas in the vaults of the Mint. I think it is much more reasonable to assume that the additional quantity of 1880 flowing hair stellas was struck after the initial 15 pieces was actually struck later in 1880, making the use of the term "restrike" incorrect. I would estimate that 25 1880 flowing hair stellas are known. This means that this pattern is 12 to 15 times as rare as the 1879 flowing hair stella, yet surprisingly, it usually brings less than twice as much when offered at public auction.
P. Scott Rubin: Bringing nearly one million dollars the 1880 Flowing Hair Four Dollar Gold coin sold for $959,400, in the September 23, 2013 Bonhams Sale of the Tacasyl specimen. Graded Proof-67 by NGC this same coin sold for $241,500 in 2001 when it was sold by Sotheby's and Stack's as part of the Dallas Bank Collection and was graded in the catalogue as Gem Brilliant Proof.

This coin is one of the top three finest known 1880 Flowing Hair Four Dollar Gold, of the less than twenty known coins of this date with Flowing Hair. This is the rarest of the Flowing Hair variety, which was only struck in 1879 and 1880. It is also the only date and variety which is struck with a small date, the 1879 Flowing and Coiled Hair varieties and the 1889 Coiled Hair coins are all struck with the same size larger date.

An 1880 Flowing Hair Stella made its first known auction appearance in Sampson's 12/29/1885 Auction Sale in lot 583. Since that sale until the current September, 2013 auction I have observed only 95 auction appearances of this date and variety.