1907 $10 J-1774a/1902 (Proof)
Series: Patterns - PR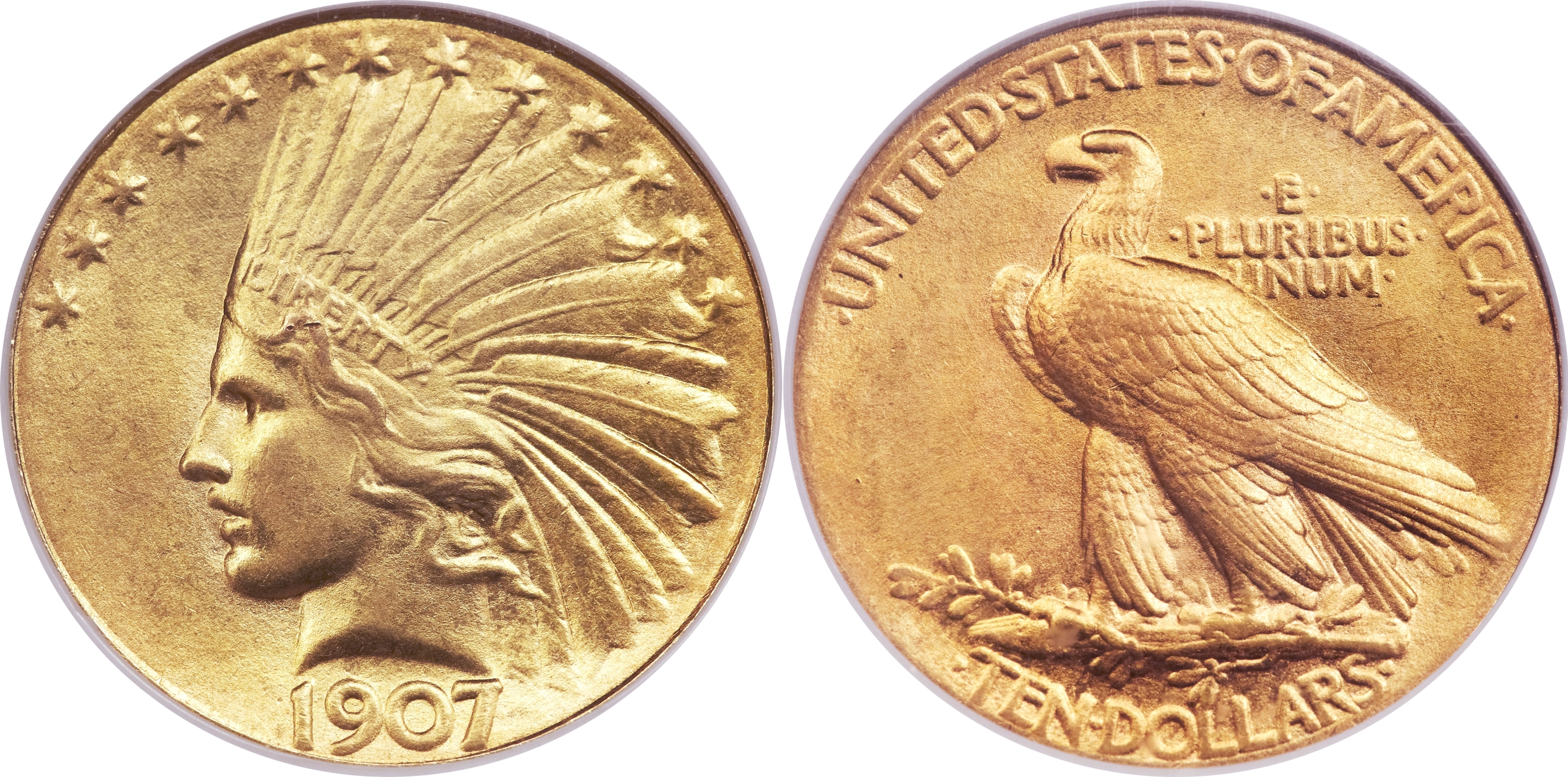 Image courtesy of Heritage Numismatic Auctions
Current Auctions - PCGS Graded
Current Auctions - NGC Graded
For Sale Now at
Collectors Corner - PCGS Graded
For Sale Now at
Collectors Corner - NGC Graded
#1 PR62 estimated grade

Heritage, 1/2003:8914, $195,500 - Stack's 7/2008:4241, $322,000 - Jarosi Collection - Heritage 8/2010:3561, $359,375 - Heritage 1/2012:5030, $345,000
P. Scott Rubin: The only known coin of this issue has been called a Satin Proof by its cataloguers. Only two of this issue were struck, one sent to the coin's designer, Augustus Saint-Gaudens, the other to Secretary of the Treasury George Cortelyou, who forwarded the coin to President Theodore Roosevelt. Both Saint-Gaudens and Roosevelt reviewed the coins and after slight modification came the 1907 Wire Rim with Periods Eagle with starred edge. The edge device had not been made by the time these plain edge coins were struck.

The obvious difference between this plain edge coin and the wire rim with periods and starred edge variety is that the Y in liberty and the date have a stronger strike on the plain edge variety then on the starred edge coins.

It is not known if the surviving coin is the Saint-Gaudens or the Roosevelt reviewed coin but either way this coin has a storied history. This coin first publicly appeared in the January 2003 Heritage FUN Sale where no previous pedigree is mentioned. To say this coin is historically important is an understatement, this coin represents the earliest version of the Saint-Gaudens style Ten Dollar Gold coin that both the designer of the coin and the President of the United States strove to implement and is the only surviving example as far as we know today of only two struck.