2011-W $10 Eliza Johnson (Regular Strike)
Series: (None)
PCGS MS70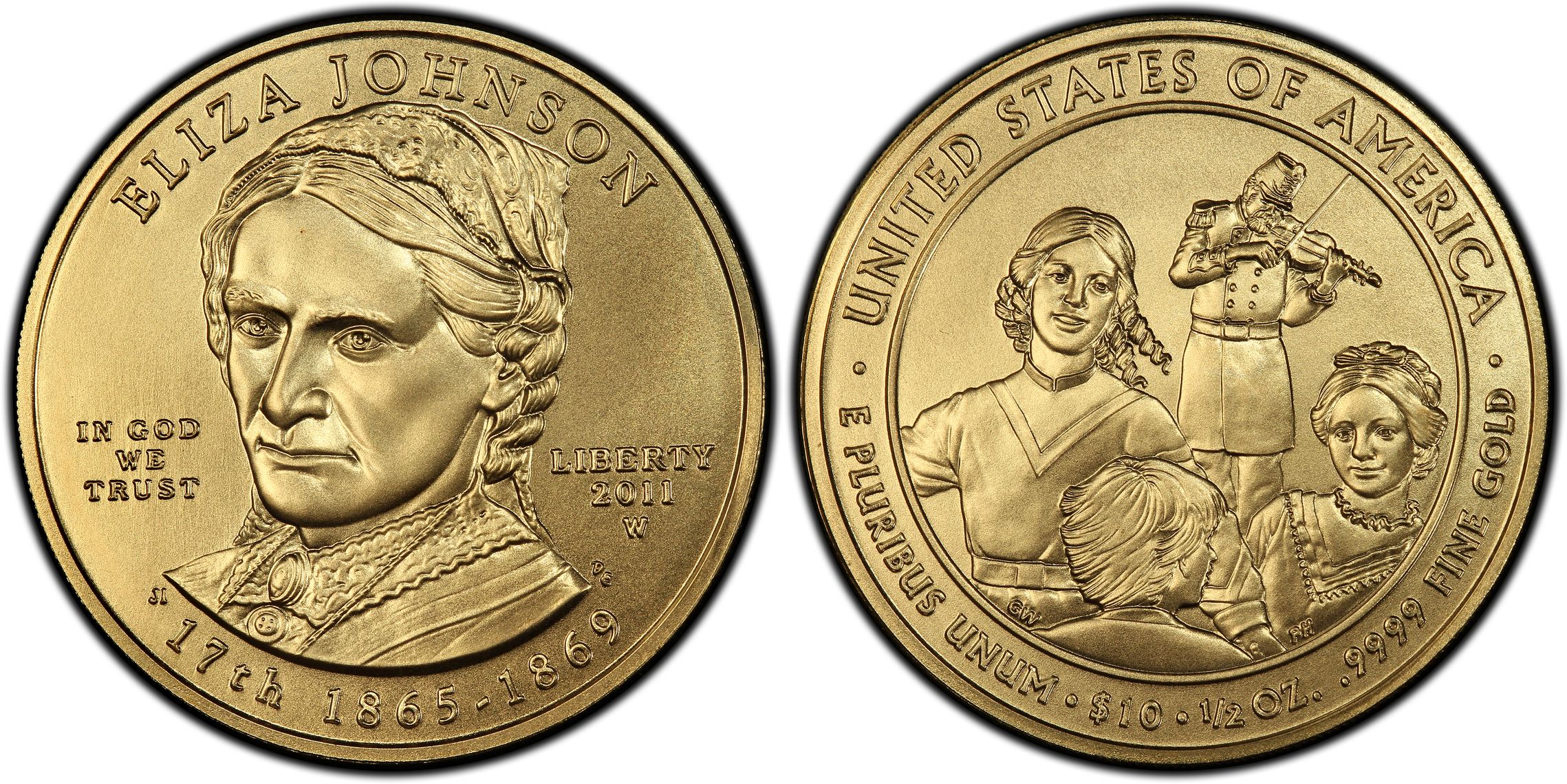 PCGS MS69
Designer:

Joel Iskowitz/Gary Whitley
Diameter:

26.50 millimeters
Current Auctions - PCGS Graded
Current Auctions - NGC Graded
For Sale Now at
Collectors Corner - PCGS Graded
For Sale Now at
Collectors Corner - NGC Graded
Jaime Hernandez
:
The $10 Eliza Johnson Uncirculated Spouse Coin was the first of four different designs issued in the 2011 Spouse Coin series. it is also the 18th design in the Spouse Coin Program.
Obverse: The obverse has a portrait of Eliza Johnson and underneath it the inscriptions, 17th 1865-1869. 17th is used to represent the Spouse of the 17th President and the years in which her husband served in office. Above her image, ELIZA JOHNSON is inscribed and on her left is the motto, IN GOD WE TRUST. Finally, to her right are the inscriptions, LIBERTY 2011W.
Reverse: The reverse features a violinist playing music and three children dancing at the Children's Ball which was held for President Johnson on his 60th birthday. Encircled around the coins design are the inscriptions, UNITED STATES OF AMERICA, E PLURIBUS UNUM $!) 1/2 OZ. .9999 FINE GOLD.
Issue Date: The $10 Uncirculated Eliza Johnson Spouse coins were first issued by the U.S. Mint on Thursday, May 05, 2011 at 12:00p.m. (E.T.).
Issue Price: The price was originally set at $916. for each coin if purchased directly from the U.S. Mint.