1834 25C (Regular Strike)
Series: Capped Bust Quarters 1815-1838
PCGS MS66
Diameter:

24.30 millimeters
Metal:

89.2% Silver, 10.8% Copper
Current Auctions - PCGS Graded
Current Auctions - NGC Graded
For Sale Now at
Collectors Corner - PCGS Graded
For Sale Now at
Collectors Corner - NGC Graded
Rarity and Survival Estimates

Learn More
Survival Estimate

All Grades
4,125
60 or Better
82
65 or Better
9
Numismatic Rarity

All Grades
R-4.1
60 or Better
R-8.1
65 or Better
R-9.6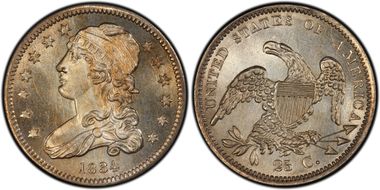 #1 MS66 PCGS grade

D. Brent Pogue Collection - Stack's/Bowers & Sotheby's 5/2015:1087, $58,750 - Dr. Charles Link Collection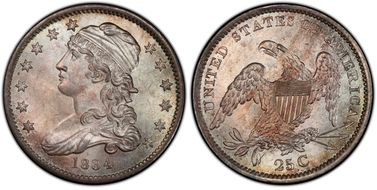 #2 MS66 PCGS grade

Rod Sweet Collection - Bowers & Merena 4/2005:3364, $29,900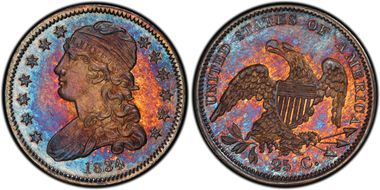 #2 MS66 estimated grade

Heritage 4/2012:5086, $26,450 - Heritage 4/2014:5578, $70,500 - Heritage 1/2016:5331, $64,625
#2 MS66 estimated grade

Superior 8/1990:1078, $110,000
#5 MS65+ PCGS grade

Heritage 9/2010:3911, $18,400 - Legend Rare Coin Auctions 12/2013:85, $34,500 - Legend Rare Coin Auctions 7/2017:166, $35,250
#6 MS65 PCGS grade

Heritage 4/2015:4096, $11,163
#6 MS65 PCGS grade

Heritage 1/2009:3733, $29,900 - Heritage 1/2015:4084, $28,200
#6 MS65 PCGS grade

Rare Coins of New Hampshire, sold privately in 4/2007 - Eugene H. Gardner Collection, Part I - Heritage 6/2014:30354, $24,675
#6 MS65 PCGS grade

Stack's/Bowers 5/2016:22, $23,500 - Legend Rare Coin Auctions 1/2018:148, $24,675 - Heritage 1/2020:4160
#6 MS65 PCGS grade

Heritage 1/2003:6642, $14,950
The striking of 1834 Capped Bust Quarters included five different die marriages, produced from two obverse dies and four reverse dies. As a whole, 1834 is one of the type dates of the series, and is readily available from the lower circulated grades up through MS64. In the Mint State grades, the most likely 1834 Quarters will be of either the B-1 or B-4 die pair, followed by B-2, then B-3. B-5 is clearly the rarest die combination, and it may not survive in true uncirculated condition.

Browning-1 re-uses the reverse from 1833 B-2 with two lines in each shield stripe and no period after the denomination. It is often known as "O/F Reverse" as the reverse legend was re-punched, a strong, second F appears in the space between OF, and the top of an extra A shows between OF and AMERICA. However, the B-1 dies were lapped, producing a late die state of B-1 with these extra letters no longer visible. We could have called B-1 the "No Period" variety, the "Two Line Stripes" variety, or the "Recut Legend" variety. Any way we look at it, it's time to drop the "O/F" notation.

The Browning-2 dies were used to strike most of the known Proof Quarters of 1834, including the King of Siam coin, before they were pressed into regular service. Additionally, we know that the B-2 die pair was put into service before B-1, as the shared obverse developed a bisecting die crack during its time with the B-1 reverse. In his groundbreaking Early United States Quarters 1796-1838 (2008), Steve Tompkins describes the differences in this B-2 reverse - the shape of the wings, the angled shield stripes - arguing that this die was the work of Christian Gobrecht, made specifically to strike quarters for inclusion in the 1804/1834 presentation sets.