1925 Medal Norse American, Matte Gold (Proof)
Series: (None)
PCGS PR67
Major Varieties
---
1925 Medal Norse American, Matte Gold
Current Auctions - PCGS Graded
Current Auctions - NGC Graded
For Sale Now at
Collectors Corner - PCGS Graded
For Sale Now at
Collectors Corner - NGC Graded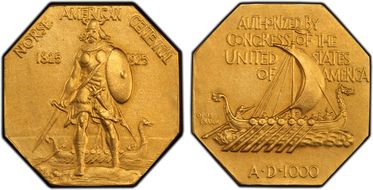 #1 PR67 PCGS grade
#1 PR67 estimated grade
#3 PR66+ PCGS grade
#4 PR66 PCGS grade

Harry W. Bass, Jr. Collection, Part I - Bowers & Merena 5/1999:2065 - Rollie Finner Collection - Stack's Bowers 8/2011:7479, $43,125 - Paul Denby Collection - Heritage 4/2016:4875, $31,725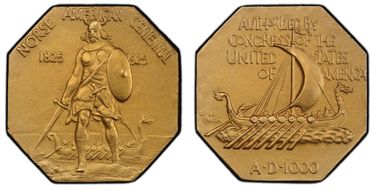 #4 PR66 PCGS grade

"FBT Norse Medals" Collection (PCGS Set Registry)
#4 PR66 PCGS grade

Heritage 2/2016:3474, $32,900
#4 PR66 PCGS grade
#4 PR66 estimated grade

Heritage 1/2015:4465, $32,900
#4 PR66 estimated grade
#10 PR65+ PCGS grade
Jaime Hernandez
:
The Mint only struck 100 Gold 1925 Proof Norse Medals, making them a very scarce issue. At the time they were struck, not many people could afford this Gold Medal back in 1925 at an issue price of about $20 a piece. Therefore, the Mint had to resort to melting 53 pieces that it could not sell, thus, leaving only 47 examples in existence at the time. Today, far less are believed to exist.
The 1925 Norse Medals were produced in order to commemorate the 100th Anniversary of the arrival of the Norse immigrants who arrived in New York on October 09, 1825. The obverse of the Gold Medal has two different years, first the year 1825, representing the year in which the Norse immigrants came to America. The second year is 1925, indicating the year that the coins were issued. The reverse of the coin also has the date A.D. 1000, to commemorate the much earlier arrival of the Vikings.
In 1925, the Mint issued several Norse Medals that were struck on different metal alloys to commemorate the arrival of the Norse and Viking immigrants.