Amid a mess of headlines about quarantines, self-isolation, and canceled events, the famous 1804 Draped Bust Dollar shined like a bright spot in the numismatic realm. One of the most coveted of all rare coins in the world, the 1804 Silver Dollar traded hands on March 20, 2020, for a stunning $1,440,000 at the Stack's Bowers Galleries March 2020 auction in which a variety of more than 400 coins from the D. Brent Pogue Collection were sold.
The sale of a million-dollar coin would make the news under any circumstances, but it speaks volumes that a coin like this can pull nearly $1.5 million at a time of such great and sudden economic uncertainty as experienced in the United States and around the world in recent weeks. Yes, the 1804 Draped Bust Dollar is widely heralded as The King of American Coins, and yes, it's the coin that virtually every coin collector wants. But when it comes down to dollars and cents, this rare trophy also demonstrates that even in tumultuous times, PCGS-graded collectibles carry perennial value, security, and liquidity.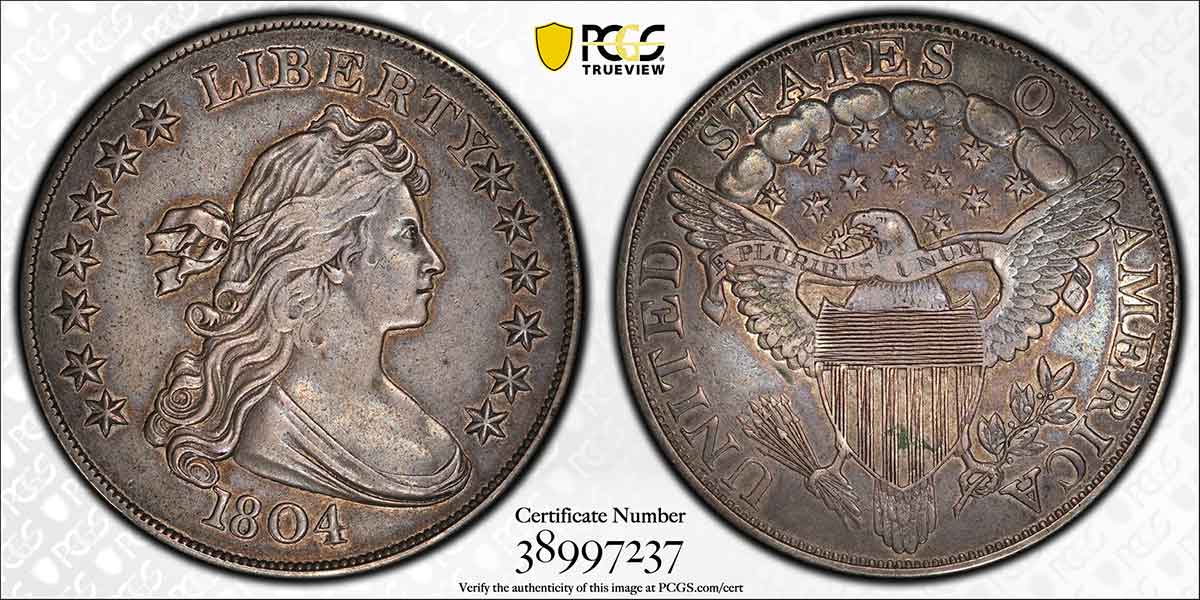 1804 Restrike - Class III Silver Dollar PCGS PR55. Image courtesy of PCGS TrueView. Click image to enlarge.
Rarity of Rarities
The 1804 Draped Bust Dollar is generally discussed as a single type of coin as if each of the 15 known 1804 silver dollars are alike any other. However, there are three classes of 1804 Draped Bust Dollar. Each is rare, yes. But the three classes are numismatically distinct. They are classified in this way:
Class I – So-called "originals" that were struck around 1834 and 1835 and presented in special proof sets given as diplomatic gifts to heads of state around the world. There are eight known Class I 1804 Draped Bust Dollars.
Class II – Of the restrikes, which were produced between 1859 and the late 1870s, only one example is known to exist of the Class II, which carries a slightly different reverse than the Class I dollars and also has a plain edge – the other 1804 dollars carry edge lettering. This unique Class II 1804 Draped Bust Dollar resides in the Smithsonian Collection in Washington, D.C.
Class III – Six examples of the Class III 1804 Draped Bust Dollars exist, and these have the second reverse as noted on the Class II but have the lettered edges as seen on the Class I dollars.
The 1804 Draped Bust Dollar that sold at the Stack's Bowers Galleries March 2020 Pogue Collection sale is a Class III specimen. It's graded PCGS PR55, indicating that this specially made proof has some light hints of surface wear on the high points. It's a coin of resplendent beauty, and its owner, who wishes to remain anonymous, must be very pleased with the acquisition he or she just made.
The 1804 Dollar A Numismatic Icon
All versions of the 1804 Draped Bust Dollar are collectively among an elite class of United States trophy coins – seven-figure gems that represent the epitome of numismatic rarity. Yet, the posterchild of the great numismatic rarity remains the 1804 Draped Bust Dollar. It was not only struck but also already recognized as an elusive rarity before the birth of several other well-known U.S. rarities, including the 1885 Trade Dollar, 1913 Liberty Nickel, and 1933 Saint-Gaudens Double Eagle. Beautiful coins all, and each worthy of its place in the numismatic annals. Yet, the elder statesman of the U.S. rare coin scene is indisputably the 1804 Draped Bust Dollar.
What's more, its prominence in our hobby has endured throughout recessions, depressions, world wars, and even pandemics of yesteryear. While tastes change in our hobby, young and old alike still pursue the dream of owning an 1804 Draped Bust Dollar. It's a dream few will ever realize, but all have the opportunity of earnestly chasing. For one intrepid collector, that goal was achieved this past weekend. And for all who endeavor to become the next collectors to claim the 1804 Draped Bust Dollar for their collections, be prepared. It won't necessarily be an easy challenge. For, as we've seen, nothing – not even unforeseen circumstances of global magnitude – appears to have the ability to shake the pedestal upon which the 1804 Draped Bust Dollar has stood for nearly two centuries.