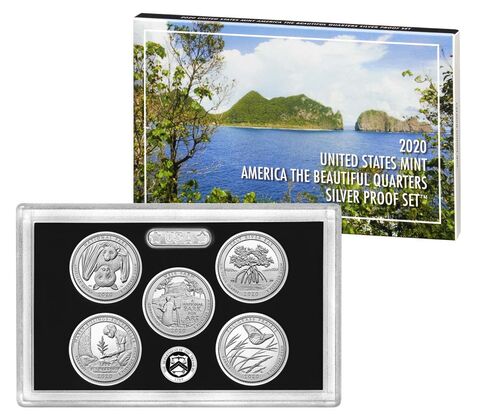 Image courtesy of usmint.gov.
The United States Mint released its America the Beautiful Quarters 2020 Silver Proof Set on February 20, 2020. This gorgeous set contains a total of five America the Beautiful Quarters made from 99.9% silver. The nearly pure silver compositions help to make this 2020 proof set somewhat notable, as this is only the second year in which the U.S. Mint has struck quarters in 99.9% silver.
Each 2020 America the Beautiful Quarters Silver Proof Set contains five quarters honoring five national sites and landmarks, including National Park of American Samoa in American Samoa, Weir Farm National Historic Site in Connecticut, Salt River Bay National Historical Park & Ecological Preserve in the U.S. Virgin Islands, Marsh-Billings Rockefeller National Historic Park in Vermont, and Tallgrass Prairie National Preserve in Kansas.
All five coins in the 2020 America the Beautiful Silver Proof Set contain the "S" mintmark from the San Francisco Mint. The obverse design remains the George Washington motif, which has been used on all United States Quarters since 1932. It's important to note that the 2020 quarters mark the last year of the program, during which five coins will be issued for the America The Beautiful series. Beginning in 2021, there will be a release of just one such quarter, the last for the series, honoring Tuskegee Airmen National Historic Site in Alabama. After the issuance of that quarter early in 2021, the reverse of the Washington Quarter is slated to carry a theme of George Washington crossing the Delaware River for at least the remainder thereafter of next year.
America the Beautiful Quarters 2020 Silver Proof Sets are presently being sold for $42.50 by the United States Mint and PCGS can grade the coins. These PCGS-graded America The Beautiful Quarters would make perfect update additions to ongoing PCGS Registry Sets that include these popular silver quarters. For more information on how to submit coins to PCGS for grading, please give us a call at 1-800-447-8848 or feel free to send us an email at [email protected]