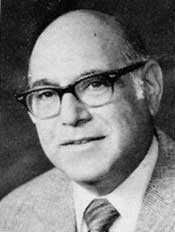 Early on the morning of July 18, 2005, A.M. "Art" Kagin, numismatist, father, and friend, died peacefully of pneumonia brought on by acute leukemia.
Art was one of the elder statesmen of numismatics. He entered the business in 1933 and rose to prominence through his rare coin auctions and his involvement in several major coin deals. In 1954, Art was one of the first authors to talk about coins as an investment. Art and his son, Don, are best known for their involvement with Pioneer gold coins (Don as author of "Private Gold Coins and Patterns of the United States" and the Kagin's collectively for their ownership of the Clifford-Kagin collection of Pioneer Gold coins on display at the old San Francisco Mint building until 1990). Even as he entered (and passed) the age at which most people retire, Art continued to attend major coin shows, where he, Don, and daughter Judy offered up their usual cornucopia of rarities in both the coin and paper money fields.
The following biography of Art Kagin comes from an advertisement in the 1953 issue of THE NUMISMATIST (the official publication of the American Numismatic Society:
"In March 1933, A.M. Kagin joined the ranks of the professionals, working for the old Hollinbeck Stamp and Coin Company of Minneapolis, Minnesota. When it was decided to expand into a chain of stores, A.M. Kagin was selected to operate the first branch store opened at Omaha, Nebraska, in 1935. When the next branch was opened at Des Moines, Iowa, in 1936, A.M. Kagin was transferred there, where he has since remained. In 1938, A.M. Kagin was placed in charge of the numismatic division of all the Hollinbeck Stamp and Coin stores. Paul Kagin joined A.M. Kagin in Des Moines in 1940.
"World War II came along and changed things considerably. The old Hollinbeck Stamp and Coin Company was dissolved as the managers entered the service. A.M. Kagin and Paul Kagin acquired sole rights to the use of the Hollinbeck name and all the assets of the various stores, with the exception of the Minneapolis store which was otherwise disposed of when Mr. Hollinback ceased his connection with the business. In 1945, A. M. and Paul Kagin decided to devote the major portion of their time to coin auctions, and moved upstairs in the same building where the store was located since 1936.
"As we approach our 150th sale, we take great pride in the growth of the present Hollinbeck Coin Company, and pay tribute to Mr. Hollinbeck whose original method of doing business was "Treat the Customer as you Would Wish to be Treated Yourself."
Over the years, Art made many friends, including several members of the PCGS staff, who share their thoughts on Art and how he influenced their lives.
David Hall:
"There are two things I remember most about Art Kagin. First and foremost, he was very gracious and patient with young dealers. He was always willing to talk to me when I was first starting out. He was a true gentleman numismatist. The second thing that comes to mind is something the late Herb Tobias told me over 25 years ago. I once asked Herb what it was like at a coin show in the 1950s. Herb said, 'You sat at your table and waited for Art Kagin to come by because he could buy everything at your table, and sometimes he did!' Art was a great numismatic ambassador and one of the market's true pioneers. He brought a lot of joy to many people and he will be missed a great deal."
Ron Howard:
"I was saddened to learn of Art's passing, but warmed by memories of him. My visits to his offices in Des Moines in the mid-80's were unforgettable. His legendary inventory never ceased to amaze me, nor did his mental acuity and unmatchable numismatic experience. His career spanned a unique time, never to be repeated. I respected Art as much or more so than anyone else I have ever met, within or out of the numismatic community."
Michael Haynes:
"I first met Art Kagin when he served as a member of the ANA Board. I knew that Art had been in the business a long time and I was concerned about how he would respond to my aggressive ideas about how to move numismatics and the ANA forward. After I made my presentation, Art came up to me, congratulated me on the materials, and encouraged me to continue to develop new ideas. I was somewhat relieved by his response and grateful for his support. To me, THAT WAS Art Kagin: a man who was gracious, who encouraged everyone and who was always willing to contribute his knowledge and support."
Ron Guth:
"Art had the special knack of making everyone feel like an old friend. I met Art sometime in the early 1970's at a coin show. I'm sure our first meeting was the usual "hi-how-are-you-pleased-to-meet-you" sort of thing, followed by some numismatic conversation, and we parted ways, me in awe and him off to do some big coin deal. The next time I met Art, I was struck by a) the fact that he even remembered me and b) the warmth of his greeting. Ever since then, no matter where we were or how long it had been, Art offered the same warm greeting, always accompanied by a joke, a story, or some pearl of wisdom. Sadly, those days are now over. However, just as Art remembered me, I will always remember him - fondly and with much affection."
The family asks that, in lieu of flowers, people donate in Art's memory to either of his two favorite charities:
The Judaic Resource Center of Iowa
943 Cummins Parkway
Des Moines, IA 50312 or
The American Numismatic Association
818 Cascade
Colorado Springs, CO 33279