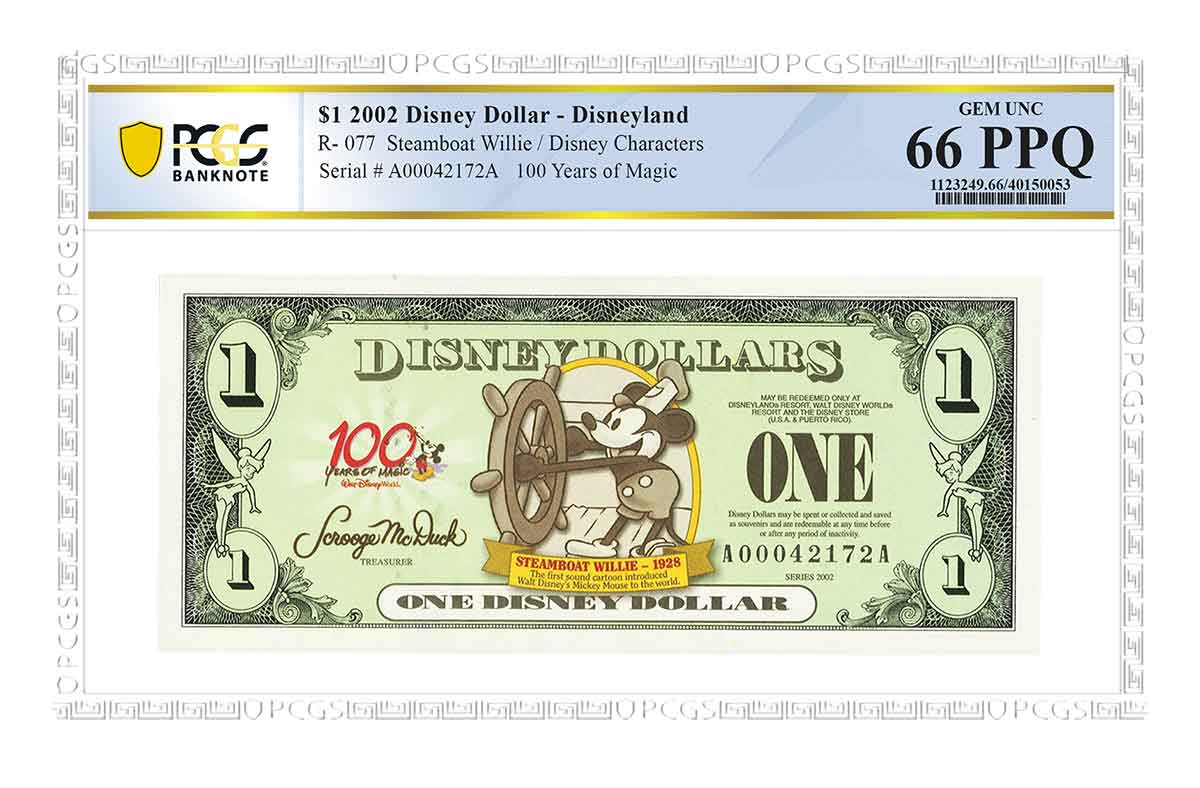 What's the most magical money on Earth? Some might say Disney Dollars, a type of scrip currency issued by The Walt Disney Company for use in its various theme parks throughout the United States as well as the Disney Store, Disney cruise ships, and at certain venues on Disney's private Caribbean island, known as Castaway Cay. Issued from 1987 through 2016, Disney Dollars have become highly collectible, increasingly scarce, and quite valuable.
One reason Disney Dollars have become such hot commodities is that they enjoy robust crossover appeal. Widely collected in the exonumia circles, they enjoy a huge following among collectors of Disneyana, a large collectibles genre encompassing a range of Disney products, including animation cels, licensed apparel, dolls, company stock certificates, and virtually anything else bearing the Disney name. And now through March 31, 2021, collectors can submit their Disney Dollars through the PCGS Banknote Modern Service for just $15.
Printing Money Became A Mickey Mouse Business
The forerunner of the Disney Dollar was the Disney World Recreation Coupon, which was originally printed in 1971 – the same year Walt Disney World opened in Florida. These were produced in limited quantities and, while lacking cash value, they were distributed to small numbers of guests to commemorate the opening of the resort complex near Orlando. These pieces have since become quite scarce, with top-quality specimens worth hundreds, even thousands of dollars. The 1971 issues are more common than those issued in 1972, and both are highly desirable today.
Many years later, another chapter opened for Disney scrip with the creation of Disney Dollars. The brainchild of Disney artist Harry Brice, Disney Dollars were first printed on May 5, 1987, with the initial run known as the "A" series for use at the Disneyland park in Anaheim, California; a few months later a "D" series was unveiled on October 2, 1987 for distribution at the Disney World park in Florida. These pieces were originally printed by EPI Marketing Service in Battle Creek, Michigan and were made using elaborately designed plates on 100% cotton "paper" to look and feel virtually identical to United States banknotes. The bills feature various anticounterfeiting elements, including microprinting and glitter, and were "signed" by Scrooge McDuck as treasurer.
Funny Money
In all, dozens of different types of Disney Dollars were printed across four denominations ($1, $5, $10, and $50) between 1987 and the discontinuation of the series in 2016. While many Disney Dollars were standard issues, several were printed as limited-run commemorative issues. Among these commemorative pieces was a special $50 denomination released in 2005 recognizing the 50th anniversary of Disneyland, which opened in 1955.
True to Disney's merry modus operandi, Disney Dollars are anything but staid scrip. Rather, they showcase a cavalcade of Disney's most popular characters smiling, in action, and frequently engaging in humorous hijinks with other Disney characters. Even though the last Disney Dollars were printed on May 14, 2016, they are still accepted for goods and services at various Disney properties. Of course, like so many numismatic collectibles, Disney Dollars are worth far more than their printed face values, with even the most "common" $1 Disney Dollars trading for anywhere from $50 to $100 and up.