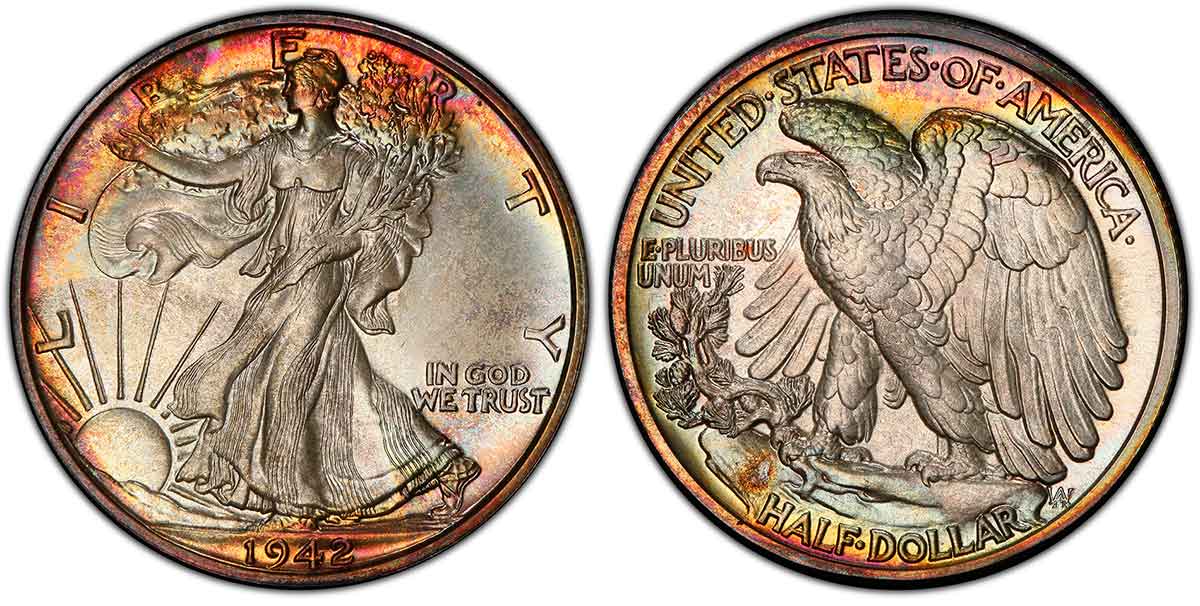 Did you know there are many creative ways to build affordable, competitive Walking Liberty Half Dollar PCGS Registry Short Sets? It's true! PCGS offers collectors a variety of exciting avenues for those who want to assemble Walking Liberty Half Dollar sets without having to buy every date-and-mintmark combination from the timelessly beautiful series designed by Adolph A. Weinman and spanning the years 1916 through 1947.
Some can be assembled for as little as a few hundred dollars, while the Lulu Collection, featured in a June 2021 Stack's Bowers Galleries sale, became one of the most prestigious of all Walking Liberty Half Dollar PCGS Registry Short Sets with a value estimated around a half million dollars. Here's a look at just some of the options collectors have for building Walking Liberty Half Dollar Short Sets on the PCGS Set Registry:
Walking Liberty Half Dollars Early Date Set, Circulation Strikes (1916-1933)
This 26-coin short set is decidedly one of the most challenging a collector could tackle from the Walking Liberty Half Dollar. How so? The years 1916 through 1933 encompass most of the key dates and semi keys in the series, not to mention a bevy of conditional rarities that become challenging in grades as low as XF40. These attributes entail the essence of the pre-1934 Walking Liberty Half Dollar – difficulty, scarcity, expense.
This set includes rarities such as the 1921 and 1921-D keys, 1916-S Obverse Mintmark semi key, and tough dates that include the 1919-D and 1921-S – all extremely scarce and expensive in upper circulated and all uncirculated grades. Add to this the difficulty in finding specimens from between 1916 and 1920 with full skirt lines, and the PCGS Set Registry collector will find assembling a choice angle of this short set a tall order to fill. Not for the faint of heart, building this particular set of coins requires tenacity, patience, and a fair degree of financial input. However, the results – rather circulated or uncirculated – are sure to please any collector of this classic United States series.
Walking Liberty Half Dollars Late Date Set, Circulation Strikes (1933-1947)
Does a short set of Walkers from 1916 through 1933 give you pause? If so, never fear… A less-challenging but equally exciting short set of Walking Liberty Half Dollars is here! This later-date Walker short set runs the gamut from 1933 through 1947. Boasting 40 coins, it is more than 50% larger than the 26-coin partial series run from 1916 through 1933 profiled just above. But save for a handful of tougher dates, the 1933-1947 Walking Liberty Half Dollar set represents a compromise in cost without forsaking the thrill that comes with building the earlier set.
The run of Walkers from 1933 through 1947 involves the notable 1938-S semi-key date, not to mention the "early" 1933-S (the lone representative here of the inherently scarcer pre-1934 issues) and the surprisingly tough conditional rarity known as the 1941-S. Beyond that, this set offers the collector an affordable path for collecting a handsome set of Walkers, and for the series enthusiast who wants a competitive PCGS Registry Set, look to acquiring top-grade specimens; the top 20 sets are separated by just fractions of a grade point!
Walking Liberty Half Dollars Short Set, Circulation Strikes (1941-1947)
What's the difference between this 20-coin set and the two other sets we just profiled? The several hundred – if not several thousand – dollars a collector saves by taking this route. Of course, for many collectors, the only object money is would be the PCGS-graded coins in their Registry Sets. However, the reality is that budgets are a major consideration for a great many collectors, and thus just one of many advantages one can enjoy when building this pocketbook-conscious 1941-1947 Walking Liberty Half Dollar Short Set.
So, why collect this particular span of dates? The year 1941 may seem rather arbitrary to many an unassuming collector. But as many numismatists know, the famous Whitman Publishing Company – one of the many hobby names that built the date-and-mintmark collecting we know today through mid-century folders and albums – divvied the Walking Liberty Half Dollar series into two blocks: an earlier 1916-1940 set and this shorter 1941-1947 run. And while the 1941-S rings in at over $30,000 in the grade of MS67, this set is a relatively affordable stunner in MS65 and MS66, too.
Walking Liberty Half Dollars, Proof (1936-1942)
Requiring only seven coins, this short set built exclusively with Proof Walking Liberty Half Dollars is the smallest of all objectives mentioned in this article in terms of the number of coins involved. However, for what this set may lack in size it boasts in beauty. The Walking Liberty Half Dollar in proof is arguably one of the most beautiful classic coins the United States Mint has ever produced. And that assertion is so aptly made in the composition of this short set, which begins with the first Proof Walker issued in 1936 – some two decades after the issuance of regular proof coinage began its generation-long moratorium in 1916.
Collectors will find the 1936 Proof Walking Liberty Half Dollar the toughest and most expensive of the seven coins here. However, expense and ease have inverse relationships commensurate with the mintages that increased year by year through 1942, when the United States Mint halted the production of proof coinage to focus on fulfilling circulation needs of a busy American economy thrust into the depths of World War II.