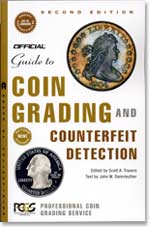 (Newport Beach, CA) -- The Professional Coin Grading Service's "Official® Guide to Coin Grading and Counterfeit Detection" 2nd edition, published by a division of Random House, will make its debut at the American Numismatic Association's National Money Show™ in Portland, Oregon, March 26 - 28.
In conjunction with release of the new book, PCGS will display in Portland selected examples from its altered and counterfeit coins reference collection. Some of these coins have never previously been exhibited.
The 415-page paperback book was edited by Scott A. Travers with text written by John Dannreuther, and contains detailed descriptions of coin grades and the intricacies of counterfeit detection. There are nearly 600 sharply-detailed color and black and white digital images of coins.
The book, published by the House of Collectibles division of Random House, now is available in an easier-to-handle size at the suggested retail price of $19.95. Copies will be available in bookstores nationwide, and also can be ordered on Amazon.com or by calling (800) 726-0600.
First published as a hardback in 1997, the precedent-setting book and the just-published revised 2nd edition paperback provide concise information to educate collectors and dealers about PCGS grading standards for all U.S. coins. The new edition contains major innovations and enhancements including grading guides for superb-quality Statehood quarters and modern commemoratives, and updated "insider" information about the way lasers are used to deceptively "doctor" coins.
There also is the first publication of a photograph of a Standing Liberty quarter with an "added" full head.
In addition to editor Travers and text author Dannreuther, contributors to "The Official® Guide to Coin Grading and Counterfeit Detection" 2nd edition include numismatic authorities David Hall, Ed Reiter, Thomas K. DeLorey, Michael W. Sherman, and John Bahner.