We typically showcase one single, exceptional note here that the PCGS Banknote team selectively handpicks out of the thousands of notes it certifies each month. In a departure from that one-and-done formula, this edition of Noteworthy Notes actually lives up to the pluralization of its column name by featuring an entire denomination set of notes – six in total. They simply cannot be broken up and profiled individually because choosing just one would be a travesty of justice (they are all equally cool!) and, furthermore, they just work much better together as a complete group.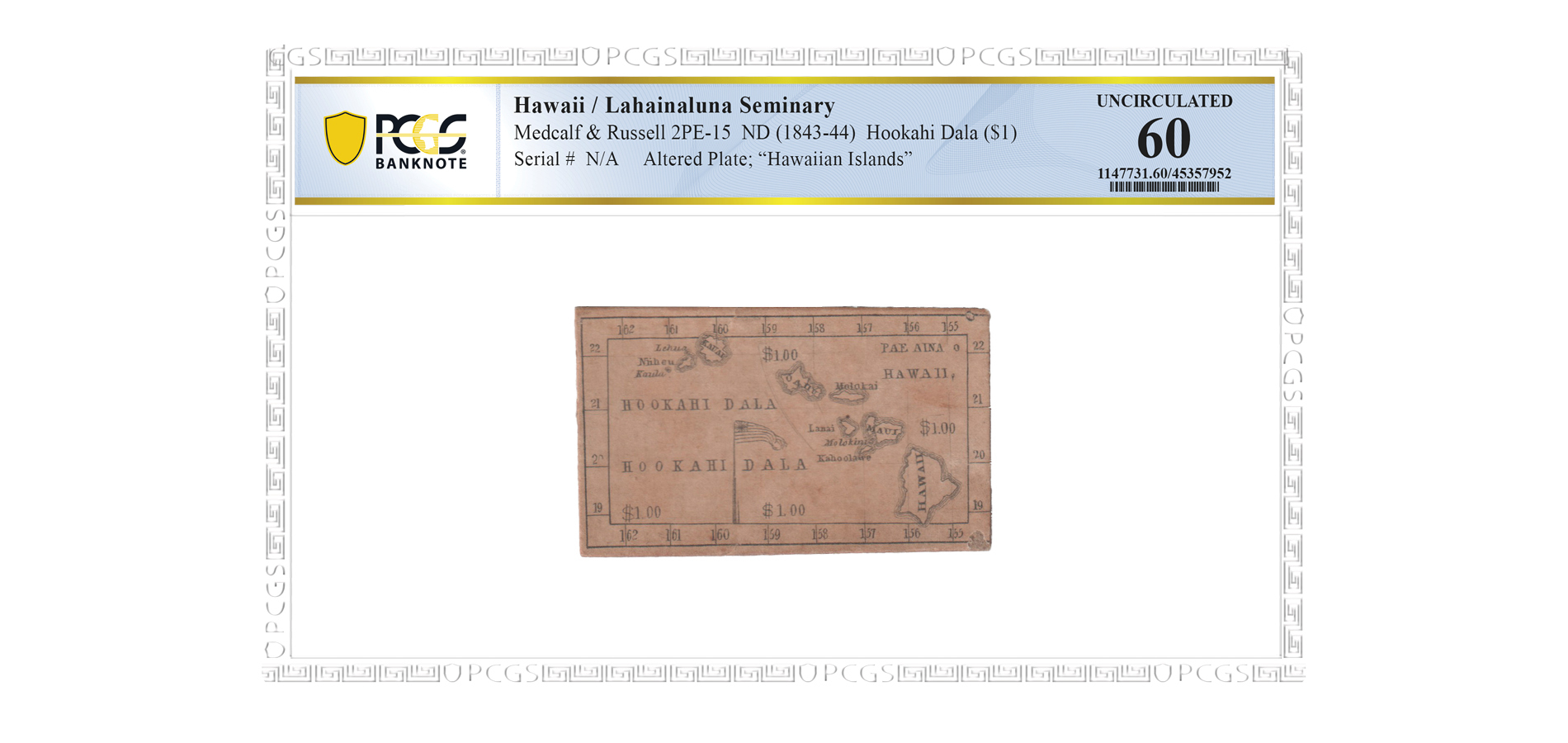 Before we dig into this spectacular assembly of 1840s Hawaiian scrip from the storied Lahainaluna Seminary, a little discussion about Hawaiian history and geography may be helpful to set the stage. In 1898, the Hawaiian islands were formally annexed by the United States, initially as a territory before achieving full statehood in 1959. In the preceding decades of the 19th century, Hawaii was a unified, independently governed and globally recognized kingdom ruled by a series of monarchs who would grant land leases to American businessmen and religious missionaries to build and operate plantations, factories, schools, and seminaries.
One such facility was the Lahainaluna Seminary. Located on the western edge of Maui island just northeast of Lahaina (Lahainaluna means "Upper Lahaina" in Hawaiian), the seminary was equipped with a press used to print religious and educational materials, legal documents, maps and other illustrations, the first newspaper west of the Rocky Mountains, and – yes – these fine circulating monetary instruments, printed via engraved copper plates on thin paper and then mounted on dark brown cardboard for durability's sake. The miniscule print run of 228 sheets of scrip consisted of a little less than $450 in total face value, with each sheet containing one subject of each denomination from 3 cents up to 1 dollar.
Like many issues of private and municipal scrip over the years, a lack of available metal change (coinage) on the island necessitated the 1843-1844 printing of these paper stand-ins, which could then enter circulation to encourage and enable a more robust level of local commerce. When a certain amount had accumulated, they could then be redeemed by the bearer at the seminary for silver or other goods.
This full denomination set consists of the 3-cent (or "Keneta" in Hawaiian), 1/16 dollar ("Hapaumi"), 1/8 dollar ("Hapawalu"), 1/4 dollar ("Hapaha"), 1/2 dollar ("Hapalua"), and the full 1 dollar ("Hookahi Dala") note. Designs representing Industry, Law, Science, Geography, Education, and the Hawaiian Islands adorn the faces of these notes, respectively.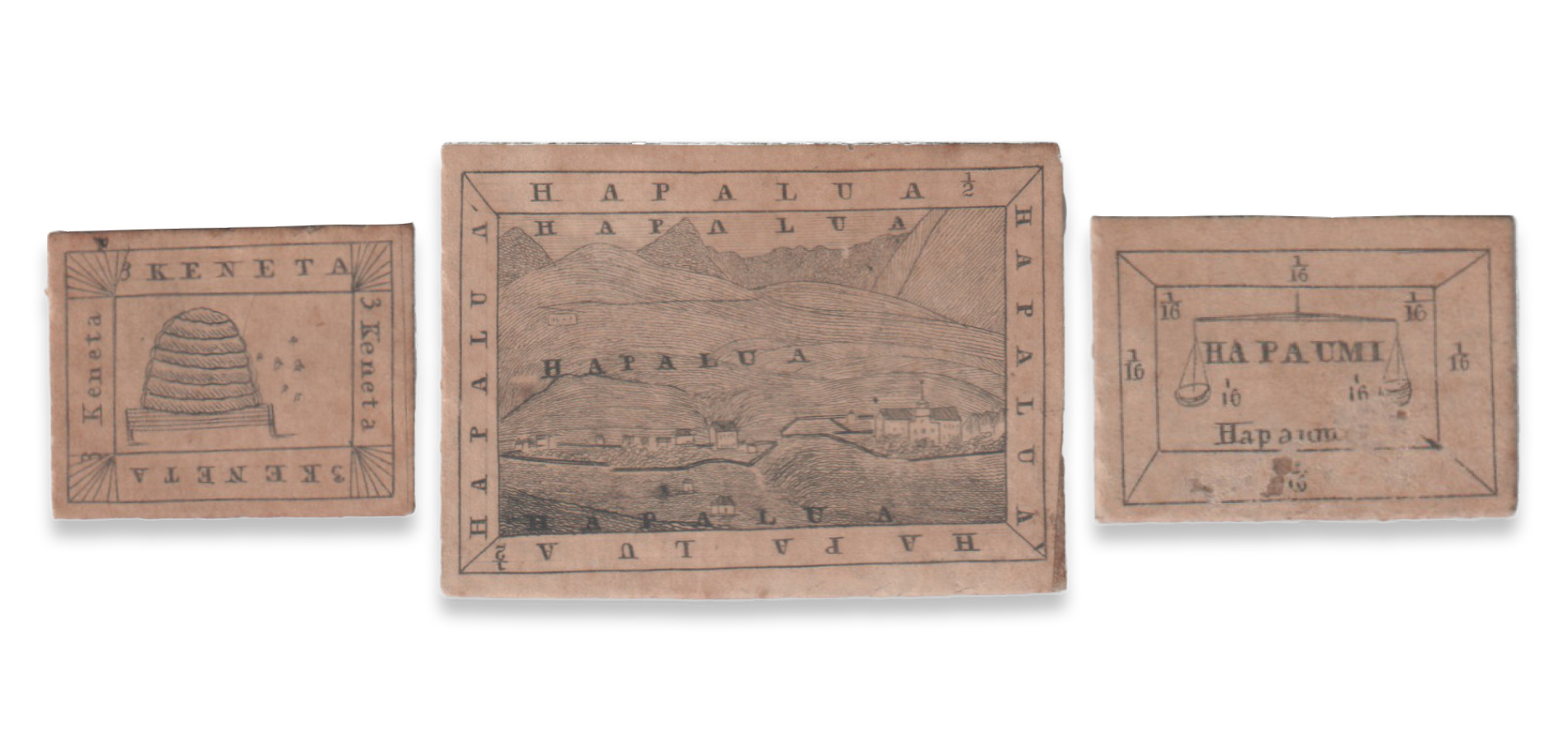 There is an additional fascinating detail to this particular scrip issue that adds to their overall charm and wonder. According to the Hawaiian Money Standard Catalog (2nd Edition) by Donald Medcalf and Ronald Russell, the notes from this set – along with all other known single-note examples – were printed on altered plates with tiny secret marks meant to differentiate them from notes of the initial print runs that had been compromised by some level of unauthorized reproduction. It is believed that one of the seminary print shop's students was the culprit, using the original copper plates. At some point, only notes with these secret marks could be redeemed and anybody still holding notes from the older, tainted issue would be out of luck. Only one example of an unaltered plate printing exists – an uncut sheet of all six denominations. Talk about a real numismatic rarity!