I remember my first experience at the Long Beach Coin, Currency, Stamp & Sports Collectibles Expo quite vividly. I was 18 years old, and it was one of the few major coin shows that I had attended up until that point. I was working at Allgood Coin in St. George, Utah, and my boss needed a good inventory re-start. We left in the early hours before the sun came up for the six- or seven-hour drive.
As we signed in, got our badges, and entered the bourse floor, I was filled with awe and excitement. The buzz of conversations, deals being made, and coins being traded was infectious. I knew right then and there that this is what I wanted to do with my life. Little did I know at the time the phenomenal opportunities that would come my way. I'm not sure I would have believed it!
One thing that always stuck with me at that and every subsequent Long Beach Expo that I went to was the fact that PCGS provided a day or two of "Meet the Expert." This event, in my mind, gave collectors and dealers an excellent opportunity to sit with a PCGS expert and talk coins. Whether someone needs an opinion on grade, authenticity, variety, or "should I submit this for grading?" they can get an answer from someone with credentials. I remember hearing the announcements over the loudspeaker and dreaming of the fantastic items that the experts were getting to view.
Imagine my surprise — and delight — when in September of last year, and recently last week, I was asked to be "the expert"(!) Of course, there was a slight hesitation in accepting the new role since I didn't know what type of questions might be brought up. But, since I am passionate about coins and enjoy talking to people, those apprehensions were very short-lived.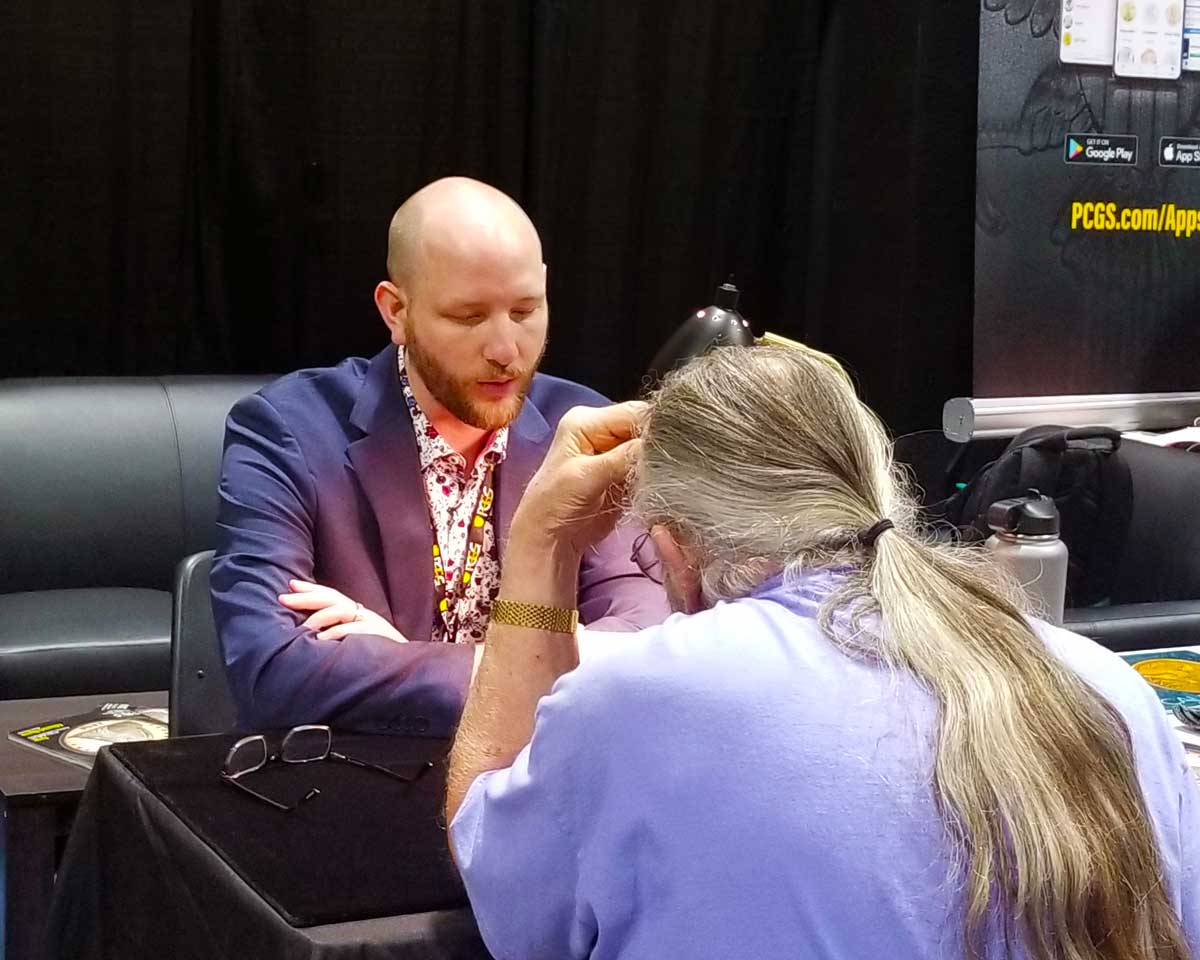 Director of Education & Outreach Steve Feltner connects with just one of hundreds of collectors seeking PCGS expert opinion at the Long Beach Expo February 20-22, 2020.
After two days of speaking to the public, there was one coin that stood out above the rest; it was brought to me by a man and his wife. I believe he said that the coins were a part of an estate that belonged to his father, who had passed. He had several raw coins and had questions of condition and value. I was shocked when I pulled out an 1871 $10 Liberty Eagle and flipped it over to see it was minted in Carson City! I graded the coin About Uncirculated with no indications of cleaning or other manipulation. It was a solid example.
I can say without hesitation that this past round of Meet the Expert was a huge success. I spent a total of around three hours per day for two days speaking with a variety of collectors and dealers of different numismatic backgrounds. Being able to educate the public about the history, importance, and value of their treasures is something that I have always enjoyed. I can't wait until the next round. If you ever find yourself at the Long Beach Expo and want to have a conversation with me, be sure to drop by!
Attend the Summer Long Beach Expo: Coin, Currency, Stamp & Sport Collectibles Show on June 4-6, 2020