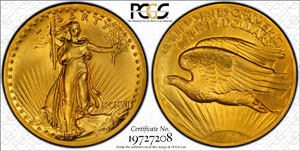 The PCGS TrueView™ Imaging Service provides high-quality images of each coin at the most opportune moment – right before the coin is encapsulated. And now you can have these beautiful images for only $10 per coin, regardless of the coin's value! This popular service offers the advantage of having your coins photographed outside the holder, free from any glare or potential scratches (on the slab), or free from the prongs of the gasket. It's especially advantageous for more colorfully toned coins! Each image gives an unobstructed view of the coin a format that can be used for a number of numismatic and commercial purposes.
These images are great for use on the PCGS Set Registry,℠ websites such as Collectors Corner or eBay, or just to share with fellow collectors on the PCGS Message Boards.
When requesting the TrueView Service on your submission, please select the "Other" box on the submission form and write TrueView along with the appropriate line number of the coin you wish to have photographed.
Coin images will be emailed instantaneously for TrueView/Reholder submissions, and shortly after they've completed the grading process on Regular, Express or Walkthrough submissions. You will receive an email that includes a link to a web page displaying the image with additional links for other resolution sizes. Below are the sizing options for TrueView images:
Thumbnail (200 x 101)
Small (225 x 114)
Medium (550 x 278)
Large (1100 x 555)
ExtraLarge (2200 x 1110)
Max (5757 x 2905)
You can also access your TrueView images through Cert Verification on our website. Simply follow these easy steps:
Select the Cert Verification link on the bottom left-hand side of the PCGS website
Enter the certification number of the coin that was imaged
Once you have entered the certification number, all the information on your coin will appear including a smaller icon of your TrueView photograph
To see the larger version, simply click on the icon and a new image will appear in a separate window for you to save and download accordingly
The PCGS TrueView service offers quality images that are among the finest in the numismatic hobby. For any other questions or concerns, please contact Customer Service at [email protected] or 800-447-8848.