As we browse through some of the upcoming auctions, we cherry pick some of the most eye-catching coins that captured our attention, and then we excitedly share them with our readers. Here are some of the most exciting coins that caught our attention that are soon to cross the auction block.
1852 Assay Office $50 887 Octagonal "Slug"
This 1852 Assay Office $50 887 Octagonal is also referred to as a "Slug." The $50 Octagonals, or Slugs, are considered one of the most attractive coins produced in the United States. They have several positive attributes going for them, such as their novel octagonal shape, making the coin very captivating and attention grabbing for most collectors. It's also issued in an unusual $50 denomination, something most people are not familiar with, especially on a vintage coin. Further, it's composed of mostly gold content and displays beautiful, nostalgic designs on both the obverse and reverse.
The coins also did not circulate much and were only produced for a limited time, making most examples truly scarce, especially in higher circulated condition and also in uncirculated grades. On November 2, 2022, Heritage Auctions will offer an exceptional piece graded PCGS AU55+. The coin looks completely original and the surfaces appear very close to being uncirculated. An iconic coin that will surely make any collector happy to add this example to their collection. To view this lot, visit Heritage Auctions.
$20 1924 Saint-Gaudens Double Eagle
The 1924 Saint-Gaudens Double Eagle is one of the more common issues in the series. However, examples above MS67 are difficult to come by. GreatCollections is offering an example graded PCGS MS67+, which has a sharp strike, clean surfaces, and radiant luster on both the obverse and reverse. At PCGS, we have graded only nine examples in MS67+, with one lone specimen grading PCGS MS68 and none grading higher. It's a spectacular coin that should command a strong price at auction, which ends for this coin ends on October 30, 2022. To view the coin, visit GreatColletions.
1670-A French Colonies Double de l'Amerique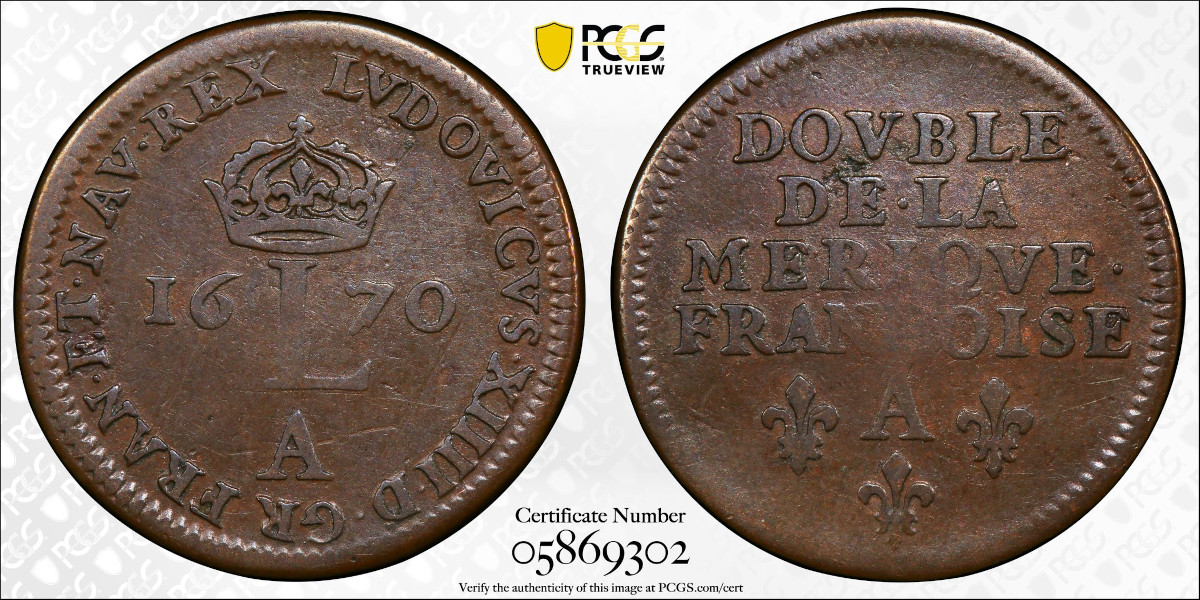 The third coin that captured our attention was a unique 1670-A French Colonies Double de l'Amerique. The coin comes from the Sydney F. Martin Collection and is graded PCGS VF35. This coin is very significant, as it's believed to be one of the first French American coins produced. This particular coin is also believed to be unique. The coin also has a remarkable provenance, as it resided in the Count Phillip Ferrari de la Renotiere Collection from 1850-1917. It later sold in 1996 as part of the Norweb Canadian Sale, according to Stack's Bowers Galleries. It's a remarkable piece to say the least and unquestionably an important historical coin in numismatics. The bidding for this coin takes place on October 27, 2022, and this should be a very fun coin and auction to keep an eye on. To view this coin and the Sydney F. Martin Collection, please visit Stack's Bowers Galleries.