In this 17th installment of the "Road to the Summer Olympics," we move to the 2020 Games in Tokyo, Japan. Tokyo won the honor of hosting the 2020 Olympics in 2013. Six bids had been placed to host the Games, with Rome (Italy) withdrawing their bid, and Baku (Azerbaijan) and Doha (Qatar) not promoted to candidate status. Of the three cities that made it to candidate status, Tokyo won the most votes in round one with Istanbul (Turkey) and Madrid (Spain) tied for second. In round two, Tokyo won the honor over the runoff winner Istanbul.
In January 2020, the fears of a pandemic began as China took the proactive measures to close the city of Wuhan and the Hubei Province to stop the spread of a coronavirus that had become rampant in the city and province. This virus, COVID-19, would become a global pandemic, with much of the world following China's leadership and choosing to close down cities, province, states, and entire nations in an attempt to reduce and stop the spread of the virus. International travel disappeared, and many nations stopped people from entering their countries. For the Olympic qualifying events, some were set to take place in early 2020 with locations for women's basketball in Foshan, China, being moved to Belgrade, Serbia and boxing being moved from Wuhan to Amman, Jordan.
Due to fears of the virus, mandatory drug testing could not be performed because of the health risks. International concern grew about how safe the Olympics would be with the global pandemic occurring. The International Olympic Committee (IOC) as late as March 18, opposed any cancellation or delay in the Olympics. On March 23, Australia, Canada, and Great Britain announced they would withdraw from the Games if they were not postponed by one year. Japanese Prime Minister Shinzo Abe supported postponement saying that athlete safety was paramount. On March 24, the IOC announced that the Olympics and Paralympics would be "rescheduled to a date beyond 2020 but not later than summer 2021." This postponement marked the first time the Olympics had been postponed in modern (since 1896) history.
It is believed that if the Games had been cancelled like they had been in 1916, 1940, and 1944 it would have cost Japan $41.5 billion (USD) in lost operating expenses and loss of tourism. It is believed that the postponement will cost Japan $5.8 billion (USD) for increased maintenance expenditures for the unused facilities. As of writing this, it is too soon to know what the 2021 date will be and how many of the 206 National Olympic Committees will participate. Tokyo and the Olympics will continue to call the Olympiad the 2020 Olympics, despite not being held in the year 2020.
Like all Olympics before 2020, many years of preparation take place, from building venues and infrastructure to marketing. This is no different for numismatics, as many countries make commemorative coins years before the Olympic Games they host. Japan was not the exception with this, producing commemorative coins as early as Heisei Year 30 (2018) for circulation featuring fencing on a 100 Yen coin. A Paralympics coin was also made in 2018 for circulation. In Heisei Year 31 (2019), five more circulating commemorative 100 Yen coins were produced featuring karate, skateboarding, sport climbing, surfing, and weightlifting. In the first year of Reiwa (2019), a 100 Yen circulating commemorative was issued for archery, canoeing, and cycling. These three coins will also bear the date Reiwa Year 2 (2020) for a proof issue. Coins set for release into circulation for Reiwa Year 2 (2020) were football (soccer), Miraitowa (mascot), tennis, and volleyball. However, as of this writing, none can be verified to have been issued. A circulation issue 500 Yen for the Olympics dated Reiwa Year 2 (2020) was also set to be released featuring the Thunder God Raijin and the Olympic Rings and sports figures on the back.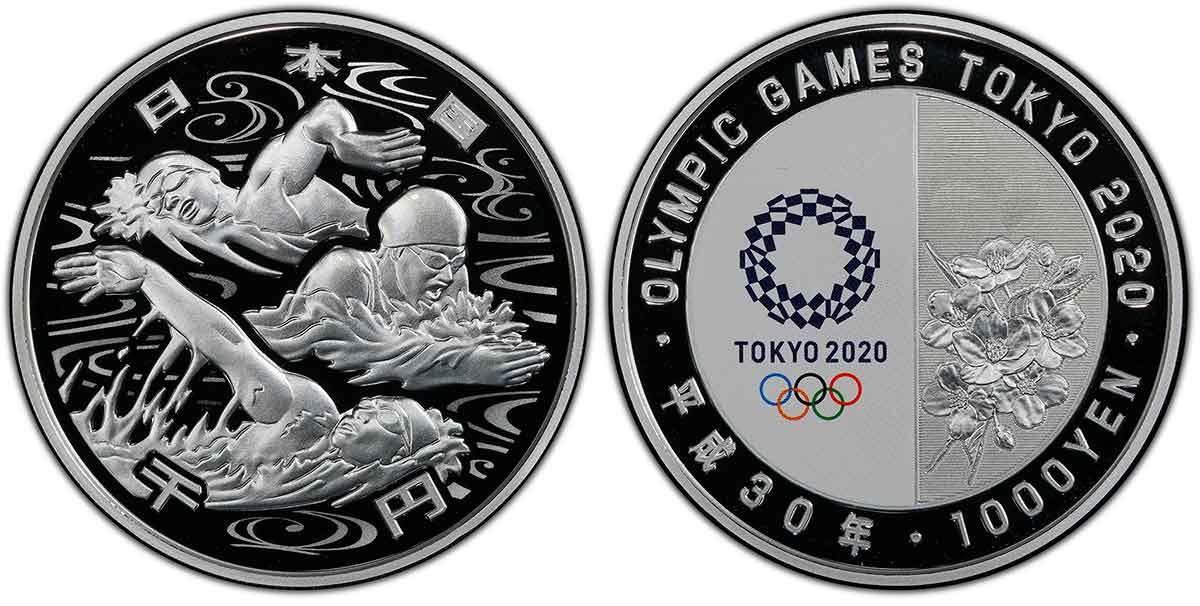 Japan H30 (2018) 1,000 Yen – Tokyo 2020 Olympics – Swimming – PCGS PR70DCAM. Click image to enlarge.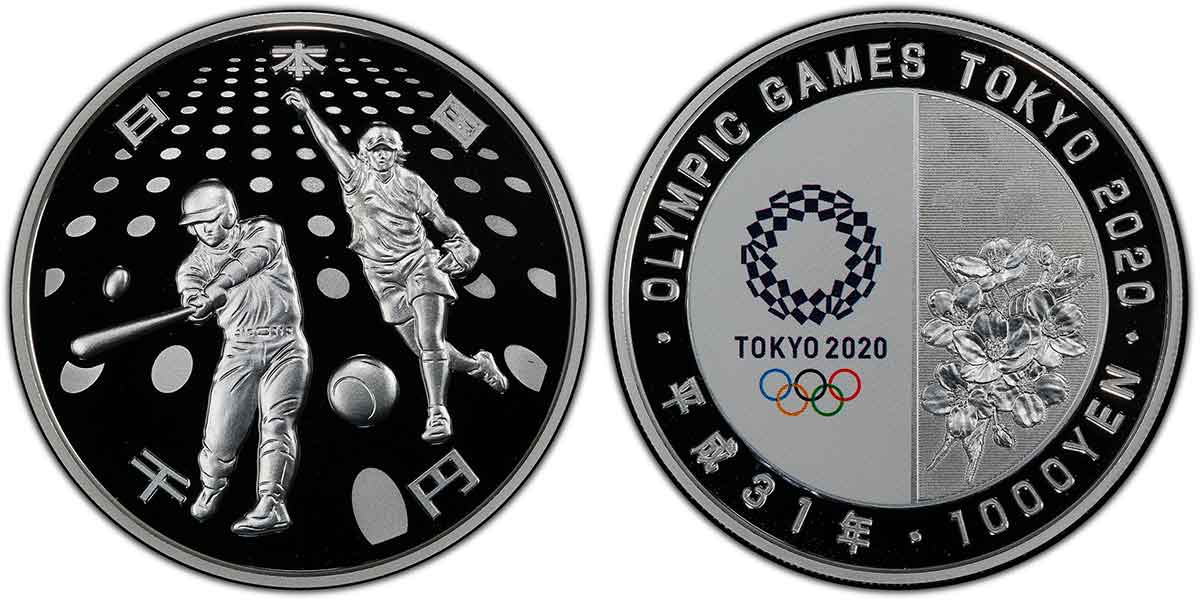 Japan H31 (2019) 1,000 Yen – Tokyo 2020 Olympics – Baseball & Softball – PCGS PR70DCAM. Click image to enlarge.
For NCLT issue coinage from Japan, silver issues starting in Heisei Year 28 (2016) commemorated the handoff from Rio, Brazil, to Tokyo, Japan, in the denomination of 1,000 Yen. Heisei Year 30 (2018) saw the first commemorative issue for swimming. Heisei Year 31 (2019) had commemoratives for athletics, badminton, baseball, and softball. As of now, unreleased but planned issues were dated Reiwa Years 1 and 2 (2019-2020) honoring athletics, judo, table tennis, boxing, and wrestling.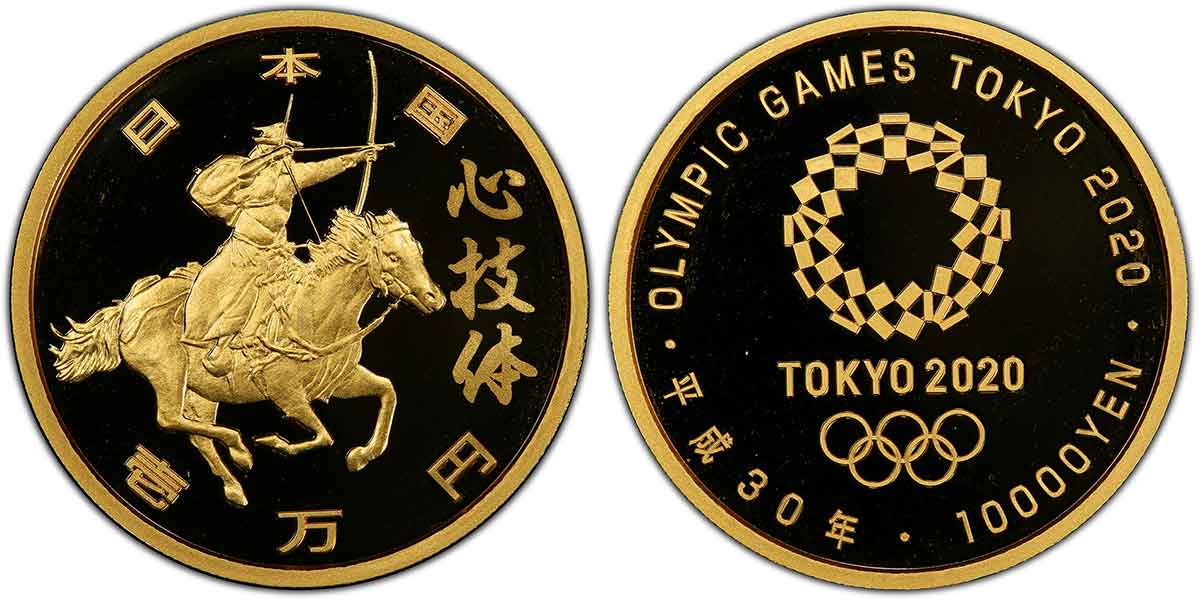 Japan H30 (2018) 10,000 Yen – Tokyo 2020 Olympics – Archery – PCGS PR69DCAM. Click image to enlarge.
For gold issues, a 10,000 Yen dated Heisei Year 30 (2018) was released featuring horseback archery. Still unreleased was a gold issue dated Reiwa Years 1 and 2 (2019-2020) for Victory & Glory showing a statue of Nomi no Sukune and Greek goddess Glory. A Reiwa Year 2 (2020) featuring torchbearers has also not been released.
Other countries that had issued commemorative coins for the 2020 Olympics thus far include Australia with a NCLT gold-plated 50 cents and NCLT colorized $1 coin for volleyball.
Being that the Games have not yet been held and so much uncertainty is still prevalent around the world, the history is not yet written, the coins are not yet struck, and the story isn't finished.
References