The PCGS Set Registry offers a plethora of fun, challenging opportunities for collectors to show off their collections – or to observe from the sidelines the competitive action between collectors vying to build the best collections. In this issue of Rare Coin Market Report, we'll discuss American Silver Eagles, which comprise some of the most participated in sets within the PCGS Set Registry.
The Keys
American Silver Eagles are made of 99.9-fine silver, and these virtually pure silver coins attract many collectors and investors from around the world. The series also has several well-recognized and popular key dates, including the 1995-W Proof Silver Eagle. With its mintage of just 30,125, it has become the king of the series. However, it no longer stands as the lowest-mintage Silver Eagle. The 2019-S Enhanced Reverse American Silver Eagle was struck last year to the tune of just 30,000 pieces and has become a new key coin in the series.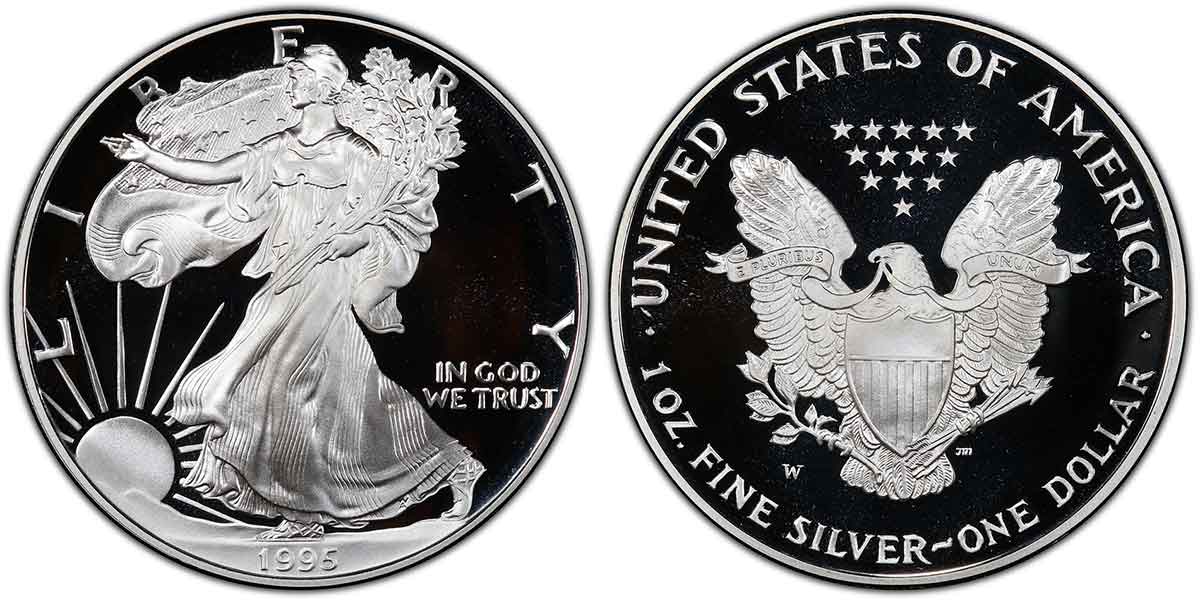 Silver Eagles, 1995-W $1 Silver Eagle, DCAM, PCGS PR70DCAM. Courtesy of PCGS TrueView. Click image to enlarge.
There are other key and semi-key dates as well as varieties in the series that have proven very popular with collectors. Some of these coins include the 2008-W Burnished Silver Eagle with the Reverse of 2007. This coin, inadvertently struck in 2008 with a reverse die from 2007, has a low mintage of ab 2out 45,000 and is a highly coveted coin in the series. In 2011, the U.S. Mint celebrated the 25th anniversary of the American Silver Eagle series by producing a special 2011-P Reverse Proof, which has a mintage just under 100,000, also making it a must-have for many collectors.
Diverse Finishes
There are many different, interesting finishes used on American Silver Eagles. There are the regular "Bullion" (formerly known as "Uncirculated") Silver Eagles, which the U.S. Mint sells to its authorized purchasers who, in return, sell these coins to collectors and investors for a small premium over the spot price of silver. Then there are the proof coins, which are created expressly for collectors and boast a mirror-like finish.
Additionally, there are the so-called Burnished Silver Eagles, which are struck on specially prepared planchets and offer a satin-like appearance. Meanwhile, the popular Reverse Proof American Silver Eagles have frosted fields and mirror-like devices and lettering. Finally, there is the Enhanced Reverse Proof American Silver Eagle, which is similar to the Reverse Proof coin but highlights selective polishing and frosting throughout various isolated details.
Silver Eagles in the Set Registry
American Silver Eagles are represented in several different sets in the PCGS Set Registry. One of the most popular is the Silver Eagles, Circulation Strikes (1986-present) set, which requires 49 coins. It can be built alongside the Silver Eagles, Burnished (2006-present) set, requiring just 12 coins. The Silver Eagles, Proof (1986-present) set demands 44 coins, while the decidedly ambitious Silver Eagles, Complete Set, Circulation Strikes and Proof (1986-present) entails 93 coins.
There are several other options for collecting Silver Eagles in the PCGS Set Registry. They can even be collected together with the American Gold Eagles or on the basis of various special PCGS labels, such as those with the First Strike designation. They may also be collected in Mint Sets by year.
Time for a Change
Another great reason for collecting American Silver Eagles is their beautiful, historic design. The obverse is anchored by a motif considered to be one of the most beautiful designs ever to be seen on American coinage. It was inspired by Adolph A. Weinman's Walking Liberty design, gracing the half dollar from 1916 through 1947.
While the timeless obverse design is sure to live on for many years to come, it's curtains for the coin's longtime reverse design. The year 2020 marks the end of designer John Mercanti's Heraldic Eagle design that debuted with the American Silver Eagle in 1986. The U.S. Mint has announced that it will replace the reverse design in 2021 with a more modern design featuring various anti-counterfeiting elements. This design change will therefore introduce a new subtype for the series, ending the Heraldic Eagle reverse design and bookending that subtype with a beginning date of 1986 and ending date of 2020.
Incorporating Silver Eagles into Your Set Registry Goals
Silver Eagles offer many different avenues for collectors. There is definitely no right or wrong way to collect them. But one thing is for certain: collecting Silver Eagles can be fun and quite rewarding. Silver Eagle devotees must remain on their toes with this series as new finishes and varieties emerge each year while other offerings seem to spontaneously drop off the product lineup or come back after a long absence.
Another exciting part of collecting Silver Eagles? Minding the price of silver. Bullion prices can dramatically impact the price of even the numismatic-finish Silver Eagles. This has particularly been the case as of late with silver prices making a run past $20 per ounce. Sometimes, market demands tax the U.S. Mint to the point that it must divert its one-ounce silver planchets to producing only bullion-finish Silver Eagles, as notoriously happened in 2009.
Still, the American Silver Eagle series has an expansive collector base, and most coins can be purchased quite inexpensively. Therefore, just about anybody can collect them. So, if you're looking for a fun and challenging, yet approachable series to collect and wish to participate in the PCGS Set Registry, you might consider diving into the world of American Silver Eagles. With the upcoming reverse design change and a multitude of new, exciting product offerings, this series is sure to keep you busy!