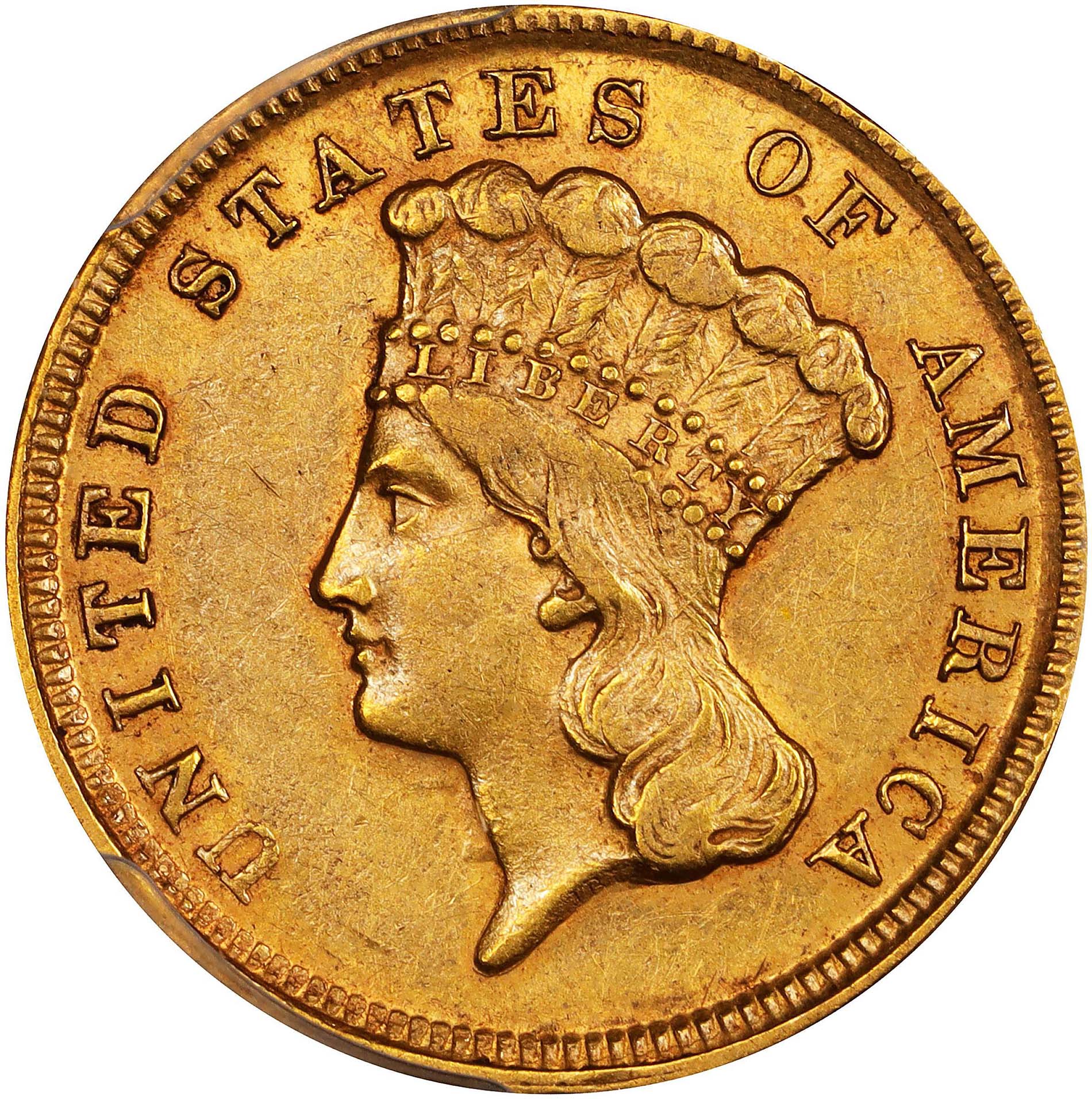 Costa Mesa, CA - Thousands of lots offering United States, World, and ancient coins, numismatic Americana, and United States and World banknotes crossed the block in Stack's Bowers Galleries' live and online sessions during and following the recent ANA World's Fair of Money Convention in Pittsburgh, Pennsylvania. As an official ANA Partner Auction, the firm's August Global Showcase realized $43,402,487 across 25 sessions of United States and World numismatic material. The United States offerings were anchored by more than a dozen named collections that featured coins, medals, tokens, and cryptocurrency. Collectors bid strongly for exceptionally fresh-to-the-market gold coins from the Fairmont Collection-Rhone Set, fantastic New Jersey colonials from the E Pluribus Unum Collection, very high-end type coins from the George Schwenk Collection, and important medals and colonial coins from the Sydney F. Martin Collection.
The fresh, pleasing and generally original coins from the Fairmont Collection continued to garner the market's attention, as the incredible Rhone Set of $5, $10, and $20 gold coins was presented. Comprising mostly complete runs of each denomination beginning in 1834, the Rhone Set offered an astounding combination of Condition Census and Everyman quality across the rarest dates and varieties of U.S. gold. Strong bidder participation, particularly on the branch mint issues from Charlotte and Dahlonega, rare Civil War dates and the Wild West issues of the Carson City Mint, brought results of nearly $2.7 million, exceeding pre-sale estimates.
The Dr. George Schwenk Collection consisted of 65 coins, a truly exceptional complete "Basic Design Type Set" that ranked #2 all-time finest. This Basic Design set was highlighted by such important rarities as an PCGS AU55 1854-D $3 piece which sold for $96,000, a PCGS MS62 1802/1 Draped Bust Dollar that realized $45,600, and a PCGS PR67DCAM 1901 Liberty Head Quarter Eagle that brought $30,000.
Other specialized collections, including the E Pluribus Unum Collection, the Cardinal Collection, the Skyler Liechty Collection, and the Ken Beukelaer Collection, focused on Colonial-era coins and Numismatic Americana. Part 4 of the E Pluribus Unum Collection focused mainly on New Jersey "horse head" coppers (with 96 discrete Maris numbers), as well as Saint Patrick's coinage. Rarities included an evocative Maris 70-x overstrike that realized $12,000, a classic circulating counterfeit Maris 83-ii that sold for $15,600, and Maris' own Maris 11 1/2 -G which garnered $7,200. The Skyler Liechty Collection focused on medals related to John Law, while the Ken Beukelaer Collection showcased popular and desirable medals and tokens featuring George Washington. These collections were great attractions for serious specialists, who sometimes wait years to find examples for their cabinets.
The spotlight shone on early federal issues in the Legacy Collection, a remarkable cabinet of Capped Bust coins and silver dollars with a focus on 18th-century and pre-Civil War issues. Featured were a pair of Capped Bust coins that have been newly confirmed as Proof by PCGS: a PCGS PR64 1821 Capped Bust Quarter that soared to $252,000 and a PCGS PR58 1828 Capped Bust Half Dollar that brought $192,000. The Andrew M. Hain Collection, a name that needed no introduction, offered early gold coins which attracted strong bidding action.
Other collections focused on United States federal coins, some of which had been off the market for decades. The Jerome S. Reznick Collection was an expansive group of items from virtually every coin series released by the U.S Mint, assembled primarily in the 1970s and held privately since. The Kohler Wisconsin Collection featured a fabulous type set with a focus on 19th-century gold coinage.
The Sydney F. Martin Collection, Part IV, was presented in a stand-alone catalog and featured Betts medals, Massachusetts silver coins, Higley coppers, Continental Dollars, 1787 Connecticut coppers, Vermont coppers, and Fugio Cents. This landmark event, entitled "The New England Sale" in recognition of the regional focus of this auction, realized prices totaling $3,817,668, building on the success of the firm's previous offerings from this iconic collection, which now total nearly $15 million.
World and ancient coins realized $7,466,456 overall, with strong prices and active bidder participation that brought well above presale estimates. The highlight was lot 51036, a 1656 British Commonwealth Gold Broad Pattern of 50 Shillings. Struck under Oliver Cromwell as Lord Protector, this rarity of British numismatics realized $504,000.
"Bidders were active and drove strong prices across all sessions and categories in our August 2023 Global Showcase Auction," said Stack's Bowers Galleries President Brian Kendrella. "Demand for great coins remains strong and, as can be seen when you look at the prices realized, the available supply is still unable to satisfy that demand. Our globally recognized brand and legacy of auctioning many of the greatest collections of all time brings in the consignments, and our customer service and user-friendly bidding platform allows for seamless bidding for buyers worldwide."
Complete auction results for all United States coins, medals, and tokens can be found at StacksBowers.com. More information about the firm's August 2023 Rarities Night session is available here. To consign to an upcoming Stack's Bowers Galleries showcase or online auction, call 800-458-4646 or email [email protected].
About Stack's Bowers Galleries
Stack's Bowers Galleries conducts live, internet, and specialized auctions of rare U.S. and world coins and banknotes, and ancient coins, as well as direct sales through retail and wholesale channels. The company's nearly 90-year legacy includes the cataloging and sale of many of the most valuable United States coin and banknote collections to ever cross an auction block — The D. Brent Pogue Collection, The John J. Ford, Jr. Collection, The Louis E. Eliasberg, Sr. Collection, The Harry W. Bass, Jr. Collection, The Joel R. Anderson Collection, The Norweb Collection, The Cardinal Collection, The Sydney F. Martin Collection and The Battle Born Collection — to name just a few. World coin and banknote collections include The Pinnacle Collection, The Louis E. Eliasberg, Sr. Collection of World Gold Coins, The Kroisos Collection, The Alicia and Sidney Belzberg Collection, The Salton Collection, The Wa She Wong Collection, and The Thos. H. Law Collection.
The company is headquartered in Costa Mesa, California, with galleries in New York, Boston, and Philadelphia. Offices are also located in New Hampshire, Oklahoma, South Carolina, Virginia, Hong Kong, Paris, and Vancouver. Stack's Bowers Galleries hosts an annual Global Showcase in August featuring United States coins and banknotes, ancient coins and World coins and banknotes in its Costa Mesa auction gallery. They are also the Official Auctioneer for several important numismatic events, including the New York International Numismatic Convention; the Whitman Coin & Collectibles Spring, Summer, and Winter Expos; the Spring and Fall Hong Kong shows; and the Maastricht Paper Money Shows.