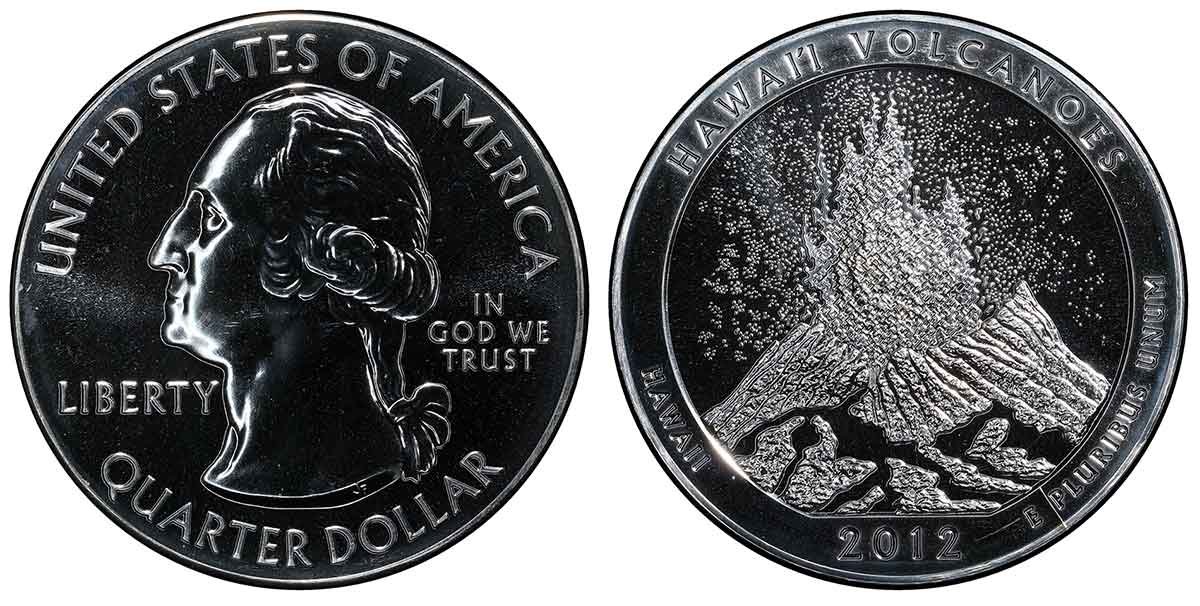 5 oz. America the Beautiful Silver Quarters, 2012 25C Hawaii Volcanoes NP 5 oz Silver, DMPL, PCGS MS67DMPL. Click image to enlarge.
The America the Beautiful Quarters series launched in 2010 and has produced a diverse array of designs honoring some of our nation's most famous and beloved landmarks. These national destinations appear nearly larger than life – or at least bigger than they do on the circulating quarter – when seen on the 5 oz. America the Beautiful Silver Quarters.
These hulking bullion coins, tipping the scales with a massive five ounces of .999-fine silver, measure three inches in diameter and are among the largest and heaviest coins the United States Mint has ever produced. They were authorized as part of the National Parks Quarter Dollar Coin Act of 2008 (Public Law 110-456) and are legal tender. But, seriously, while one can legally drop these coins in circulation, who is going to spend these gigantic silver coins that are worth hundreds of times their 25-cent face value? And what cash register has a coin till large enough to accept them?
Perish the thought of finding a cashier capable of handling one of these hefty quarters, for collectors and bullion speculators alike cherish these beautiful silver coins for their precious metal content and outstanding designs. Complementing each of the regular-sized America the Beautiful Quarter designs going back to the beginning of the series in 2010, these large quarters have been produced in both regular-strike and special-strike finishes.
The regular-strike version, perhaps better known as the "Bullion" option doesn't contain a mint mark, has flashier surfaces, and was sold only to Mint Authorized Purchasers, who in turn sold these silver coins in the secondary marketplace to collectors and other dealers. The special-strike issues, often dubbed "Collector" pieces, carry a mint mark symbolizing the Philadelphia Mint, generally exhibit matte-like finishes, and were sold by the United States Mint to the public.
None of these 5 Oz. America the Beautiful Silver Quarters can be considered categorically rare. Most of the business strikes saw mintages between 15,000 and 25,000 pieces – some more, some less. Special strikes are decidedly much more common, with production figures generally in the 30,000 to 50,000 range; some selected Bullion strikes are closer to the 20,000 figure, but a few saw more than 100,000 made.
Scarcer pieces do trade for significant premiums over spot, particularly Collector issues with mintages of around 25,000 or fewer. These mostly include the 2012-dated pieces, which boast lower-than-typical mintages among both the Bullion and Collector issues. The key issue for the series stands as the 2012 Hawai'i National Park Silver Quarters, with just 14,863 Bullion versions and 20,000 Collector strikes. According to PCGS CoinFacts these pieces trade for $420 in a top grade of MS69DMPL, while in SP70 they take $900.
However, these elevated values are more the exception than the rule for this series, whose issues normally trade for much closer to their spot prices. Still, like other United States Mint bullion programs, the 5 oz. America the Beautiful Silver Quarters attract much collector interest and have inspired the creation of several PCGS Registry Sets, including the America the Beautiful 5 oz. Silver Quarters, Circulation Strikes (2010-present) and America the Beautiful 5 oz. Silver Quarters, Special Strikes (2010-present).