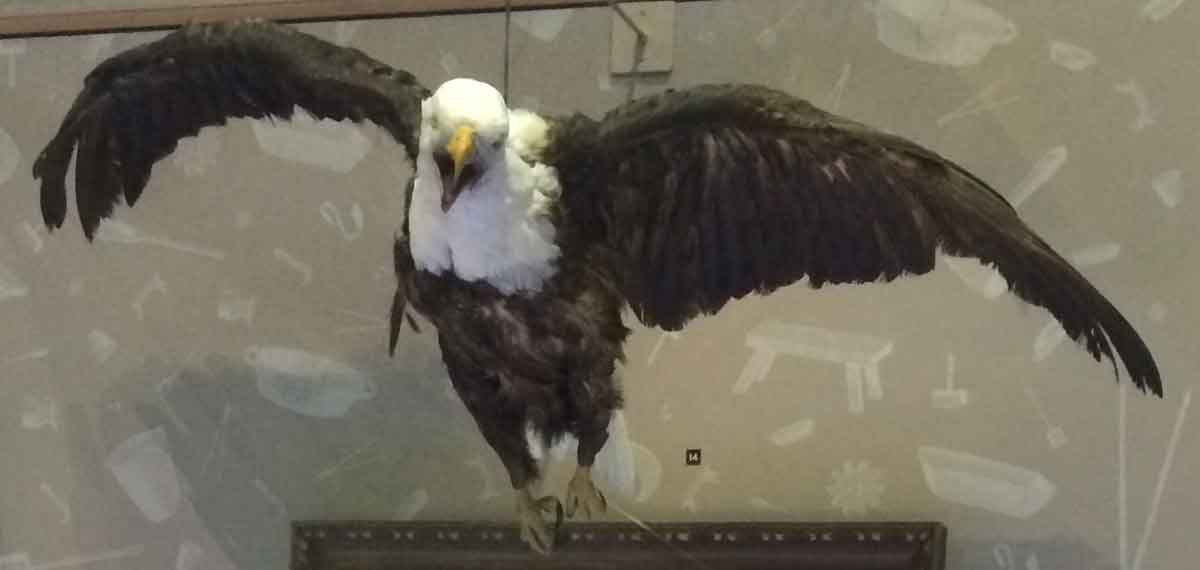 Peter, the Mint Eagle, lived at the Philadelphia Mint during the mid-19th century. Image by Wehwalt on Wikipedia and licensed via Creative Commons Attribution 3.0 Unported (https://creativecommons.org/licenses/by/3.0/deed.en). Click image to enlarge.
Many folks know Peter, the Mint Eagle to be the friendly avian mascot of the United States Mint. But perhaps far fewer people realize that Peter isn't just a fictional, anthropomorphic bird. He was also once a live bald eagle who resided at the Philadelphia Mint. Peter was one of reportedly several bald eagles that still graced the skies of Philadelphia during the early years of the 19th century. Legend has it that, by day, Peter stalked the skies over the city and by night flew into the building through an open window and took up residence inside the facility.
The mint employees, who named him "Peter," loved him dearly and those living in the surrounding neighborhood did, too, including the many children on the block. The friendly eagle soon became the mint's unofficial mascot. Peter's time at the Philadelphia Mint lasted years, by most accounts six, and likely from around 1830 through 1836, though others suggest his stint at the mint may have occurred as late as the 1850s.
While these – and other details about Peter – are largely unanswered in documentation the end of his life sadly and unequivocally came while he was perched on a flywheel that suddenly lurched into operation. Mint employees stopped the coin press immediately but unfortunately Peter's wing was caught up in the apparatus. The staff did all they could to save their beloved Peter, but he succumbed to his injuries within a few days. He was mounted by an expert taxidermist and still resides at the United States Mint today.
Peter's Legacy
While Peter's life came to an abrupt end, he continues serving the United States Mint in a variety of ways. Numismatic scholars believe he may have directly served as a model for the Gobrecht Dollar patterns designed by the titular Christian Gobrecht from 1836 through 1839. It is likely his effigy was also used by James Longacre to design the Flying Eagle Cents of 1856 through 1858.
Peter's likeness has been used by other engravers either formally or informally in designing a variety of other eagle motifs in the years since. Given that engravers over more than 150 years have used Peter's stuffed body as a lifelike model of what an archetypal American bald eagle should look like, it's quite plausible his image has been seen by countless millions of people.
However, Peter's posthumous role at the United States Mint hasn't just been that of resident model bald eagle. He has also long served as the mint's gregarious mascot. A larger-than-life Peter often appears at various public events hosted or sponsored by the United States Mint – certainly much to the delight of children (and adults) of all ages. Peter also has a role on the United States Mint's H.I.P. Pocket Change site designed especially for kids.
Visit Peter
Philadelphia has many sites dedicated to its pop-culture icons… One can run the "Rocky steps" in front of the Philadelphia Museum of Art as seen in the famous Rocky movie series – adjacent to the museum at 2600 Benjamin Franklin Parkway is a large statue of the "Rocky" character as immortalized by actor Sylvester Stallone. Hope to visit the Liberty Bell? See the historic 2,080-pound cracked bell at Independence National Historical Park at 526 Market Street. And want a good Philly cheesesteak? Ooooh… There are heated opinions aplenty on who makes the best, so we dare not get that political in this article!
But if you want to say hello to Peter, the Mint Eagle? You can do that at the Philadelphia Mint, located at 151 N. Independence Mall E. An entire display on the mezzanine floor is dedicated to the famous bald eagle. And it is there that Peter will be found, his wings outstretched, his beak slightly agape, his talons primed for action. Peter proudly flies on nearly 200 years after his storied and colorful life at the United States Mint.
Sources