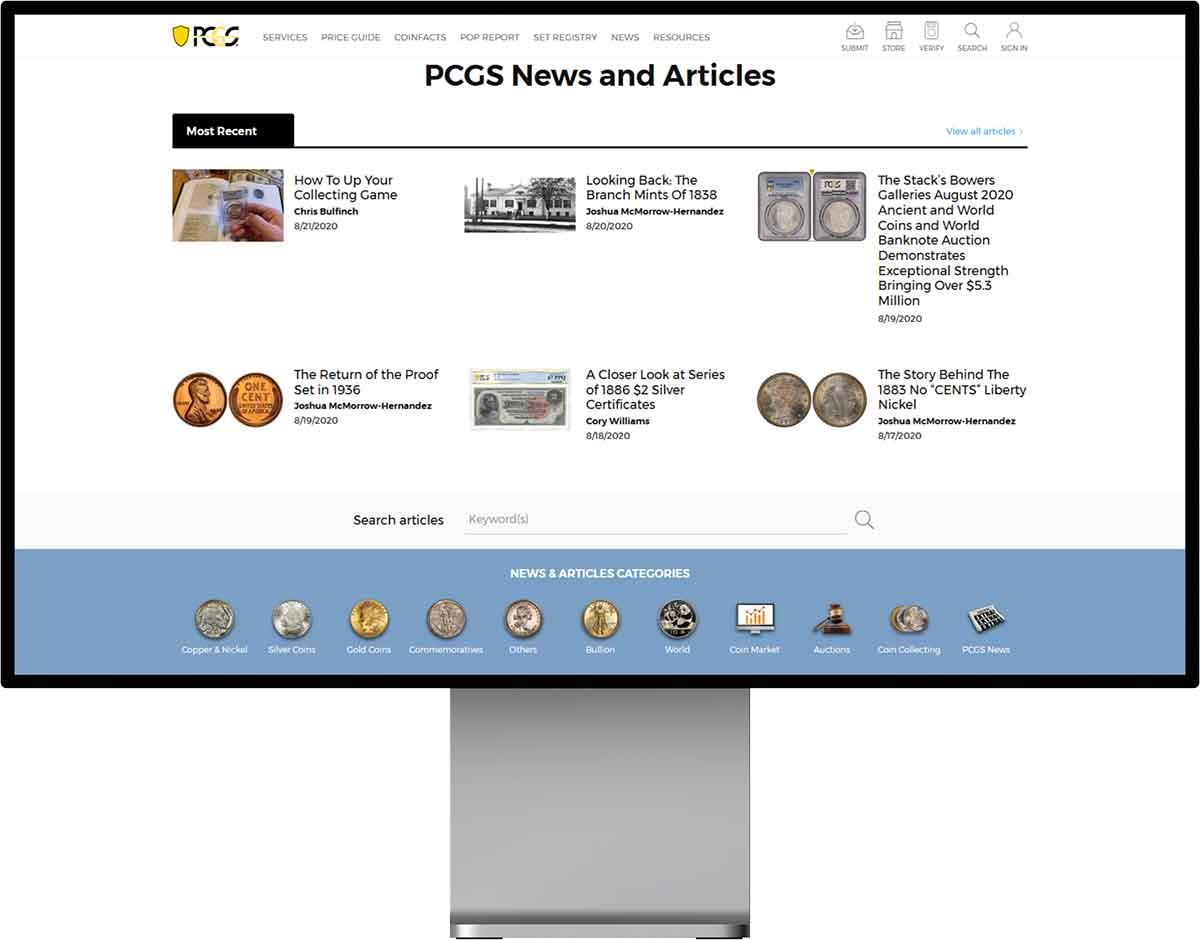 The PCGS News & Articles hub always has something informational and educational representing all areas of our hobby. Click image to enlarge.
Have you been keeping track of the PCGS News & Articles hub recently? If not, you may be missing out on that very article dedicated to your numismatic specialty! You see, at PCGS, we've been the premier resource for trusted, expert numismatic knowledge, information, and education since 1986. Over nearly 35 years, we have launched a host of innovative and incomparable tools to help collectors and dealers learn more about their coins and their favorite hobby topics, including PCGS Population Reports, PCGS CoinFacts, and PCGS Rare Coin Market Report. More recently, we've endeavored on yet another venue for sharing expert information with the world, and it's absolutely free. It's the PCGS News & Articles hub, which can be easily found midway down our homepage.
In reality, the PCGS News & Articles hub is something we've been working on for years now. But in recent months, we've doubled down on providing more quality content than ever before, with new articles and blog posts being published on a daily basis throughout the week. These articles are written by our many in-house experts as well as special guest contributors who have years of knowledge and experience in the field of numismatics. We've covered a vast array of topics in 2020 alone, spanning the gamut of United States and world numismatics, including:
And that list above? That's just a mere sampling of the 100% original blog articles published since the start of the year – not even including the exclusive articles published in the PCGS Rare Coin Market Report that we later share on the News & Article hub or our news articles we release throughout each week, too. Our main mission in writing these original online articles and offering them to the world is that we want you to become a more well-educated coin and banknote collector. We at PCGS have always striven to improve the numismatic community through expanding educational opportunities. Why? Because the more you know, the better, smarter, and wiser a collector you are!