Many people notice a certain mark, bulge, or oddity on the neck of John F. Kennedy's bust on the half dollar and wonder what it means. Some folks make an ominous connection between the appearance of what looks to some like an elaborate "X" on the neck to mark the location of a mortal wound sustained by President John F. Kennedy, who was assassinated by an assassin's bullets during a motorcade procession in Dallas, Texas, on November 22, 1963.
Other theories suggest the mark on Kennedy's neck is a communist symbol, perhaps representing two sickles – an allusion to the national symbol of the Union of Soviet Socialist Republics (USSR), which was long identified by a stylized hammer and sickle icon. So, what's the real answer? Why is there a mark on Kennedy's neck and what does it mean?
The stamp on Kennedy's neck has nothing to do with his assassination or communist conspiracies. Rather, it's the intricate monogram of Gilroy Roberts, who served as the chief engraver of the United States Mint from 1948 through 1964. Roberts, a renowned sculptor who died at the age of 86 years old in 1992, counted the Kennedy Half Dollar as one of his most notable works. He designed the obverse of the Kennedy Half Dollar, pairing his now-famous bust of Kennedy with a reverse by Frank Gasparro incorporating the Presidential Seal.
His monogram "GR" appears in fancy font at the base of Kennedy's neck. "It's my monogram, a 'G' and an 'R' in script, combined," said Roberts in a 1964 interview. "It might look like two sickles maybe. But it looks nothing like a sickle and hammer at all. You've got to have a slanted mind to see that there."
The Kennedy Half Dollar was released in 1964 and was one of the last works Roberts undertook for the United States Mint. But it wasn't his last. He'd go on to see a highly successful career in the world of engraving for private minting efforts – most notably the Franklin Mint, which he helped found in Wawa, Pennsylvania, southeast of Philadelphia.
Roberts retired from his engraving duties at the age of 75 in 1980, but he continued serving in consulting roles for the rest of his life. His legacy famously lives on with the Kennedy Half Dollar, a coin no longer produced for circulation but still struck for coin collectors. Those who want to learn more about his life may want to pay a visit to Community College of Philadelphia, located in the former United States Mint building at 1700 Spring Garden Street.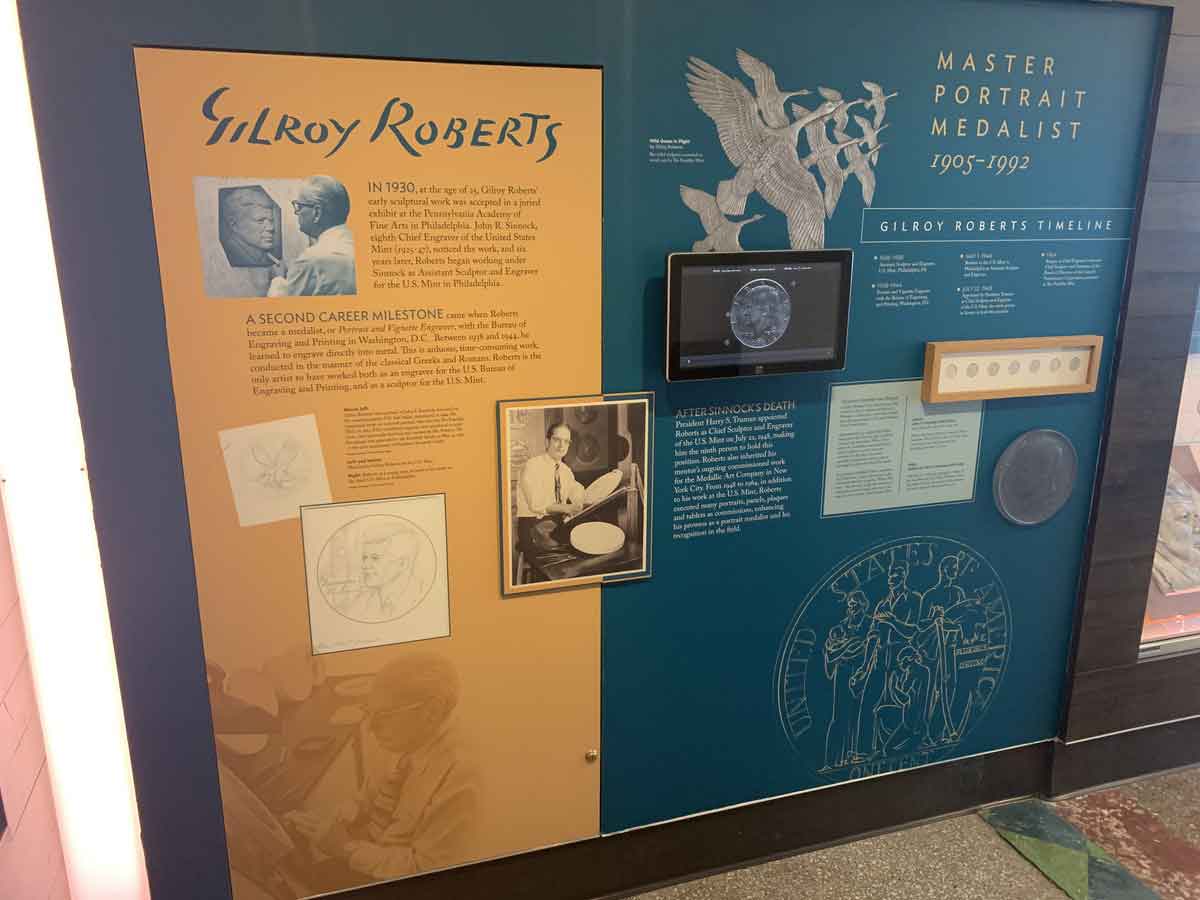 The Community College of Philadelphia, located in the third Philadelphia Mint, has an exhibit called Gilroy Roberts: Mastering a Craft in The Gilroy Roberts Gallery. Image is courtesy of Joshua McMorrow-Hernandez. Click image to enlarge.
Serving as the third Philadelphia Mint from 1901 through 1969, this massive Philadelphia landmark has a 1,000-square-foot exhibit called Gilroy Roberts: Mastering a Craft, which is dedicated to the sculptor. The Gilroy Roberts Gallery at the Community College of Philadelphia has photographs of Roberts, models of his coinage and art, and many of his crafting tools and equipment on display for all to see.
Sources