Market Report
Whatcha got for Sale? This is Long Beach Week and Hopeful Buyers are Everywhere
Long Beach Expo is June 5-9 (June 6-9 to the public). Soaring metals prices push generic gold significantly higher. PCGS Set Registry and 20th century coins lead the way, but market shows strength across the board. Kingswood "Intervale" sale is now online. Click here to read more.
Set Registry Spotlight
Mike Gilley - The Number One Finest Morgan Dollar Mintmark Type Set Circulation Strikes (1878-1921)
Mike only recently registered his Morgan Dollar set and is working towards completion. In the meantime, however, he was able to secure the number one spot in the Mintmark Type set. The set contains 3 Mint State 68s and 2 Mint State 67s and all coins are the highest possible grade. His 1878-S is ex-Jack Lee is the ONLY PCGS 78-S graded MS68. Click here to view this beautiful little set.
Soon the PCGS Set Registry will reach another milestone and record the 3,000th set. To celebrate, the person who registers set number 3,000 will receive 3 free PCGS gradings. Every time you add a new set and send it in for validation, it is date-stamped down to the second. As set number 3,000 approaches, we'll be closely monitoring to see who the lucky registrant is. It is one way to say thanks for your continued support and enthusiasm! There are currently 2,960 registered sets and 214 set composites available.
The 2002 Set Registry Awards deadline is only 26 days away, so if you haven't already registered your set, do so now! Each week, the current standings in various categories are posted on the awards web page. Click here to review who currently holds the number one sets in the dollars category.
Yesterday, the PCGS Set Registry was upgraded to a new version. This allows for automatic validations instead of the 3 day wait, and also ties in the PCGS certification number database with the registry so that there is less likelihood that your certification number will not be recognized by the registry. At the present time, we are making some modifications, so the edit/add coin function will be offline until Wednesday, June 5th. Check the Set Registry News page or the Message Board tomorrow for updates about when these functions will be available again.
We are in the process of weighting sets, removing varieties from Basic Sets, and adding Sets with Varieties. Previews of proposed weighting are posted on the Set Registry News page for at least a week prior to actually making the changes. This is allowing registrants time to review the changes and submit feedback. Currently, for your review are the American Eagle sets. Your opinion counts, so please let us hear from you before we make the set weighting live.
Fun, informative, and sometimes controversial, the PCGS Set Registry Messageboard remains the number one coin forum on the Internet. Get involved with other collectors who are currently participating in the Set Registry program or are just beginning. Click here to chat on the Set Registry Messageboard.
The PCGS Set RegistryTM is a work in progress. If you have any suggestions or comments please email [email protected].
---
Building a Morgan Dollar Mintmark Type set? Go to the Authorized Dealer link on PCGS and click on Dollars in Specialties. Looking for dealers with Internet sites? Click on the Internet sites link in services. Search for more than a 1,000 dealers in the PCGS Authorized Dealer listings.
---
The Expert's Corner
A Discussion of Five Mints
A grand total of five mints participated in the striking of Morgan Dollars. These eminently collectible coins were minted in Philadelphia, Carson City, New Orleans, and San Francisco, with Denver producing a few later examples. Q. David Bowers explores the mint-by-mint history of the Morgan Dollar series. Click here to read more.


Collector's Survey

Wouldn't it be fun if...? It's always great to speculate and dream about the incredible numismatic sales of the past and all of the opportunities therein. If you could travel back to one major auction in history with a pocket full of money, which one would you choose?
Parmelee (1891). This collection is considered by many numismatists to be the best one sold in the 19th century.
Dunham (1941). The B. Max Mehl catalog of this sensational collection is still a classic and the coins are mouth-watering.
Atwater (1946). Some of the greatest coins on the market in recent years trace their pedigree to William Cutler Atwater.
The Palace Collection (1954). King Farouk's coins are on the block, the large lots are filled with major goodies and Egypt is lovely this time of year.
Eliasberg gold (1982). An 1822 $5! An 1854-S $5! Plus everything else that you can imagine, right in the middle of the Reaganomics Recession.
Click here to answer. Results will be posted in the next eCollector.
Results from last survey: 34% would choose $20 gold pieces if building a gold type set of a single denomination. Click here for a complete breakdown.
What does CC stand for? Find out in Lingo, the PCGS dictionary of numismatic definitions. Click here for Lingo.
---
Subscribe to the online PCGS Population Report for as little as $4.95 a month! Updated weekly, get the latest census data on all coins graded by PCGS. Click here to get a free peek at the population statistics for Morgan dollars.
---
Our Readers Ask
Question: As a newcomer to silver dollar collecting, I am puzzled about the term, "Reverse of 1878" and also "Reverse of 1879." What do these mean, and can a lay person such as I tell the difference? Should I collect each variety if given a choice?

Answer: The "Reverse of 1878" nomenclature refers to the reverse style, seen on certain (but hardly all) Morgan varieties 1878-1880, with seven tail feathers, flat or concave eagle breast, and with the top arrow feather parallel to the shaft, the last being a quick point of reference -- no magnifying glass needed! The varieties known with the Reverse of 1878 are: 1878 (some; plentiful), 1878-CC (all), 1879-S (only a few; Walter Breen estimated fewer than 1% of the total; the Redfield Hoard yielded most of the known supply, Mint State), and 1880-CC (some, perhaps 10% to 20% of the mintage).
The "Reverse of 1879" nomenclature refers to the reverse style with 7 tailfeathers and with the top feather slanted. The varieties known with the Reverse of 1879 are: 1879 (all), 1879-CC (all), 1879-S (some; plentiful), 1880 (all), 1880-CC (some; plentiful), 1880-O (all), 1880-S (all), and all later issues through 1904, with several minor variations being made along the way.

-- Q. David Bowers, Bowers and Merena Galleries

Do you have a question you would like to ask our experts? Click here.
Or, visit the PCGS messageboards, the most active coin forums online.
---
Join the PCGS Collectors Club ...Enjoy the Benefits!
If you love collecting coins, the PCGS Collectors Club is for you. Members enjoy direct access to all PCGS grading services, complimentary PCGS gradings and a wealth of essential information. All PCGS Collectors Club Members enjoy access to all Collectors Universe auctions, eShops and messageboards and the eZines of their choice. Joining is quick and easy. Just click here or call PCGS Customer Service at 800-447-8848. Do it today


---
Announcements
Kingswood Coins' Intervale Sale is Now Online!

The Intervale Sale has become a great gathering point for some of the most wonderful, most marvelous PCGS-certified coins ever featured in a Kingswood event. Rounding off this spectacular sale is a wonderful selection of CSA-certified currency. If you are a connoisseur, this sale has opportunities that may not be repeated for a long time and, in some instances, perhaps never. You are in the right place at the right time! Click here to bid!
Lyn Knight's Currency Auction Has It All!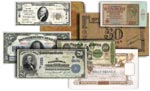 To be held in three amazing sessions during the Memphis 2002 26th Annual International Paper Money Show, the latest Lyn Knight Currency Auction contains something for all types of currency collectors. Session I features Lyn Knight's second world paper money auction with over 1,000 lots of seldom-seen, quality notes. Click here to bid on lots in Session I.
Session II offers a wide mixture of Colonial currency, Confederate currency, Obsolete and Advertising bank notes, Fractional currency, Large Size and current size Federal currency, as well as error notes. Click here to bid.
Session III features the Glenn E. Martin collection of Kentucky National Bank Notes, representing a 35-year search to acquire a note of every type and denomination from each bank within the state of Kentucky. Surrounding this collection will be an impressive selection of National Bank Notes from across the country. Click here to bid in Session III.
SEE PCGS AT LONG BEACH THIS WEEK!

Long Beach Coin and Collectibles Exposition
Long Beach Convention Center
Long Beach, CA
June 5 - 8, 2002

Take advantage of PCGS' Show Service!

Special Show Service -- $65 per coin valued at $1,500 or less
Standard Show Service -- $100 per coin

Coins may be submitted to all other PCGS grading levels at the show.

Have your coins graded by PCGS and save on one-way postage! You may submit your coins at the show to all PCGS grading service levels. Submissions will be accepted from Wednesday, June 5*, through 4 p.m. on Saturday, June 8. Your PCGS-graded coins will be mailed to you following the show.

*Wednesday, June 5 is Dealer Set Up Day. We'll be accepting submissions from 8 a.m. - 7 p.m. on June 5. Check with the show promoter for access to the facility.

Long Beach Coin and Collectibles Exposition Show Hours are as follows:
| | |
| --- | --- |
| Dealer schedule | Public schedule |
| Wed. 6/5 (Set up) 2 p.m. - 7 p.m. | |
| Thur. 6/6 8 a.m. - 7 p.m. | Thur. 6/6 10 a.m. - 6:30 p.m. |
| Fri. 6/7 9 a.m. - 7 p.m. | Fri. 6/7 10 a.m. - 6:30 p.m. |
| Sat. 6/8 9 a.m. - 6:30 p.m. | Sat. 6/8 10 a.m. - 6:30 p.m. |
For more information about PCGS grading at the show, call 800-447-8848.
For more information about the Long Beach Coin and Collectibles Exposition, call 805-962-9939 or go to www.longbeachshow.com.
---
© 1999 - 2004 Collectors Universe Inc. All Rights Reserved.