Market Report
Summer Long Beach Show and Auctions to Test Market Strengths in All Areas
Major market bellwether to take place June 6-9. Market remains extremely active and diverse. Morgan dollars and MS type coins join other already-hot areas in high demand. Eliasberg coins to be added to PCGS Set Registry. 1933 $20 gold piece to be on display at Long Beach. Kingswood "Intervale" sale is coming soon. Click here to read more.
Set Registry Spotlight
Boiler Plate Collection - The Number One Finest 12 Piece Gold Type Coin Set
This 12 piece set is complete and includes a beautiful Saint Gaudens $20 in Mint State 66 -- none has been graded higher for the date chosen (1926). Type sets are a great way to diversify and collect coins by denomination and design. Gold coins are no exception and include some of America's most beautiful artistic creations in metal. The Boiler Plate Collection is a fine example of a quality set. Click here to view.
There are currently 2,738 registered sets and 197 set composites available. The winners for the First Annual PCGS Set Registry Awards program will soon be announced. The deadline for the 2002 awards ends June 30, 2002, so if you haven't already registered your set, do so now! Each week, the current standings in various categories are posted on the awards web page. Click here to review who currently holds the number one sets in the gold category.
We are in the process of weighting sets, removing varieties from Basic Sets, and adding Sets with Varieties. Previews of proposed weighting are posted on the Set Registry News page for at least a week prior to actually making the changes. This is allowing registrants time to review the changes and submit feedback. Currently, for your review is the Modern Commemorative coinage including the new specialty sets. Your opinion counts, so please let us hear from you before we make the set weighting live.
Fun, informative, and sometimes controversial, the PCGS Set Registry Messageboard remains the number one coin forum on the Internet. Get involved with other collectors who are currently participating in the Set Registry program or are just beginning. Click here to chat on the Set Registry Messageboard.
The PCGS Set RegistryTM is a work in progress. If you have any suggestions or comments please email [email protected].
---
Building a gold type coins set? Go to the Authorized Dealer link on PCGS and click on Gold Coins in Specialties. Looking for dealers with Internet sites? Click on the Internet sites link in services. Search for more than a 1,000 dealers in the PCGS Authorized Dealer listings.
---
The Expert's Corner
Gold Coins: Their History
Gold. Few things have captivated mankind like this precious yellow metal, and few things can captivate a numismatist like a shining example of a scarce gold coin! Gold was intended as an integral part of U.S. coinage from the start, and gold coins enjoyed high usage for nearly 140 years, providing a solid monetary and psychological foundation for domestic and international commerce. In this excerpt from the Buyer's Guide to United States Gold Coins, Q. David Bowers explores the history of coins made from the king of metals. Click here to read more.


Collector's Survey
Gold type sets contain four, eight, twelve or more coins, depending on the focus (and the budget) of the collector. If you were to build a type set that was restricted to a single denomination, which one would you choose?
The $20 gold pieces! What coin is more beautiful than the High Relief $20? What coin is more challenging in Gem quality than the Type Two $20 Liberty? A great type set!
The $10 gold pieces! They're much more historic than the $20 pieces, going back to the 18th century. Filled with beauty and great Americana!
The $5 gold pieces! This denomination is loaded with magnificent type coins, including the many early years when the $10 pieces weren't even issued.
The $2 1/2 gold pieces! Start with the gorgeous 1796 No Stars and keep working through the Indian design in the 20th century.
The other denominations together! The three gold dollars, the single $3 design, a marvelous $4 Stella and a $50 "slug" to round it out!
Click here to answer. Results will be posted in the next eCollector.
Results from last survey: 41% would assemble a complete set in MS64, without the 1918/7-D overdate, if building a Buffalo nickels set on a budget. Click here for a complete breakdown.
What is a type coin? Find out in Lingo, the PCGS dictionary of numismatic definitions. Click here for Lingo.
---
Subscribe to the online PCGS Population Report for as little as $4.95 a month! Updated weekly, get the latest census data on all coins graded by PCGS. Click here to get a free peek at the population statistics for gold dollars.
---
Our Readers Ask
Question: I was hoping to discover what the difference between an open 3 and a closed 3 is with regard to a USA 1873 gold $1 coin (Indian head). I've looked all over and I can't seem to find any sort of description of the difference between these two types of coins. Please help me.

Answer: The closed three will resemble an 8 at first glance with the knobs of the three just about touching. The open 3 will look more like a normal three with the ends of the three distinctly separate.

-- Rick Montgomery, PCGS

Do you have a question you would like to ask our experts? Click here.
Or, visit the PCGS messageboards, the most active coin forums online.
---
Join the PCGS Collectors Club ...Enjoy the Benefits!
If you love collecting coins, the PCGS Collectors Club is for you. Members enjoy direct access to all PCGS grading services, complimentary PCGS gradings and a wealth of essential information. All PCGS Collectors Club Members enjoy access to all Collectors Universe auctions, eShops and messageboards and the eZines of their choice. Joining is quick and easy. Just click here or call PCGS Customer Service at 800-447-8848. Do it today


---
Announcements
Lyn Knight's Currency Auction Has It All!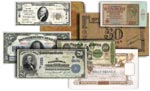 To be held in three amazing sessions during the Memphis 2002 26th Annual International Paper Money Show, the latest Lyn Knight Currency Auction contains something for all types of currency collectors. Session I features Lyn Knight's second world paper money auction with over 1,000 lots of seldom-seen, quality notes. Click here to bid on lots in Session I.
Session II offers a wide mixture of Colonial currency, Confederate currency, Obsolete and Advertising bank notes, Fractional currency, Large Size and current size Federal currency, as well as error notes. Click here to bid.
Session III features the Glenn E. Martin collection of Kentucky National Bank Notes, representing a 35-year search to acquire a note of every type and denomination from each bank within the state of Kentucky. Surrounding this collection will be an impressive selection of National Bank Notes from across the country. Click here to bid in Session III.
PCGS ON-SITE GRADING at the LONG BEACH SHOW!

Long Beach Coin and Collectibles Exposition
Long Beach Convention Center
Long Beach, CA
June 5 - 8, 2002

Take advantage of PCGS' Show Service!

Special Show Service -- $65 per coin valued at $1,500 or less
Standard Show Service -- $100 per coin

Coins may be submitted to all other PCGS grading levels at the show.

Have your coins graded by PCGS and save on one-way postage! You may submit your coins at the show to all PCGS grading service levels. Submissions will be accepted from Wednesday, June 5*, through 4 p.m. on Saturday, June 8. Your PCGS-graded coins will be mailed to you following the show.

*Wednesday, June 5 is Dealer Set Up Day. We'll be accepting submissions from 8 a.m. - 7 p.m. on June 5. Check with the show promoter for access to the facility.

Long Beach Coin and Collectibles Exposition Show Hours are as follows:
| | |
| --- | --- |
| Dealer schedule | Public schedule |
| Wed. 6/5 (Set up) 2 p.m. - 7 p.m. | |
| Thur. 6/6 8 a.m. - 7 p.m. | Thur. 6/6 10 a.m. - 6:30 p.m. |
| Fri. 6/7 9 a.m. - 7 p.m. | Fri. 6/7 10 a.m. - 6:30 p.m. |
| Sat. 6/8 9 a.m. - 6:30 p.m. | Sat. 6/8 10 a.m. - 6:30 p.m. |
For more information about PCGS grading at the show, call 800-447-8848.
For more information about the Long Beach Coin and Collectibles Exposition, call 805-962-9939 or go to www.longbeachshow.com.
---
© 1999 - 2004 Collectors Universe Inc. All Rights Reserved.