Market Report
Supply Problems Affecting Otherwise Strong Market; Bowers & Merena Galleries to Offer Another Landmark Sale
New Silver Dollar Show gets an "okay" rating. Demand for "fresh" coins goes mostly unsatisfied. Patterns remain white-hot as major collectors enter this market segment. VAM varieties are more popular than ever. Bowers & Merena to offer 5,000+ lots in seven-session sale. Click here to read more.
Set Registry Spotlight
Dick and Jan's Walkers - The Number One Finest Walking Liberty Half Dollars Late Date Set
Viewed by many as the 20th Century's most beautiful silver coin, Walking Liberty Half dollars are receiving renewed and well-deserved attention. Dick and Jan are collecting the popular Late Date set which consists of coins between 1933 and 1947. With a GPA of 66.71, their collection contains an amazing 23 coins of which none have been graded higher. Congratulations! Click here to view.
New composites to the Set Registry are Proof Sets 1964-69 and Mint Sets 1934-1959. Preview weighting for the $10 Gold Indians, Saint Gauden $20s, and the 12 piece Gold Type Set are now posted on the Set Registry News page. Visit the Set Registry News page for updates.
Are you interested in Set Registry statistics? Links to the following reports are available to you on the Set Registry News page:
Fun, informative, and sometimes controversial, the PCGS Set Registry Messageboard remains the number one coin forum on the Internet. Get involved with other collectors who are currently participating in the Set Registry program or are just beginning. Click here to chat on the Set Registry Messageboard.
The PCGS Set RegistryTM is a work in progress. If you have any suggestions or comments please email [email protected].

Building a Walking Liberty half dollar set? Go to the Authorized Dealer link on PCGS and click on 20th Century Coins in Specialties. Looking for dealers with Internet sites? Click on the Internet sites link in services. Search for more than 1,000 dealers in the PCGS Authorized Dealer listings.

Expert's Corner
The 20th Century's Most Beautiful Silver Coin
Adolph Weinman's design for the Walking Liberty half dollar is perhaps the most beautiful and most appreciated among all United States coinage. The series contains challenges as well as more accessible dates, and it can be broken down into smaller date sets, making it a perennial favorite among collectors of all kinds. This article, written for David Hall's INSIDE VIEW some time ago, remains relevant for this always-popular series. Click here to read more.
Collector's Survey

Which U.S. coins offer the best value? Below are five different areas of United States numismatics. They are not totally different from one another, of course, as it seems that almost every series intertwines with another in some way. If you had $250,000 to spend on one area only for a 20-year hold, which one of the five below would you choose?
18th century coins. The classics are the best places for your money, with Colonial coins, Bust Dollars and Small Eagle gold being absolute blue chips.
Capped Bust coins. The coins from 1807-37 offer the best value because they're rare, still relatively cheap and more collectible than the 18th century coins.
Key dates. People always want 1893-S dollars and 1914-D Lincoln cents and 1916-D dimes. The key dates are the key to the future.
Morgan dollars. Popularity rules! There's no doubt that Morgan dollars will be highly collected forever, so let's go with the proven performer.
Top-quality modern issues. The entry-level collectors (and many others) usually buy modern coins and the collector base is showing an explosion of growth in this market segment. Therefore, this area will be the biggest winner.
Click here to answer. Results will be posted in the next eCollector.
Results from last survey: 51% selected the Walking Liberty half dollar as the most beautifully designed U.S. coin of the early 20th century. Click here for a complete breakdown.
What's a Walker? Find out in Lingo, the PCGS dictionary of numismatic definitions. Click here for Lingo.

Subscribe to the online PCGS Population Report for as little as $4.95 a month! Updated weekly, get the latest census data on all coins graded by PCGS. Click here to get a free peek at the population statistics for Walking Liberty half dollars.

Our Readers Ask
Question: I purchased a 1917-P Walking Liberty, graded by a dealer as MS63; your book talks about the orange peel surface of this coin which this example definitely has. If the coin was cleaned wouldn't this field be disturbed?
Answer: The surface can still have the orange peel effect even if it has been cleaned. In that case, you would want to look for the evidence of cleaning by virtue of the hairlines it would create.
-- Rick Montgomery, Professional Coin Grading Service
Do you have a question you would like to ask our experts? Click here.
Or, visit the PCGS messageboards, the most active coin forums online.

Join the PCGS Collectors Club ...Enjoy the Benefits!
If you love collecting coins, the PCGS Collectors Club is for you. Members enjoy direct access to all PCGS grading services, complimentary PCGS gradings and a wealth of essential information. All PCGS Collectors Club Members enjoy access to all Collectors Universe auctions, eShops and messageboards and the eZines of their choice. Joining is quick and easy. Just click here or call PCGS Customer Service at 800-447-8848. Do it today!

Announcements
Do you collect Indian coins? Well, so does almost everyone else! Indian cents, Indian gold, or the Indian Head nickels of the past (or the Indian Head dollars of the recent, recent past). For the fall 2002 quarter (October 1 - December 31) Gold or Platinum Collectors Club members can have one of any Indian Head coin certified by PCGS for free. Your only cost is the postage. These special Collectors Club coins will be graded through the Regular Service and will be returned to you in approximately three weeks.
Now Online: The Collections of Russell J. Logan & Gilbert G. Steinberg
and Part III of the Jay Roe Collection

Bowers and Merena Galleries' "sale of sales" beckons! Baltimore will host this grand event, in conjunction with the ever-popular Baltimore Coin and Currency Convention. Online pre-sale bidding is underway now! Click here to browse through and bid on the numismatic treasures being offered. Online pre-sale bidding ends Monday, November 4th at midnight, Eastern Time. All lots will be hammered at the public sale in Baltimore, November 6-9, 2002.
Bid Now in Lyn Knight's St. Louis Currency Auction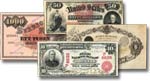 Online bidding for Lyn Knight Currency Auctions' St. Louis Auction is now underway! This three-session sale features a fresh offering of rare and wonderful bank notes from the world over. Indeed, this auction contains many highlights in World Bank notes, including selections from an important European collection. Another major highlight of this sale is the Glenn Martin collection of Kentucky obsoletes. Session Three will be comprised completely of national bank notes and it includes one of the finest collections of red seals ever assembled, belonging to Richard Dreger. This should keep everyone in their seats from Douglas, Arizona Territory to Shoshoni, Wyoming, and we have a plethora of real neat notes to fill the alphabet. Click here to bid online.
SEE PCGS THIS FALL!
Baltimore Coin & Currency Show
Baltimore Convention Center
1 W. Pratt St.
Baltimore, MD 21201
November 7 - 10, 2002
Santa Clara Coin, Stamp & Collectibles Expo
Santa Clara Convention Center
5001 Great America Parkway
Santa Clara, CA 95054
November 22 - 24, 2002
Baltimore Show: PCGS will be accepting coins for on-site grading at the Baltimore show.
Take advantage of PCGS' Show Service!

Special Show Service -- $65 per coin valued at $1,500 or less
Standard Show Service -- $100 per coin

Coins may be submitted to all other PCGS grading levels at the show.
Santa Clara Show: PCGS will be accepting coins at all grading levels at the show. Coins submitted at the show will be graded by PCGS and returned via mail.
For more information about PCGS grading at the shows, call 800-447-8848.
For more information about any of these shows, contact as below:
Baltimore Show: visit http://hometown.aol.com/baltimorecoinshw/
Santa Clara Show: call (805) 962-9939 or visit www.santaclaraexpo.com