Market Report

Collectors Seeking the Best in all Price Ranges as Market Remains Red-Hot
High-powered type coins, Proof gold and DCAM Proof silver coins selling fast. Coins under $1,000 are also in great demand if the quality is there. New Jefferson nickel may be delayed until 2004. Either way, there will be no Proofs with the new reverse this year. 1792 half disme realizes $230,000 in Bowers & Merena ANA sale. Click here to read on.

Set Registry Spotlight


PCGS Hall of Fame. The set, at the time, was far above any we had seen. But this year, Just Having Fun! added his basic and variety set to the Registry and landed himself in first place as well as winning the 2003 award for the Best New Set. This set is filled with a huge number of "top pops" and is just absolutely spectacular. Congratulations to Just Having Fun! who is obviously living up to his name!

Thanks to all who attended the Set Registry Luncheon at the ANA in Baltimore. We had over 100 guests. It was wonderful putting faces to names and meeting the many wonderful collectors who participate in the Set Registry.

The weights for the Early Half Dimes Basic Set, Circulation Strikes (1792-1837); Early Half Dimes with Varieties, Circulation Strikes (1792-1837); Capped Bust Half Dimes Basic Set, Circulation Strikes (1829-1837); Capped Bust Half Dimes with Varieties, Circulation Strikes (1829-1837); Early Dimes Basic Set, Circulation Strikes (1796-1837); and Early Dimes with Varieties, Circulation Strikes (1796-1837) are currently being previewed. If you are a collector of these coins, please take a moment to review the proposed weights on the Set Registry News page. Also new online is the Eisenhower Dollar Variety set. Visit the Set Registry News page for frequent updates.

Fun, educational, and sometimes controversial, the PCGS Set Registry Messageboard remains the number one informative coin forum on the Internet. Get involved with other collectors who are currently participating in the Set Registry program or are just beginning. Click here to chat on the Set Registry Messageboard.

The PCGS Set RegistryTM is a work in progress. If you have any suggestions or comments please e-mail [email protected].

Building a Standing Liberty quarters set? Go to the Authorized Dealer link on PCGS and click on 20th Century Coins in Specialties. Looking for dealers with Internet sites? Click on the Internet sites link in services. Search for more than 1,000 dealers in the PCGS Authorized Dealer listings.

News in Numismatics
Collectors Universe Rare Coin Experts Identify and Authenticate Missing 1913 Liberty Head Nickel
"The 40-year mystery is finally solved," said PCGS President David Hall regarding the missing fifth nickel, which was examined and authenticated at the ANA World's Fair of Money last month. Click here to read all about it.
Collector's Survey
A member of the Citizens Coin Advisory Committee just stated that a new reverse for the Roosevelt dime is under strong consideration. Which theme would you like to see?
Eleanor Roosevelt. Give this great First Lady some credit, too.
The WPA project. FDR put the nation back to work during the Great Depression.
"The only thing we have to fear is fear itself." A famous line from his greatest speech.
Victory in WWII. FDR led us all the way until his death in the final days.
"It is a day that will live in infamy." Another famous line from a magnificent speech as WWII began for the U.S.A.
Click here to answer. Results will be posted in the next eCollector.
Results from last survey: 43% believe that the 1938 Boone Half Dollar in PCGS MS68 that sold for $29,900 commanded the most surprising and amazing price at the recent Heritage "Signature Sale." Click here for a complete breakdown.
What does "Piedfort" mean? Find out in Lingo, the PCGS dictionary of numismatic definitions. Click here for Lingo.

Subscribe to the online PCGS Population ReportSM for as little as $4.95 a month! Updated weekly, get the latest census data on all coins graded by PCGS. Click here to get a free peek at the population statistics for Standing Liberty quarters.

Our Readers Ask
Question: Was the authenticated 1913 Liberty owned by Walton ever looked at prior to the ANA show or did Walton just pronounce it as a fake and never had it confirmed? Relating to the grade, how does it rate with the others?
Answer: The Walton family was not sure their coin was genuine.
The Manley 1913 liberty nickel (PCGS graded PR66) is the finest. The Legend specimen (PCGS graded PR64) is the second finest. The others aren't quite as nice. The ANA specimen is the roughest of the 5 coins.
-- David Hall, Professional Coin Grading Service
Do you have a question you would like to ask our experts? Click here.
Or, visit the PCGS messageboards, the most active coin forums online.

Join the PCGS Collectors Club ...Enjoy the Benefits!
If you love collecting coins, the PCGS Collectors Club is for you. Members enjoy direct access to all PCGS grading services, complimentary PCGS gradings and a wealth of essential information. All PCGS Collectors Club Members enjoy access to all Collectors Universe auctions, eShops and messageboards and the eZines of their choice. Joining is quick and easy. Just click here or call PCGS Customer Service at 800-447-8848. Do it today!

Announcements
Quarterly Collectors Club Grading Special
The bird is the word! For this quarter (July 1-September 30, 2003) PCGS Collectors Club members may submit one 1856 Flying Eagle cent for free certification (authentication and grading). Regardless of whether it's a circulation strike or a Proof, your only cost will be the postage. Your 1856 "flying bird" will be graded through the Regular Service, which takes 15 days.


The Bowers and Merena Rarities Sale --
Now Online for Pre-Sale Bidding!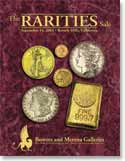 Online pre-sale bidding is now underway for the latest Bowers and Merena Rarities Sale! Hot on the heels of our successful ANA auction event, we are pleased to offer this exciting group of 557 numismatic rarities for your bidding consideration. Online pre-sale bidding will continue until September 14, 2003, at 7 a.m. Pacific Time (10 a.m. Eastern). The live auction will take place in the ballroom of the Le Meridian in Los Angeles later that day. Click here to browse the online catalog and to place your bids.




Bid Online in Lyn Knight Currency Auctions' Dallas Sale!

The 2003 Dallas Sale is Lyn Knight Currency Auctions' largest sale ever! This auction event includes nearly 1,700 lots of World banknotes, AMC & MPC, rare large size type notes, and an amazing collection of essays, specimens and proofs, the likes of which LKCA has never offered before. A spectacular group of small size currency and error notes should more than satisfy the appetite of all who collect them. A wide variety of Obsoletes, Confederate, fractionals and the like will be offered. National banknotes are present from several continents and virtually every state in the union. This sale will certainly provide something for everyone! Click here to browse the entire Dallas catalog online.


Important Show Updates!
The Long Beach Coin, Stamp, and Collectibles Expo

Location:
Long Beach Convention Center
100 S. Pine Ave.
Long Beach, CA 90802
September 18-21, 2003

Show Info:
For more information regarding the Long Beach Expo visit www.longbeachexpo.com

For more information on PCGS's list of services please contact customer service at 800-447-8848.

PCGS will be offering on-site grading. Representatives will be available to answer questions and accept submissions for all levels of service through Saturday.

Fees for on-site Show service are:

$65 per coin (5 coins minimum per order) for coins valued $1500 or less
$100 per coin for coins valued over $1500

Cut-off time for Show service is 12 noon on Saturday.

Show Schedule:
Thu. 9/18 - 10am - 6:30pm
Fri. 9/19 - 10am - 6:30pm
Sat. 9/20 - 10am - 6:30pm
Sun. 9/21 - 10am - 3:00pm
(PCGS will not attend on Sunday)
The New Silver Dollar Show

Location:
America's Center
701 Convention Plaza St. Louis, MO 63101
October 15-18, 2003

Show Info:
For more information on The New Silver Dollar Show, call 813-684-3854.

For more information on PCGS's list of services please contact customer service at 800-447-8848.

PCGS will be offering on-site grading. Representatives will be available to answer questions and accept submissions for all levels of service through Saturday.

Fees for on-site Show service are:

$65 per coin (5 coins minimum per order) for coins valued $1500 or less.
$100 per coin for coins valued over $1500.

Cut-off time for Show service is 12 noon on Saturday.

Show Schedule:
Thu. 10/16 - 10am - 6pm
Fri. 10/17 - 10am - 6pm
Sat. 10/18 - 10am - 6pm