Market Report
Gold, Mega-Rarities, Morgans and 20th Century Coins on Fire as Incredible Market Continues to Roll
Bowers & Merena/Kingswood to offer three auctions in twelve days. Interest is high in $20 St. Gaudens key dates. Early type and 20th century coins in tremendous demand. Got any Proof Morgan dollars for sale? In fact, if you have ANYTHING for sale you may have just made a friend! Check out the online auctions. Click here to read on.
Set Registry Spotlight

Nick Cascio's Best Roosevelts - The number one finest Roosevelt Dimes Set, Circulation Strikes (1946-1964)
Nick succeeded in reaching the number one spot for his Roosey set within a year and was rewarded with "Best New Set" in the 2003 Set Registry Awards. This collector's goal is to build the finest set in the world, and it looks like he is well on his way. His set contains an amazing number of Pop-tops (the finest graded). Nick has treated us with images of nearly every coin in his set, so click here and enjoy!

Certificates and plaques for the 2003 Set Registry Awards were mailed out last week. If you are a winner and have not yet received your award, please e-mail [email protected].

The weights for the Early Quarters Basic Set, Circulation Strikes (1796-1838); Early Quarters with Varieties, Circulation Strikes (1796-1838); and Early Quarters with Varieties and 1827 Proof, Circulation Strikes (1796-1838) are currently being previewed. If you are a collector of these coins, please take a moment to review the proposed weights on the Set Registry News page. Visit the Set Registry News page for frequent updates.

Fun, educational, and sometimes controversial, the PCGS Set Registry Messageboard remains the number one informative coin forum on the Internet. Get involved with other collectors who are currently participating in the Set Registry program or are just beginning. Click here to chat on the Set Registry Messageboard.

The PCGS Set RegistryTM is a work in progress. If you have any suggestions or comments please e-mail [email protected].

Building a Roosevelt dimes set? Go to the Authorized Dealer link on PCGS and click on 20th Century Coins in Specialties. Looking for dealers with Internet sites? Click on the Internet sites link in services. Search for more than 1,000 dealers in the PCGS Authorized Dealer listings.

Expert's Corner
A Guide To Collecting New Orleans Double Eagles: Part One
New Orleans double eagles are among the most popular series with gold coin collectors. The series includes two reasonably common issues, two extreme rarities and a number of dates that are very interesting as a result of their historic background. This article provides a date-by-date analysis to assist the collector of New Orleans Double Eagles. Click here to read more.
Collector's Survey
While there's no reason to rock the boat when things are going so well, there's still a question now and then about possible changes in the designations on the PCGS holder. These are not grading changes, of course, but just clarifications about the coin. Which of the following would you like to see the most?
Cameo DMPL! If your 1884-CC buck has frosted white devices to go with the deep mirror surfaces, why not put it on the holder?
Prooflike and DMPL designations on commemoratives! Your New Rochelle and your Roanoke have full mirror surfaces so let's tell the world right on the holder.
Deep mirror Proof! Some 1950 Franklin half dollar Proofs almost look like circulation strikes they're so frosty. Let's designate the DEEP ones!
Full bands on Proof Mercury dimes! Some 1942 (and 1939) Proofs have no bands at all!
Full hand on Proof Walkers! Some examples (especially 1938) have no hand. Let's reward the fully struck pieces!
Click here to answer. Results will be posted in the next eCollector.
Results from last survey: 33% would like to see "The only thing we have to fear is fear itself," the famous line from FDR's greatest speech, used as a theme for a new Roosevelt dime reverse. Click here for a complete breakdown.
What is the meaning of "essai?" Find out in Lingo, the PCGS dictionary of numismatic definitions. Click here for Lingo.

Subscribe to the online PCGS Population ReportSM for as little as $4.95 a month! Updated weekly, get the latest census data on all coins graded by PCGS. Click here to get a free peek at the population statistics for Roosevelt dimes.

Our Readers Ask
Question: Is a magnifying glass used on all coins by all coin graders? What magnification is used?
Answer: Magnification is used in different ways by different graders. Some graders prefer 5X, some like 8X. On a big rarity, a grader might look at the coin with both 5X and 8X. Graders do not use a glass for every coin. On large generic coins, say Morgan dollars in MS64 or MS65, it's just not necessary to use a glass. On some small coins, say Three Cent Silvers, it's impossible to grade them without magnification.
Personally, I prefer -- and recommend -- 5X. If you are grading coins, I suggest you first look at the coin without magnification. Notice the luster, the surfaces, the overall eye appeal. Then look with a 5X glass. That's what I do.
-- David Hall, Professional Coin Grading Service
Do you have a question you would like to ask our experts? Click here.
Or, visit the PCGS messageboards, the most active coin forums online.

Join the PCGS Collectors Club ...Enjoy the Benefits!
If you love collecting coins, the PCGS Collectors Club is for you. Members enjoy direct access to all PCGS grading services, complimentary PCGS gradings and a wealth of essential information. All PCGS Collectors Club Members enjoy access to all Collectors Universe auctions, eShops and messageboards and the eZines of their choice. Joining is quick and easy. Just click here or call PCGS Customer Service at 800-447-8848. Do it today!

Announcements
Quarterly Collectors Club Grading Special
The bird is the word! For this quarter (July 1-September 30, 2003) PCGS Collectors Club members may submit one 1856 Flying Eagle cent for free certification (authentication and grading). Regardless of whether it's a circulation strike or a Proof, your only cost will be the postage. Your 1856 "flying bird" will be graded through the Regular Service, which takes 15 days.


Now Online at Bowers & Merena Galleries:
The Rarities Sale and the Jay Roe Collection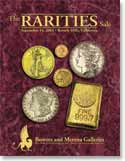 Online pre-sale bidding is now underway for the latest Bowers and Merena Rarities Sale! Hot on the heels of our successful ANA auction event, we are pleased to offer this exciting group of 557 numismatic rarities for your bidding consideration. Online pre-sale bidding will continue until September 14, 2003, at 7 a.m. Pacific Time (10 a.m. Eastern). The live auction will take place in the ballroom of the Le Meridian in Los Angeles later that day. Click here to browse the online catalog and to place your bids.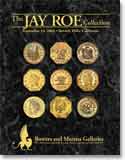 The Jay Roe collection of small California gold coins, described as "the most complete small California gold collection ever formed," will be auctioned in Los Angeles by Bowers and Merena Galleries, September 14, 2003. Roe's historic collection of 610 Gold Rush era $1 and fractional denomination gold coins is listed as the All-Time Finest in the PCGS Set Registry program. Online pre-sale bidding is underway now. Click here to browse and bid online.
Important Show Updates!
The Long Beach Coin, Stamp, and Collectibles Expo

Location:
Long Beach Convention Center
100 S. Pine Ave.
Long Beach, CA 90802
September 18-21, 2003

Show Info:
For more information regarding the Long Beach Expo visit www.longbeachexpo.com

For more information on PCGS's list of services please contact customer service at 800-447-8848.

PCGS will be offering on-site grading. Representatives will be available to answer questions and accept submissions for all levels of service through Saturday.

Fees for on-site Show service are:

$65 per coin (5 coins minimum per order) for coins valued $1500 or less
$100 per coin for coins valued over $1500

Cut-off time for Show service is 12 noon on Saturday.

Show Schedule:
Thu. 9/18 - 10am - 6:30pm
Fri. 9/19 - 10am - 6:30pm
Sat. 9/20 - 10am - 6:30pm
Sun. 9/21 - 10am - 3:00pm
(PCGS will not attend on Sunday)
The New Silver Dollar Show

Location:
America's Center
701 Convention Plaza St. Louis, MO 63101
October 15-18, 2003

Show Info:
For more information on The New Silver Dollar Show, call 813-684-3854.

For more information on PCGS's list of services please contact customer service at 800-447-8848.

PCGS will be offering on-site grading. Representatives will be available to answer questions and accept submissions for all levels of service through Saturday.

Fees for on-site Show service are:

$65 per coin (5 coins minimum per order) for coins valued $1500 or less.
$100 per coin for coins valued over $1500.

Cut-off time for Show service is 12 noon on Saturday.

Show Schedule:
Thu. 10/16 - 10am - 6pm
Fri. 10/17 - 10am - 6pm
Sat. 10/18 - 10am - 6pm