eCollector - December 6, 2006 | Vol. 6 Number 5

News
PCGS Announces 2007 Pricing
Every December we review prices and announce our new prices for the upcoming year. This year we have two great announcements to make…two ideas we're sure you'll love. Click here to read more.


PCGS Set Registry

SM

Spotlight
What if... You were thinking about buying a coin to upgrade your Registry set?
How would the purchase affect your set rating?

Experience the PCGS Set Registry V2.
The Registry you want, the way you want it.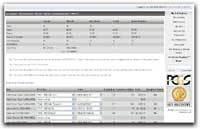 Login to the new My Set Registry section in the PCGS Set Registry and with a few keystrokes quickly learn what the purchase of a new coin might do to your set rating and the value of your collection. The new What if? program in the PCGS Set Registry allows you the flexibility to see what the addition will do to your rating while comparing your set to the next ranked set and the #1 set in your category. The What if? program is designed with your collecting needs in mind.
Other enhancements in the new PCGS Set Registry V2 include the ability to track your inventory costs and prices, ability to easily add a coin to multiple sets, an easy way to add multiple images to one coin, a Collectors Showcase where you can show-off your favorite coins which might not necessarily constitute a "set," and the ability to comment on other members' sets.
The PCGS Set Registry is where collectors from all over the world can safely display their PCGS-graded coins online and compare their collections to some of the finest collections ever assembled. Building multiple sets from your collection can be accomplished in just a few keystrokes. In fact, the Registry even tells you what sets you can build and how many coins you will need to complete your set!
Registration is free. Join the thousands of other collectors who are enjoying the benefits of the PCGS Set Registry. To learn how you can participate in the program that has revolutionized coin collecting, click here or call 800-447-8848.

What are "Full Bands"?
Find out in
Lingo,
the PCGS dictionary of numismatic definitions.
Click here
for Lingo.

Collector's Survey

Will you be purchasing the new Presidential Dollar coins?

Yes
No
Don't know yet

Click here to answer. Results will be posted in the next eCollector.

Results from last survey: 70% said that PCGS should encapsulate problem coins. Click here for a complete breakdown.
Subscribe to the online PCGS Population Report

SM
for as little as
$4.95
a month!
Get the latest census data on all coins graded by PCGS -- updated weekly!
Click here to subscribe
.


Our Readers Ask
Question: How severe must a planchet flaw be before a coin is "no-graded"?
Answer: Decisions concerning planchet flaws, like eye appeal, are subjective and depend on the type, severity, location, and visual impact of the flaw. For example, a larger flaw that is well-hidden in Liberty's hair would be more acceptable than an even smaller flaw in the field. If the flaw diminishes the value of the coin to any significant degree, PCGS will not grade the coin.
Do you have a question you would like to ask our experts? Click here.
Or, visit the PCGS messageboards, the most active coin forums online.
Join the PCGS Collectors Club... Enjoy the Benefits!
If you love collecting coins, the
PCGS Collectors Club
is for you. Members enjoy direct access to all PCGS grading services, complimentary PCGS gradings and a wealth of essential information. Joining is quick and easy. Just
click here
or call PCGS Customer Service at
800-447-8848
. Do it today!


Announcements
Quarterly Collectors Club Grading Special
Coins with unusual finishes... for the last quarter of 2006 (October 1 through December 31), PCGS Collectors Club members can send in one coin from any of the following categories for free grading and authentication: Matte Proof Copper or Gold Coin (1907-1916), 1994-P SMS Jefferson Nickel, 2006-P American Eagle $1 Silver (Reverse Proof) or 2006-W American Eagle $50 Gold (Reverse Proof). Each coin will be graded and authenticated through the Regular Service, which takes 15 business days. All that you have to pay for is the postage. This offer is for all Collectors Club members.



Current Approximate
Turnaround Times
as of 12/06/2006:
Economy: 30 business days.
Modern: 25 business days.
World Economy: 35 business days.

Next Blackout Period:
January 3 - 5, 2007
See Show Schedule for details.
CCE Collector's Corner
Current listings: 26,821 items, valued at $19,049,191

CCE Collector's Corner is a marketplace for buying slabbed and unslabbed coins. To learn more, click here.

CCE will be attending these coin shows in 2007:
• Jan. 4-7: FUN Show, Orlando, FL
• Jan. 26-28: The Money Show, Houston, TX
• Feb. 15-17: Long Beach Show, Long Beach, CA
Important Show Updates!
PCGS Public Friday

Location:
Collectors Universe
1921 E. Alton Ave.
Santa Ana, CA 92705


December 8, 2006

Show Info:
For more information on PCGS Public Friday, visit www.pcgs.com.

For more information PCGS's list of services, please contact customer service at 800-447-8848

PCGS representatives will be available to answer all your questions and accept submissions for all levels of service.

Public Hours:
10am - 4pm
52nd Annual Florida United Numismatists Convention and Show

Location:
Orange County Convention Center
Hall NB, North Concourse
9400 Universal Blvd.
Orlando, FL 32819

January 4 - 7, 2007

Show Info:
For more information regarding the 52nd Annual FUN Show, click here.

For more information on PCGS's list of services please contact customer service at 800-447-8848.

PCGS will have representatives available to answer questions and accept submissions for all levels of service.

PCGS will be grading on-site.

Show service turnaround is not guaranteed. Check with a PCGS representative for daily turnaround times.

Public Hours:
To be determined.