Featured Coins
The 2000 Library of Congress Commemorative Coins - Modern Rarities
Most collectors have been pleased with their recent purchases from the U.S. Mint, especially since secondary market prices have sometimes advanced rather significantly. For example, the 2000 $10 Library of Congress Commemorative Mint State coins have proven to be a wise purchase decision. Click here to read more.


PCGS Set Registry

SM

Spotlight
What if... There was a new, easy way to track the value of your coin portfolio?

Experience the PCGS Set Registry V2.
The Registry you want, the way you want it.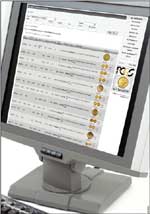 Now you can track the value of every coin in your Set Registry collection. Add your coins to the new My Set Registry section in the PCGS Set Registry and every coin is automatically matched to the PCGS Price Guide. You also have the option of adding your cost. In seconds, you'll know your total cost and the current market value for all of your coins. Add a description and image to each item and you'll have a complete record of your entire coin portfolio immediately available in your personal and private, secure location on the PCGS website.
Other options in the new PCGS Set Registry V2 include sorting your coins by certification number, PCGS number, date, variety, grade, population, Pop higher, cost, price, and description. If your collection consists of hundreds of coins, you can easily filter your inventory to locate a specific item.
The PCGS Set Registry is where collectors from all over the world can safely show-off their PCGS-graded coins and compare their collections to some of the finest collections ever assembled. Building multiple sets from your collection can be accomplished in just a few keystrokes. In fact, the Registry even tells you what sets you can build and how many coins you will need to complete your set!
Registration is free. Join the thousands of other collectors who are enjoying the benefits of the PCGS Set Registry. To learn how you can participate in the program that has revolutionized coin collecting, click here or call 800-447-8848.

What is a "Lintmark"?
Find out in
Lingo,
the PCGS dictionary of numismatic definitions.
Click here
for Lingo.

Collector's Survey

Should PCGS grade and encapsulate problem coins?

Yes
No

Click here to answer. Results will be posted in the next eCollector.

Results from last survey: 42% said that they first become interested in coins when they received coins as gifts from friends or relatives. Click here for a complete breakdown.
Subscribe to the online PCGS Population Report

SM
for as little as
$4.95
a month!
Get the latest census data on all coins graded by PCGS -- updated weekly!
Click here to subscribe
.


Our Readers Ask
Question: PCGS applies grades & grading to blank planchets (example: a type 2 Silver dollar planchet may be assigned an MS or an AU grade or even an XF). Since the planchet was not struck, has no luster or struck devices to show wear, how can it be graded?
Answer: Just as coins differ in quality, so do blank planchets. They can and do have luster, some are more or less "baggy" than others, and some even have wear from being carried as a pocket piece. It IS possible to grade such pieces using the same criteria PCGS uses for actual coins, except that we do not consider strike.
Do you have a question you would like to ask our experts? Click here.
Or, visit the PCGS messageboards, the most active coin forums online.
Join the PCGS Collectors Club... Enjoy the Benefits!
If you love collecting coins, the
PCGS Collectors Club
is for you. Members enjoy direct access to all PCGS grading services, complimentary PCGS gradings and a wealth of essential information. Joining is quick and easy. Just
click here
or call PCGS Customer Service at
800-447-8848
. Do it today!


Announcements
Quarterly Collectors Club Grading Special
Coins with unusual finishes... for the last quarter of 2006 (October 1 through December 31), PCGS Collectors Club members can send in one coin from any of the following categories for free grading and authentication: Matte Proof Copper or Gold Coin (1907-1916), 1994-P SMS Jefferson Nickel, 2006-P American Eagle $1 Silver (Reverse Proof) or 2006-W American Eagle $50 Gold (Reverse Proof). Each coin will be graded and authenticated through the Regular Service, which takes 15 business days. All that you have to pay for is the postage. This offer is for all Collectors Club members.



Current Approximate
Turnaround Times
as of 11/17/2006:
Economy: 30 business days.
Modern: 20 business days.
World Economy: 35 business days.

Next Blackout Period:
Nov. 29 - Dec. 1, 2006
See Show Schedule for details.
CCE Collector's Corner
Current listings: 24,359 items, valued at $19,054,774

CCE Collector's Corner is a marketplace for buying slabbed and unslabbed coins. To learn more, click here.

CCE will be attending these coin shows in 2006:
• Jan. 4-7: FUN Show, Orlando, FL
• Jan. 26-28: The Money Show, Houston, TX
Important Show Updates!
PCGS 29th Invitational

Location:
Venetian Hotel
3355 Las Vegas Blvd.
Las Vegas, NV 89109

Nov. 29 - Dec. 1, 2006

Show Info:
For more information regarding the PCGS 29th Invitational, click here.

For more information on PCGS's list of services please contact customer service at 800-447-8848.

PCGS will have representatives available to answer questions and accept submissions for all levels of service.

PCGS will be grading on-site.

Show attendance is by invitation only.
PCGS Public Friday

Location:
Collectors Universe
1921 E. Alton Ave.
Santa Ana, CA 92705


December 8, 2006

Show Info:
For more information on PCGS Public Friday, visit www.pcgs.com.

For more information PCGS's list of services, please contact customer service at 800-447-8848

PCGS representatives will be available to answer all your questions and accept submissions for all levels of service.

Public Hours:
10am - 4pm