Putting Together a Killer Civil War Era Set (Part 2: 1863-1865)
By Charles Morgan and Hubert Walker

Registry Set Guide:

We wrap up our two-part examination of PCGS' latest Registry Set, the "Civil War Set, Circulation Strikes (1861-1865)", by focusing on the years 1863-1865. If you didn't get a chance to read Part One, or would like a refresher, you can find it here.


Tips from the PCGS Grading Room
Strike or Wear?

In our last eCollector, we discussed telling the difference between a weak strike and wear on a coin. Even though in terms of visible detail, worn and weakly struck coins bear some resemblance, the color of the flat areas and the amount of luster covering the surface will help distinguish a worn coin from a weakly struck coin.


2013 PCGS Members Only Shows

With a New Year comes a new set of PCGS Members Only Show dates. In 2013, PCGS will host seven shows in Las Vegas, NV. The host hotel will be either Bellagio or The Venetian|The Palazzo. Review the dates now to see which shows you will attend.



January 23-25
Bellagio
February 27-March 1
The Palazzo
April 10-12
Bellagio
May 15-17
Bellagio
July 17-19
Bellagio
October 16-18
Bellagio
December 18-20
The Palazzo


Additional show details, including hotel reservations for January 2013 are available at www.pcgs.com/MembersOnlySchedule.

We look forward to seeing you throughout the year in Las Vegas at the PCGS Members Only Show!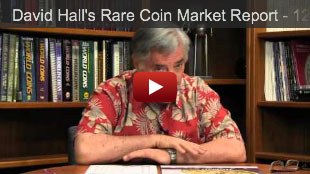 David Hall Rare Coin Market Report
Click here to watch the video



Designing Coins - How Hard Could it Be?
By Phil Arnold

I think the first time I designed a coin was when I was 12 years old in 1992, when there was a contest to design a $1 coin for Canada's quasquicentennial (125th anniversary). My submission, as I recall, was every provincial and territorial flag flowing over Niagara Falls. I never heard back from the mint.


PCGS Launches Colonials on the PCGS Price Guide
By Charles Morgan and Hubert Walker

American colonial coins have long been a series for the connoisseur. It's a field shaped in the public consciousness by R. S. Yeoman's seminal A Guide Book of United States Coins, and one for which there is no substitute for years of study and first-hand experience.


So You Think You Can Grade?
By : BJ Searls

PCGS holds grading contests at every January FUN Show, the Long Beach Expo (three times a year), and the summer ANA convention. The next contest will be held at the upcoming FUN show, Orlando, January 10-12.