The 1830-31 Polish Revolution and Its Coins

By BJ Searls

It's fun to collect coins with an interesting history. This can certainly be true of the five coin set called "Polish Revolutionary Coinage Complete Set, Circulation Strikes (1831)." These coins represent Poland's tumultuous, short-lived Russo-Polish war which began with the November Uprising on November 29, 1830 and ended less than a year later, on October 5, 1831.




The Eliasberg Collection

David Hall


Louis Eliasberg (1896-1976) was a Baltimore financier who avidly collected coins from 1925 until 1976. His goal was to assemble a complete collection of United States regular issue coins.

Counterfeiters Find Ways to Deceive Collectors

By Mike Sargent


The counterfeiter seeking to produce the largest quantity of good quality, counterfeit coins would certainly choose to strike them using dies. Most of his time would be spent preparing the die, but once the die is finished the counterfeiter is free to make as many examples as he wants, each of reasonably good quality.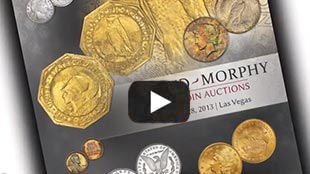 Legend-Morphy
February 28, 2013 Auction Preview


Building a 1956 Mint Set: As Complex As You Make It

By Charles Morgan and Hubert Walker

Mitch Spivack may have a permanent lock on the number one spot on PCGS Set Registry, but that shouldn't dissuade you from taking a crack at this mid-century modern set, especially since there are so many great coins to choose from.




Upcoming PCGS Shows

In 2013, PCGS will host seven shows in Las Vegas, NV. The host hotel will be either Bellagio or The Venetian|The Palazzo. Review the dates now to see which shows you will attend.




2/27/2013 - 03/02/2013
Las Vegas, NV
03/14/2013 - 03/16/2013
Baltmore, MD
04/10/2013 - 04/13/2013
Las Vegas, NV