Swiss Shooting Thalers
By BJ Searls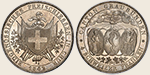 The federal state of Switzerland is divided into Swiss cantons, or member states. In the 1800s and early 1900s, these cantons held Shooting Festivals, or "free shoots" tournaments. Originally, these festivals were fundraisers to aid the widows and orphans of the soldiers who had fallen in defense of their country. Shooting halls were erected and prizes were awarded to the sharp shooters...


PCGS to Expand Collector Education Program for June Long Beach
By Mike Sherman
In February, PCGS inaugurated its Collector Education Program at the Long Beach Coin and Stamp Exposition by offering its first grading course. Attended by a full house of 30 collectors, the course received excellent reviews from those who enrolled...


So-Called Dollars Commemorating the Corps of Discovery (1903-1905)
By Charles Morgan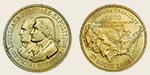 Two expositions of national importance marked the centennial of the Corps of Discovery. The first was the famous St. Louis World's Fair, officially known as the Louisiana Purchase Exposition. This event was second only to the World's Columbian Exposition, held a decade earlier, in scope and importance for Middle America...