Start Planning for the Next Long Beach Expo - June 6-8, 2013

300 of the world's most important dealers bring their great coins, currency, stamps, sports cards and other collectibles to every Long Beach Expo. Chances are you will find the collectible you are looking for at the Long Beach Expo. For coin collectors, whether your taste is for vintage U.S. coins, moderns, World coins, even ancients, you will have a host of dealers to choose from before you make your selections. Sports card, autograph, memorabilia and stamp collectors will also not be disappointed!




Don't Underestimate the Importance of the State Quarter Program
By Charles Morgan and Hubert Walker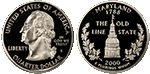 While the pomp and circumstance surrounding the 50 State Quarters program is behind us, no program during our lifetimes will have a bigger impact on American coin collecting.




The 1968 No "S" Proof Dime
By Jaime Hernandez

The 1968-S Proof Dime is the first date for the Roosevelt Dime Proofs where a coin was missing the "S" mint mark. There are other coins that are lacking a mint mark but these are usually a result of over polishing or grease filled dies.