Coins of Germany Ruled by the CoinKing Collection
By BJ Searls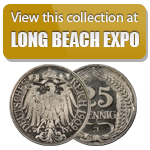 From the PCGS Set Registry's beginning days in February, 2001, we have had coin dealers participating by listing sets from their own private collections. Jim McGuigan's Half Cent collection, Legend's Three Cent Silver collection, Tom McCarroll's Buffalo nickels, James Sego's Ike dollars, David Hall's $20 Liberty set, and Dwight Manley's Massachusetts Silver Shillings...




Photograde 1.5 Now Online
By Mike Sherman


It has been over a year since we have updated Photograde, but hopefully the wait was worth it. The latest version features:




Tips on Using PCGS CoinFacts
By Ron Guth
Most collectors of U.S. coins focus on the regular issues – coins they recognize from their childhood or which their parents gave them as gifts. Just about every collector is familiar with Morgan Dollars, Buffalo Nickels, Large Cents, Mercury Dimes and all the old, obsolete coins.