Survey Question
Sponsored by L&C Coins
Collectors: What is most fun for you?
Deciding what coins to buy
Looking at my coins
Researching coins
Buying coins
Selling coins

Participate in the PCGS Newsletter Survey and you could win a 1963 50C PCGS PR Franklin Half Dollar worth $30.00.

Last Issue's Winner:
Brian Weatherl
*Rules & Disclaimer 
Please provide feedback on the eCollector and our survey – we'd love to hear from you.
PCGS Webinar - Grading 101: Introduction To Grading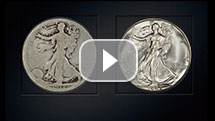 Show Calendar
Submit your coins directly to PCGS at any of the following shows.


Long Beach Coin, Stamp and Sports Collectibles Expo
Long Beach, CA
September 26 - 28

PCGS Members Only Show
Las Vegas, NV
October 16 - 19

Baltimore Expo
Baltimore, MD
November 7 - 9






Coin Dealer Pulls out a Shotgun…Roll
by Jaime Hernandez
Don't worry, no one was harmed. But if you don't know the lingo in numismatics, you might be at a disadvantage when it comes to commerce. PCGS Pricing Expert Jaime Hernandez goes over some of the more playful numismatic terms and tests your knowledge.


PCGS CoinFacts: 1906-S Peso

Why is the 1906-S Peso so rare?

According to author Lyman Allen, "At the time, nearly all 1906-S Pesos were held back for use due to the high silver content and the rapidly rising price of silver. Most of those held by the treasury, along with earlier dates, were exported to the U.S. for re-coinage into the reduced size and weight pieces which followed in 1907."

From this, we gather that most of the 1906-S Pesos were destroyed and that those that survive today somehow made their way into circulation and numismatic collections. The lack of Gem examples of this date confirms this theory. In fact, the finest certified examples known today top out at only MS62 recoinage.

Get detailed coin information, pricing, population reporting, auction prices realized, rarity and survival estimates and condition census on the 1906-S Peso and all US coins, including Territorials, with a free trial to PCGS CoinFacts.





Collecting Territorials: U.S. Philippines Coins
by Ron Guth
Following the Spanish-American War, the United States gained control of the Philippine Islands under the 1898 Treaty of Paris. In 1903, the Philadelphia Mint began making coins for the Philippines based on a Centavos/Pesos monetary system. Ron Guth reviews the history of the U.S. Philippines coins, which remain popular with collectors in both countries.




PCGS Photograde China Due for Major Expansion
by Mike Sherman
PCGS has recently completed a major expansion to its Photograde China site and app, and plans are to deploy it within the next month. PCGS Eduction Director Mike Sherman explains the upgrades for the website and mobile applications.