Survey Question
Sponsored by L&C Coins
What is your interest level in online coin grading courses?
Yes, I'd love to participate in some online courses
Yes, but only if it's free and convenient
No, it isn't something that I would benefit from
No, I am not comfortable with the format
Maybe, I don't know enough about the courses to decide

Participate in the PCGS Newsletter Survey and you could win a 2009 $1 Australian Koala Graded PCGS SP valued at $75.00.

Last Issue's Winner:
Paul Bohn
*Rules & Disclaimer 
Please provide feedback on the eCollector and our survey – we'd love to hear from you.
PCGS Webinar - Grading 101: Introduction To Grading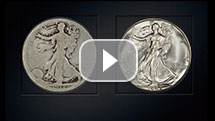 Show Calendar
PCGS travels to numismatic conventions offering our grading and authentication services to dealers and collectors around the world.

Visit PCGS at any of the following shows and submit your coins directly.


Warsaw Coin Expo
Warsaw, Poland
October 10 - 12

Korean Money Fair
Seoul, South Korea
October 10 - 12

PCGS Members Only Show
Las Vegas, NV
October 16 - 19

Baltimore Expo
Baltimore, MD
November 7 - 9






It's a Bird, It's a Plane…No It's a 1952 Superbird Quarter!
by Jaime Hernandez
Varieties appear on numerous coin types but perhaps none have the Americana-inspired intrigue of the 1952 Superbird Quarter. Legend has it that, due to the popularity of the hit Superman TV show, a Mint employee clandestinely added Superman's trademark "S" to the chest of the 1952 Proof Quarter's eagle. The result is a little-known 'super' variety.


PCGS CoinFacts: Morgan Dollar

The Coinage Act of 1873 demonetized silver, leading to the demise of the silver dollar. Although Trade dollars were produced from 1873-1878, they were meant for circulation overseas and were not legal tender in America.

In response to the sour economic condition that persisted through much of the 1870s, and as a sop to Western suppliers of silver, Congress passed the Bland-Allison Act in 1878. The Act required the U.S. government to purchase large quantities of silver and turn it into silver dollars. Thus, the dollar denomination was restored once again in the form of the Morgan dollar.

Named after its designer, George T. Morgan, the Morgan dollar is one of the most popular of all American coins. Its large size, abundant supply, and pleasing appearance make it both affordable and desirable.



Access the Top 100 Morgan Dollar VAM varieties.





PCGS Photographer Accepts the Challenge of Numismatic Photography
by Phil Arnold
Numismatic photography is a hot topic with the rise of the PCGS Collectors Education Program. Will photography be added as a new course? PCGS Lead Photographer Phil Arnold answers this question and quizzes the newest PCGS in-house photographer about what it is like to transition to the niche field of numismatic photography.



The Coronet Collection: Well Worth the Wait
by B.J. Searls
How long does it take to put together an all-time finest set? Collectors know this to be a daunting task. 10 years? 25 years? More? PCGS Set Registry Manager BJ Searls reveals the details behind the assembly of the Coronet Collection, which ranks as the number one Morgan Dollar basic set and will be on display at FUN.



PCGS Collectors Education Expands into Digital Arena
by Steve Sloan
Given the success of the Collectors Education Program, held in person at each Long Beach Expo, PCGS has added new online courses to give collectors a preview of the Coin Grading course content. PCGS Director of Marketing Steve Sloan explains the free program and shares the upcoming schedule.