Survey Question
Sponsored by L&C Coins
Which coin alloy do you find the most attractive?
Copper
Silver
Gold
Platinum
Other

Participate in the PCGS Newsletter Survey and you could win a 1986-P 50C graded PCGS BU valued at $8.00.

Last Issue's Winner:
Paul Quackenbush
*Rules & Disclaimer 
Please provide feedback on the eCollector and our survey – we'd love to hear from you.
Legend-Morphy December 2013 Auction Preview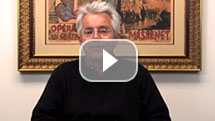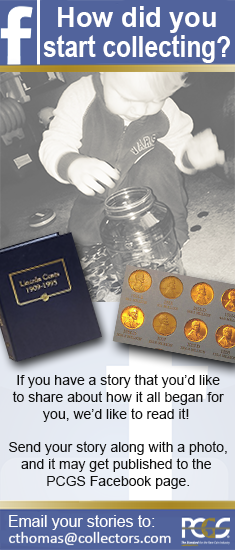 Show Calendar



Ultra-Rarities Spotlight – The 1880 Coiled Hair Stella
by Mike Sherman
Every year brings its share of numismatic price records and surprising realizations at auction. Perhaps the outstanding example from 2013 is the gem 1880 Coiled Hair Stella sold by Bonham's in September for a record shattering $2.57 million. Prior to that auction, no Stella had ever brought over $1 million. Here's a closer look at one of the most famous and desirable of all U.S. Pattern Coins.





Tip #6 For Using PCGS CoinFacts: Auction Prices Realized
by Ron Guth
One of the most useful tools on the PCGS website is the Auction Prices Realized. This mountain of data is a compilation of all major auction sales since the early 1990s, including everything from common coins in great condition to super-rarities that only appear once every generation. In general, most experts and users of this information believe that auction sales represent the fairest and most accurate pricing data available. Read how to leverage this data to your advantage, whether buying or selling coins.





The Wide World of Alloys
by Jaime Hernandez
Since its inception, the United States Mint has used many different metal alloys to produce coins. This variety has given collectors many more options when collecting, and at the same time, made coin collecting much more exciting. Jaime Hernandez explores the alloys used by the U.S. Mint and asks you to name your favorite.




Legend-Morphy returns to Las Vegas for its Regency Auction V

As an added perk PCGS Members Only Show in December, Legend-Morphy Rare Coin Auctions is headed back to The Venetian/Palazzo in Las Vegas for their fifth Regency Auction. The Auction will begin December 19th at 6:00 PM and will feature Phil Flannagan's Territorial Collection.





Register Today - Coin Grading 104: Counterfeit Detection
by Steve Sloan
We're excited to announce that PCGS' next webinar is only days away – this coming Thursday at 11 AM PST. You won't want to miss this important topic – Counterfeit Detection – as it can save you needless headaches when looking to purchase coins. The webinar will be hosted by PCGS Director of Education, Mike Sherman, and is 100% free to attend. I hope to see you online!