Survey Question
Sponsored by L&C Coins
Which of these 'addictive' characteristics, if any, do you demonstrate as it relates to coin collecting?
Obsession with collecting on a daily or weekly basis
Use of collecting to cope with stressful circumstances
Intense feelings of euphoria or excitement when adding to collection
Buying unnecessary coins
I don't demonstrate any of these characteristics

Participate in the PCGS Newsletter Survey and you could win a 1932 Quarter PCGS XF45.

Last Issue's Winner:
Richard H Voigt
*Rules & Disclaimer 
Please provide feedback on the eCollector and our survey – we'd love to hear from you.
Part Three: The Missouri Cabinet Collection from Ira & Larry Goldberg Auctioneers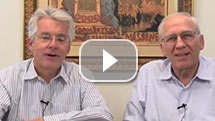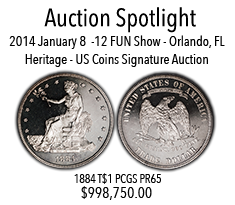 Show Calendar
Long Beach Expo
Long Beach, CA
Jan 30 - Feb 1
PCGS Members Only Show
Las Vegas, NV
Feb 12 - Feb 15
ANA National Money Show
Atlanta, GA
Feb 27 - Mar 1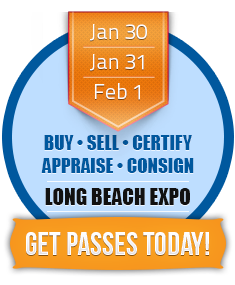 Admitting my Addiction to
Coin Collecting
by Jaime Hernandez
All of us face challenges in life, and people involved in the coin market are no different. In this issue, Price Guide Editor Jaime Hernandez explains an addiction that he has been struggling with for years. He explains some of the characteristics of addiction and shares some of his own personal experiences and advice.




PCGS Releases New Anti-Counterfeiting Hologram Backed by DuPont Technology

PCGS has announced the creation of a new, anti-counterfeiting 3D security hologram for PCGS holders. The addition of the prominent, high-tech emblem is part of the ongoing, aggressive efforts by PCGS to combat the global proliferation of counterfeit coins.




PCGS CoinFacts: Lesher Dollars

Are you looking for a new and unusual item to collect? This installment highlights an unusual group of coins produced by an entrepreneurial fellow named Joseph Lesher in the early 1900s. The story starts with a silver mine in Victor, Colorado, where Lesher extracted quantities of the precious metal and needed an outlet to help cash it in.

His solution was to coin the silver into one-ounce medals in an octagonal shape (to avoid any confusion with U.S. mint-made coins). The first versions, minted in 1900, were rather plain affairs, with lines of text on both sides indicating that they could be exchanged for currency, coin, or merchandise in the value of $1.25 – presumably the value of one ounce of silver.

In 1901, Lesher came up with the bright idea of offering the coin to other merchants in town. The merchants could buy as many as they wanted, Lesher would add the merchant's name to the die, stamp out the requested quantity of coins, then add a serial number to each coin for record-keeping purposes. The second versions were much more attractive than the first: the front of the coin showed an image of mining operations scattered among three mountain peaks with the caption "Pikes Peak Silver Mint"; likewise, the reverse was much more professional than the earlier version and included a shield of sorts bearing mining and Masonic references. The merchant who purchased more Lesher Dollars than any other was A.B. Bumstead – his are the most common of the Lesher Dollars today.

In 1901, Lesher offered a generic version of his coin, this time with a stated face value of $1 (apparently, the price of silver had declined). These versions look very similar to the Bumstead type, but the lower obverse field was left blank. Thus, when a merchant ordered some of Lesher's Dollars, he would simply stamp their name into the field, saving himself the expense of creating new dies for each individual merchant. Most of these are scarce, and certain merchant's names are very rare.

The easiest way to collect Lesher Dollars is by type. PCGS CoinFacts offers a complete listing of known types, which can be used as a checklist. More ambitious collectors attempt to obtain as many different serial numbers as possible.



You can learn more about these fascinating coins by starting here.




PCGS announces Crossover Special and Collectors Education Program for the Long Beach Expo

PCGS will offer a risk-free Crossover special during the Long Beach Expo (Jan 31 – Feb 1) where collectors can submit non-PCGS graded coins for crossover to PCGS holders. Also, PCGS will continue its Collectors Education Program during the show, offering Coin Grading 102 and 103 on Saturday, February 1st.




The Goldbergs Acquire the Del Valle Collection

The Goldbergs have acquired the Del Valle Collection of Important U.S. Gold coins, to be added to their January 26-29, 2014 Pre-Long Beach Auction.