Survey Question
Sponsored by L&C Coins
What PCGS collecting tool do you use most frequently?
PCGS Price Guide
PCGS CoinFacts
Auction Prices Realized
Photograde
PCGS Library

Participate in the PCGS Newsletter Survey and you could win a 2009 $1 PCGS BU.

Last Issue's Winner:
Richard Bowman
*Rules & Disclaimer 
Please provide feedback on the eCollector and our survey – we'd love to hear from you.
Legend-Morphy February 2014 Auction Preview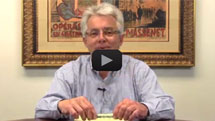 Show Calendar
Long Beach Expo
Long Beach, CA
Jan 30 - Feb 1
PCGS Members Only Show
Las Vegas, NV
Feb 12 - Feb 15
ANA National Money Show
Atlanta, GA
Feb 27 - Mar 1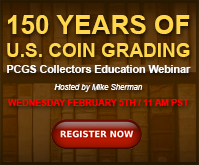 Exploring the US Mint Artistic Infusion Program
by Phil Arnold
PCGS Lead Photographer Phil Arnold discusses the details of the US Mint's Artistic Infusion Program, which was created to take "coin and medal design in new directions." But are the program requirements too restrictive to spur meaningful change? Read more to see Arnold's own coin design and why it wasn't eligible for submission.




PCGS Certifies First Confirmed 1974-D Aluminum Lincoln Cent!

The first confirmed example of an experimental 1974 aluminum Lincoln cent struck at the Denver Mint has been authenticated, graded and certified by Professional Coin Grading Service as PCGS MS63. This amazing discovery coin will be exhibited for the first time anywhere in public by Heritage Auctions at the upcoming Long Beach Expo.




PCGS CoinFacts Tip #10 – Using the Condition Census
by Ron Guth

How can you know if a particular coin is truly the best of the best? To answer that question, check out the PCGS CoinFacts Condition Census. The Census reveals some interesting information about what is available in the market, and how some coins are rare and underrated while others are common and overrated. This is information you can use to get an advantage in the marketplace.



You can learn more about these fascinating tips by clicking here.




David Hall Recalls Early Long Beach Expo

Collectors Universe President David Hall first walked the Long Beach Expo bourse floor in 1966. What was the most popular numismatic item nearly 50 years ago? Was it 1957 flat pack proof sets? One dealer seemed to think so. David Hall recounts the popular items at the time and the long history of the West Coast's top coin show.




Legend-Morphy Begins 2014 with Stellar Offering for February Regency Auction VI


Legend-Morphy begins 2014 with its first of five scheduled Regency Auctions, once again being held during the PCGS Members Only Show at The Venetian/The Palazzo in Las Vegas, Nevada. This impressive sale includes many noteworthy lots and three particularly impressive collections: The Simpson Seated Quarter Duplicates Collection, The Blazing Peace Dollar Collection and the Abe "Bear" Grundstein Partial Box Collection.