Survey Question
Sponsored by L&C Coins
Which one of these coin related scenarios is the most difficult for you?
Finding coins for my collection
Selling my coins
Not having enough money to buy the coins I want
Storing my coins
Finding the time to attend to my collection

Participate in the PCGS Newsletter Survey and you could win a 1963 50C PCGS PR valued at $30.00.

Last Issue's Winner:
Mike Vechiola
*Rules & Disclaimer 
Interested in submitting your own survey question? We'd love to see what you can come up with! Email us your question (plus 5 multiple choice answers) and see if your question makes a future eCollector.
David Hall Rare Coin Market Report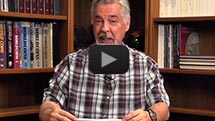 Show Calendar
Baltimore Spring Expo
Baltimore, MD
March 27-29, 2014
Central States Numismatic Society
Schaumburg, IL
April 24-26, 2014
PCGS Members Only Show
Las Vegas, NV
May 21-24, 2014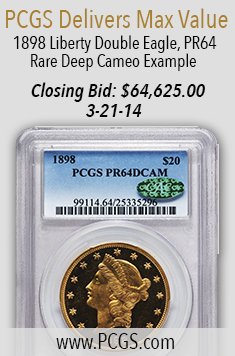 The Royal Origin of Coins
by Jaime Hernandez
It may be hard for some collectors to believe, but a world did exist before coins. Thankfully for numismatists, the Kings of Lidya are credited with commissioning the first known silver and gold coins. Learn more about the royal bloodlines of coins from PCGS Price Guide Editor Jaime Hernandez.





Japanese Coins of the Shoguns
by BJ Searls
For those collectors looking for something a little different, Japanese Tokugawa Shogunate coinage might be just the thing. The term Shogunate refers to the feudal military dictatorships of the Shogun, the military commanders appointed by the Japanese emperors. The coins are not round like most. Instead they are rectangular or oval, with unique and interesting designs.




PCGS CoinFacts – Barber Half Dollars

In 1892 the half dollar was redesigned to the so-called Barber type. Designer Charles E. Barber's Miss Liberty now faces right, her hair is in a Phrygian cap, and a wreath of laurel encircles her head. The word LIBERTY appears on a small band or ribbon above her forehead. IN GOD WE TRUST is above, six stars are to the left, seven stars are to the right, and the date is below. The reverse is an adaptation of the Great Seal of the United States and features a heraldic eagle grasping an olive branch and arrows and holding in its beak a ribbon inscribed E PLURIBUS UNUM. A galaxy of stars is above. UNITED STATES OF AMERICA and HALF DOLLAR surround. The same head of Miss Liberty appears on dimes and quarters of the era.
Mintage was continuous at the Philadelphia and San Francisco Mints from 1892 through 1915, with additional pieces supplied from New Orleans through 1909 and from Denver beginning in 1906. Unlike the Barber Quarter series, which has some genuinely tough coins, there are no significant rarities in the Barber Half series, although the 1892-O, 1892-S, 1893-S, 1897-O. 1897-S, 1914 and 1915 will be tougher to locate. Courtesy of Q. David Bowers.
Get detailed coin information, pricing, population reporting, auction prices realized, rarity and survival estimates and condition census on Barber Half Dollars with a free trial to PCGS CoinFacts.



CoinFacts Tip #13 – California Fractional Gold
by Ron Guth
The recent publicity surrounding the discovery of the Saddle Ridge Hoard of U.S. gold coins resurrected memories of the Gold Rush, the San Francisco Mint, and gold coins in general. Now, the whole world knows about this incredible treasure. However, there is one area of coin collecting that very few people know about, and that is California Fractional Gold. Thus, this month's tip takes a look at these fascinating coins and how they can be found on PCGS CoinFacts.




From the Archives: The Intriguing Story of a Great Historical Coin
by Bruce Amspacher

In this classic article that was first published on PCGS.com in September of 2009, PCGS co-founder Bruce Amspacher illustrates a numismatic tale of political intrigue, deceit and deception, high art, monumental rarity, the legends of the American West and, ultimately, vindication.