Survey Question
Sponsored by L&C Coins
How did you acquire most of your coin collection?
Dealers, either online or in-person (shop, show, etc)
Via Live or Online Auction
Directly from the US Mint or other world Mints
By way of inheritance
I won the coins in contests

Question courtesy of reader Harv L – thanks Harv!
Participate in the PCGS Newsletter Survey and you could win a 2000 $10 Liberia Type 3 PCGS BU valued at $50.

Last Issue's Winner:
Chad Johnson
*Rules & Disclaimer 
Interested in submitting your own survey question? We'd love to see what you can come up with! Email your question (plus 5 multiple choice answers) and see if your question makes a future eCollector.
Legend-Morphy May 22, 2014 Regency Auction VII Preview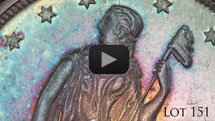 Show Calendar
PCGS Members Only Show
Las Vegas, NV
May 21-24, 2014
Long Beach Coin, Currency, Stamp & Sports Collectible Show
Long Beach, CA
June 5-7, 2014
Baltimore Summer Expo
Baltimore, MD
June 26-28, 2014


PCGS Announces Significant Upgrade to Information Archive


PCGS is pleased to announce that work has been concluded on a complete re-indexing of its massive Information Archive on its website. Over 2,500 articles, spanning a time period of over 20 years have been properly categorized, and are now available for lookup under the "Resources" tab at the top of the PCGS Home Page. This re-indexing will aid collectors in finding articles suited to their particular needs in a much faster manner.





The Happiest Days of a Coin Owner's Life
by Ron Guth
There's an old saying that the two happiest days of a boat owner's life are the day they buy a boat and the day they sell it, indicating there is not much enjoyment in between, or that the costs and maintenance associated with owning a boat can take much of the fun away. Is the same thing true for coin owners? Ron Guth investigates.




1955 1C Doubled Die Obverse

The doubling on the 1955 Doubled Die cent is very dramatic and can easily be seen with the naked eye. The doubling is most prominent on the date, the word "LIBERTY" and in the motto "IN GOD WE TRUST."
The 1955 Doubled Dies were created when the Mint struck a working hub and a working die together while they were both slightly rotated. Consequently, this working die then received a doubled die impression, and as a result, struck thousands of 1955 Doubled Die cents.
After the 1955 Doubled Dies were produced, they were mixed with millions of regular circulation strike cents from that same year. However, Mint employees caught some of the 1955 Doubled Die cents before they went into circulation. The Mint then decided that it was just not worth the trouble of melting millions of cents to retrieve the approximately 20,000 Doubled Die cents that were accidentally produced.
Get detailed coin information, pricing, population reporting, auction prices realized, rarity and survival estimates and condition census on 1955 1C Doubled Die Obverse with a free trial to PCGS CoinFacts.


Pawn Stars Casting Team, McFarland & Mercanti to Appear at Long Beach Expo


The Long Beach Expo has a packed line-up of attractions for the June show, including the casting team from History's popular TV show Pawn Stars. Other attractions include the 2014 Baseball Hall of Fame coin designer Cassie McFarland (pictured) and former US Mint Chief Engraver, John Mercanti.




Legend-Morphy's Largest, Most Diverse Sale to Date!


Legend-Morphy returns to the PCGS Members Only Show at The Venetian/The Palazzo in Las Vegas for its Regency Auction VII, with 487 spectacular lots and numerous high end collections. The auction is packed with outstanding coins, including the Wild West Buffalo Nickel Collection, The Little Silver Collection & The GSA Collection.