Survey Question
Sponsored by L&C Coins
Do you plan on purchasing the gold 2014 Kennedy Half Dollar Proof coin from the US Mint?
Yes
No
Maybe
Yes, after it is certified PCGS First Strike

Participate in the PCGS Newsletter Survey and you could win a 2000 $10 PCGS BU valued at $50.00.

Last Issue's Winner:
Robert Bowden
*Rules & Disclaimer 
Interested in submitting your own survey question? We'd love to see what you can come up with! Email your question (plus 5 multiple choice answers) and see if your question makes a future eCollector.
Coin Values – A Collector's Guide to the PCGS Price Guide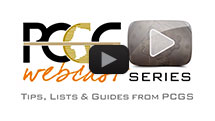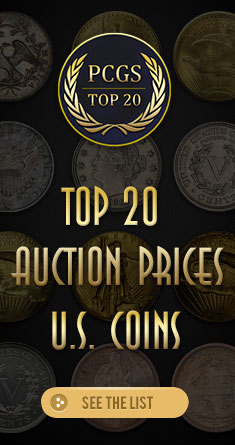 Show Calendar



The Most Valuable U.S. Coins
by Mike Sherman
How many U.S. coins have sold for over $1 million? If one posed that question in 2004, the answer would have rested at only nine. Ask that same question today and the answer is north of fifty! PCGS Director of Education Mike Sherman explains the explosion of the "Million Dollar Coin Club" and speculates on six ultra-rarities, that if sold today, would re-write numismatic history.





A New Set Registry for U.S. modern Gold
by BJ Searls
A new composite set has been added to the PCGS Set Registry: U.S. Gold Complete Modern Set, Circulation Strikes and Proof (1980-present). This set is filled with interesting issues, including the American Arts Gold Medallions, Gold Eagles, American Buffalos, the 2009 Ultra High Relief $20, and more. Set Registry Director BJ Searls walks you through the additions and the impetus behind adding the composite to the Set Registry.




PCGS CoinFacts: Kennedy Half Dollar

Following the assassination of President John Fitzgerald Kennedy in November 1963, plans were made to memorialize the popular president on circulating half dollars. Gilroy Roberts, chief engraver of the Mint, designed the obverse. The reverse was the work of Frank Gasparro.
The Kennedy half dollar captured the public's imagination, and pieces sold at a premium from the very moment of release. Soon the premiums subsided, but despite mintages of hundreds of millions of coins, few were used in the channels of commerce. Subsequently, the half dollar became an obsolete denomination so far as everyday use is concerned. Still, large quantities were produced, although mintage figures trended downward over a period of time. In 1964, the silver content was reduced, thus making 1964 the only year Kennedy half dollar composed of 90% silver were stuck.
-- Reprinted with permission from "United States Coins by Design Types – An Action Guide for the Collector and Investor" by Q. David Bowers
Get detailed coin information, pricing, population reporting, auction prices realized, rarity and survival estimates and condition census on Kennedy Half Dollars with a free trial to PCGS CoinFacts.



What is your Starting Point?
by Phil Arnold
For the type collector, numismatics is full of seemingly limitless possibilities. A collector can pick and choose coins from any part of the world and from three millennia of human history. But the hardest part is staying focused, and potentially losing interest in what one is collecting. How does one make a cohesive and coherent collection when there's just so much out there?  Phil Arnold explains.




Legend Rare Coin Auctions presents a Legendary Offering with The Regency Auction VIII


Legend Rare Coin Auctions is prepping for their first sale since dropping the "Morphy" and returns to the PCGS Members Only Show at The Venetian/The Palazzo in Las Vegas for The Regency Auction VIII. This sale boasts 232 lots and some of Bob Simpson's most sought after sets and collections.