Survey Question
Sponsored by L&C Coins
Where do you buy most of your coins?
My Local Coin Shop
Coin Shows
Numismatic Auction Websites
Large Internet Auction Websites
Numismatic Ecommerce Websites

Participate in the PCGS Newsletter Survey and you could win a 2009 $1 PCGS SP valued at $75.00.

Last Issue's Winner:
Greg Bauwens
*Rules & Disclaimer 
Interested in submitting your own survey question? We'd love to see what you can come up with! Email your question (plus 5 multiple choice answers) and see if your question makes a future eCollector.
David Hall Previews Long Beach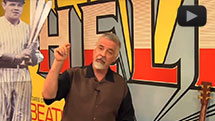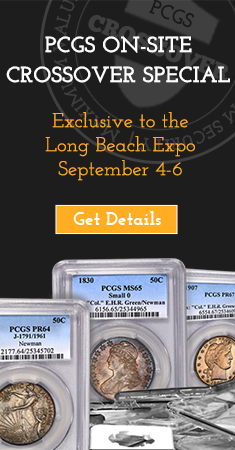 Show Calendar
Long Beach Coin, Currency, Stamp & Sports Collectible Show
Long Beach, CA
September 4-6, 2014
PCGS Members Only Show
Las Vegas, NV
October 1-4, 2014
Baltimore Winter Expo
Baltimore, MD
October 30-November 1, 2014



PCGS versus Comedy Central
by Phil Arnold
PCGS has discovered improper use of its TrueView imagery by cable giant Comedy Central. As a result, PCGS Lead Photographer, Phil Arnold, facetiously demands reparations as he outlines his case against Comedy Central.





Pedigrees – Why They Are Important
by Ron Guth
When buying a dog, particularly a champion, one of the most important considerations is its pedigree. The bloodline of a pedigree proves a dog's ancestry and allows the prospective purchaser to confirm that the parents are also champions. Buying coins with pedigrees is no different. In this classic article from 2005, PCGS CoinFacts President Ron Guth outlines four reasons why pedigrees should be important to every collector.


PCGS CoinFacts: Walking Liberty Half Dollars

In 1916 the design of Adolph A. Weinman was selected for the new half dollar motif to replace the Barber design, which had been in use since 1892. Weinman, a sculptor, also produced the Liberty Head or "Mercury" dime introduced the same year.
The obverse depicts Miss Liberty walking toward the sun, her right arm outstretched, her left arm carrying a bundle of branches, and with a starry cape behind. LIBERTY is above, while IN GOD WE TRUST is to the lower right, and the date is below.
The motif seems to have been inspired by Saint-Gaudens' motif for the illustrious double eagle of 1907. The reverse shows an eagle perched on a rocky crag, from which grows a pine branch, symbol of strength. UNITED STATES OF AMERICA is above, E PLURIBUS UNUM is to the left, and HALF DOLLAR is below. – Courtesy of Q. David Bowers
Get detailed coin information, pricing, population reporting, auction prices realized, rarity and survival estimates and condition census on Walking Liberty Half Dollars with a free trial to PCGS CoinFacts.


ICYMI: PCGS to Offer On-Site Crossover Special at Long Beach


PCGS will offer a special opportunity for "crossover" service at the September 4-6, 2014 Long Beach Coin, Currency, Stamp & Sports Collectible Expo. The usual Crossover grading fee will be waived on coins submitted at the show that do not crossover into PCGS holders.


Bonhams Coins Medals and Banknote Auction Spotlights Several Important PCGS-Certified Rarities


Bonhams, the third largest international fine art auction house, recently announced the sale of several important PCGS-certified rarities in their upcoming August 31 Coins, Medals and Banknotes Auction in Los Angeles.